10 Great Playgrounds in Metro Denver
The weather is warming up! Check out these places to play with your kids.
The Denver metro area is home to more than 750 public playgrounds, ranging from small to large and old to new. Finding the very best required visiting each play area, a project I completed in 2018 with my two young kids in tow. Our goal was to locate every single playground in more than 20 Denver municipalities, take pictures, and rate each on specific criteria: equipment variety, park amenities, and educational features. I compiled all that we found into a guidebook and app, Denver Playgrounds & Parks.
Here are 10 playgrounds that we found that stand out from the rest. Even if you live a distance away, they're all worth a visit when you want to try something new. Happy exploring!
Carmody Park
Location: 2220 South Kipling Street, Lakewood
Lakewood's biggest playground was installed in 2017. Carmody Park has everything a truly modern playground should offer. There is a two-person swing (for an adult plus a toddler), a merry-go-round spinner, and a rocking boat. You will encounter climbing challenges for all abilities, including nets, rocks, logs, and ladders. Don't pass by the large selection of musical instruments, the giant sandbox, and the array of outdoor fitness equipment. With eight swings and nine slides, there is plenty of space for everyone. It's also an accessible playground: wheelchair ramps, a rubber surface throughout, and an adaptive swing mean people of all abilities are welcome.
Paco Sanchez Park
Location: Julian Street and West Howard Place, Denver
Built in 2018 and named after former state representative and radio station owner Paco Sanchez, this play area will entertain for hours. The many unique play opportunities include a 30-foot covered climbing tower, rubber hills, and a super-fast concrete hill slide. Don't miss the hanging seesaw swing—it can catapult its occupants sky high if you get the timing right. Or, climb to the top of the tower and slide down on the inside. Climbing ribbons, nets, and spirals abound. There are also plenty of swings, spring toys, and spinners.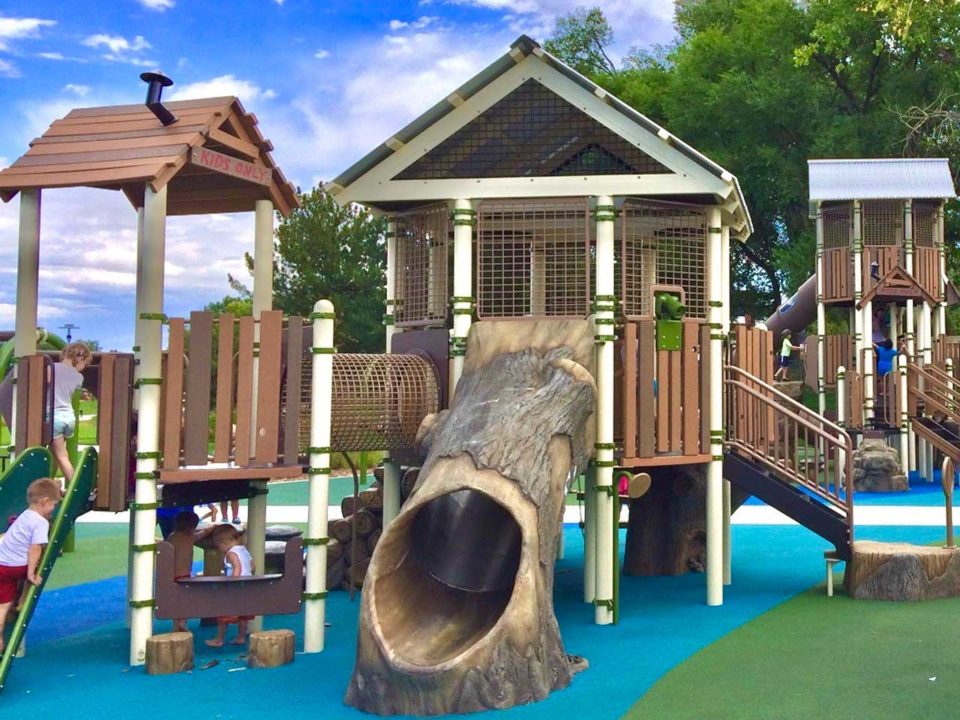 Ralston Central Park
Location: Garrison Street and Ralston Road, Arvada
Built in 2014, this playground resembles a deep forest. Logs, trees, mushrooms, and boulders are everywhere, and the colors dark green and brown dominate. The colorful sprayground is nearly as large as the playground itself and makes summer days much more fun. Try out the roller slide—only eight other Denver playgrounds have one. The park also offers an adjacent creek, a memorial garden, and a spacious picnic area.
Clement Park
Location: West Bowles Avenue and South Pierce Street, Littleton
Gutted and completely rebuilt in 2019, this playground packs an enormous number of play things into a relatively small footprint, all with mountain and lake views. You will find elaborate climbing structures, a two-person swing, a four-person teeter-totter, and musical instruments. There are two roller slides, one on a hillside and a horizontal one akin to an airport baggage belt. The many accessibility features include a zero-step merry-go-round, adaptive swings, and ramps.
Denver Premium Outlets Play Area
Location: 13801 Grant Street, Thornton
This gigantic play area is a free activity center that offers families a break while visiting the Denver Premium Outlets mall. The playground was installed in 2018 and is open to the public, even if you're not on a shopping trip. Tall slides, unique climbing towers, and large nets dominate the playground. Bridges, tunnels, and clubhouse-like platforms are scattered throughout. Explore the dinosaur area, climbing ribbons, and turf hills.
Centennial Center Park
Location: 13050 East Peakview Avenue, Centennial
This flagship playground for the south metro area was constructed in 2012 and boasts the largest sprayground in town, an enormous climbing net, tree house, a stage for events, and a young kid area with slides, swings, sandboxes, and climbing structures. Have a picnic in the large pavilion and enjoy the great mountain views.
Carpenter Park
Location: Madison Street and 112th Avenue, Thornton
This mega-playground in Thornton was constructed in 2013. In addition to the 10 swings, eight slides, and six spinners, the play area includes a merry-go-round, rocking boat, and sliding bars. The sprayground features spouts and fountains that light up at night, and a skate park is located nearby. On summer weekends, there are pedal boat rentals on the adjacent lake, as well as a full-size carousel (for a fee).
McKay Lake Park
Location: Quail Creek Drive and Zuni Street, Broomfield
This unique nature play area in Broomfield is made mostly from wood and features numerous climbing structures, tunnels, bridges slides, logs, and hills. The park also offers a lake, a bike park, and a fitness loop. It was constructed in 2018.
Red-tailed Hawk Park
Location: 23701 East Hinsdale Way, Aurora
The 8,000-square-foot inclusive playground at this southeast Aurora park opened last August, inviting kids of all abilities to play together. In addition to the sprayground and access to Piney Creek Trail, the park's new inclusive playground features a wheelchair-accessible swing and merry-go-round, sensory garden, adaptive zip line, accessible slide, and other sensory features.
Del Mar Park
Location: Oswego Street and Del Mar Circle, Aurora
The revitalized 40-acre Del Mar Park opened in 2015 with a water park, ball fields, and a new playground. Five kinds of spinners (including a unique platform spinner) and plenty of climbing opportunities await. Have your kiddos try the crazy white climbing ladder. In the summer, shade canopies provide shelter. The adjacent aquatics center is well worth a visit.