19 Ways To Celebrate the 4th of July This Year
Break out the red, white, and blue attire and take your family to one of these star-spangled events.
From Denver to the burbs to the high country, the Fourth of July brings an explosion of red, white, and blue fun for Colorado families. Wherever you choose to celebrate, there's a plethora of star-spangled spirit to go around. Here are family-friendly ways to celebrate in the Denver area.
» Arvada
July 4, 7 to 10 p.m.
Gather for a bright display in celebration of Independence Day; this event dates back to 1979. Follow local and state guidelines for health and safety.
Price: Free
Location: Stenger Soccer Complex, Arvada
---
» Aurora
July 4, 6 to 10 p.m.
Bring your own snacks and water, blankets and chairs to enjoy a fireworks display after dark.
Price: Free
Location: Aurora Municipal Center Great Lawn, 15151 E. Alameda Pkwy., Aurora
July 4, 7:30 to 10 p.m.

Celebrate with family and friends while in a safe, inclusive space for sensory sensitivity. Enjoy activities and refreshments, bring a picnic and lawn chairs, and take in the City of Aurora fireworks display. A Sensory Cave will be open for anyone who needs a break, and noise-canceling headphones will be available.
Price: Free
Location: Autism Community Store, Aurora
---
» Denver
July 4, 6 to 8 p.m.
Celebrate a community staple that began in 1986. Local musicians bring their talents to City Park, and thousands of neighbors gather to watch, dance, eat, and socialize. This year will include a handful of selected vendors and food trucks, plus safety protocols for good measure.
Price: Free
Location: City Park Pavilion, Denver
July 2 and 3, 6:10 and 7:10 p.m. game starts respectively
Watch the Colorado Rockies play against the St. Louis Cardinals, with a fireworks display following the game.
Price: Included with admission, $30-$98 game tickets
Location: Coors Field, 2001 Blake St., Denver
July 4, 9 a.m. breakfast, 10:30 a.m. parade
Kick off your celebration with a hearty breakfast including pancakes, sausage, and juice. Then take your decorated bicycles, tricycles, wagons, and scooters through a guided course. See online for details about this year's event.
Price: $5 adult, $3 youth, $12 family four-pack suggested donation
Location: Founders' Green, Denver
July 4, 10-10:30 p.m.
See Denver's skyline light up with fireworks right after the park closes for the day.
Price:Included with admission: $45 daily (online purchase)
Location: Elitch Gardens Theme & Water Park, 2000 Elitch Cir., Denver
July 2, 5 to 9 p.m.
This year's event features live music, pioneer games, food trucks, and fireworks at sundown, all included with general admission. Find tickets online.
Price:
Location: Four Mile Historic Park, Denver
July 4, 1:30 p.m.
Celebrate with community by lining 23rd street in historic Park Hill. Registration for walking participants is open and free. After the parade, join a street fair with food, music, kids activities, and more. Check online for COVID-19 protocols for participants and attendees.
Price: Free entry, vendor prices vary
Location: Park Hill Neighborhood, Denver
---
» Englewood
July 3; festivities begin at 5 p.m., fireworks start at 9:15 p.m.
Celebrate this summer's return to fireworks and festivals at Belleview and Cornerstone parks. Order food from a local vendor and spread out with family and friends.
Price:
Location: Cornerstone Park, Englewood
---
» Lakewood
July 3, 9:15 p.m.
Tune in to 100.3 FM to listen to MIX 100's soundtrack for the evening; fireworks launched from the Jeffco Stadium will be choreographed to the music. Set up your personal viewing spot at a Lakewood park, neighborhood, or residence within 1.5 miles of the stadium to see the show. Find location suggestions online.
Price:
Location: Various locations around Lakewood
---
» Littleton
July 3, 8 p.m.
Spend your holiday weekend celebrating Independence Day with the Arapahoe Philharmonic and their performance of patriotic and movie favorites the whole family can enjoy. Food, drinks, music, and fireworks are part of the program. Bring a blanket to sit on in case you don't get a picnic table.
Price: $35 adult, $30 senior, $10 child
Location: Breckenridge Brewery, Littleton
---
» Parker
Jul7 4; 7:30 to 8:30 p.m. gates open, 9:30 p.m. fireworks show
Enjoy live music, walk-around entertainment, and the traditional fireworks show. This year's event will be shorter, and attendees will have three experience options: drive-in only at the Salisbury parking lot, tailgating at the main polo field, or viewing from the multi-purpose field. See online for updates.
Price: Prices vary according to viewing location
Location: Salisbury Equestrian Park, Parker
---
» Mountain Towns
Note: Due to wildfire concerns some locations may opt out of fireworks this year. Check their websites in advance for up-to-date information.
July 4; 1-3pm music performance, fireworks after sunset
Enjoy live music from Beaver Creek's beloved entertainer/singer/accordion player/yodeler Helmut Fricker. Grab a bite or sip on something from local restaurants. Finish the day with fireworks.
Price: Free, vendor prices vary
Location: Beaver Creek Resort, Beaver Creek
July 1 through 4; event times vary, see online for details
Watch as Breckenridge comes alive with parties and the annual Main Street Parade. Enjoy athletic competitions, live music, art festivals, family, and small-town tradition. The celebration is completed with a performance by the National Repertory Orchestra.
Price: Free
Location: Main Street, Breckenridge
July 2 to 4, see online for full schedule details
Join in a quintessential small town celebration the whole holiday weekend long with a decorated bike parade, EAA Air Academy fly-in breakfast, community cookout, rodeo, parade, park party, and fireworks.
Price: Free
Location: Base Lawn, 1000 Village Rd., Granby
July 4; 7 p.m. concert, 9:30 p.m. fireworks
Spend the afternoon hiking, bike riding, paddle boating, playing miniature golf, or go check out the Coolest Car Show, featuring more than 100 classic, antique, and showy vehicles. Enjoy food and local craft beer and wine at the fairgrounds and listen to the Estes Village Band's Big Bang Concert in the evening leading up to the firework show. Find a grassy spot at Stanley Park for optimal viewing.
Price: Free entry, vendor prices vary
Location: Various locations around Estes Park
July 4; all day, fireworks begin at 9:45 p.m.
Peruse patriotic exhibits, groove to music, visit Vail's shops and restaurants, and enjoy displays embracing this year's theme: America's Heroes. The night skies will light up with a firework display, conditions permitting, with plenty of viewing options throughout town.
Price: Free
Location: Vail Village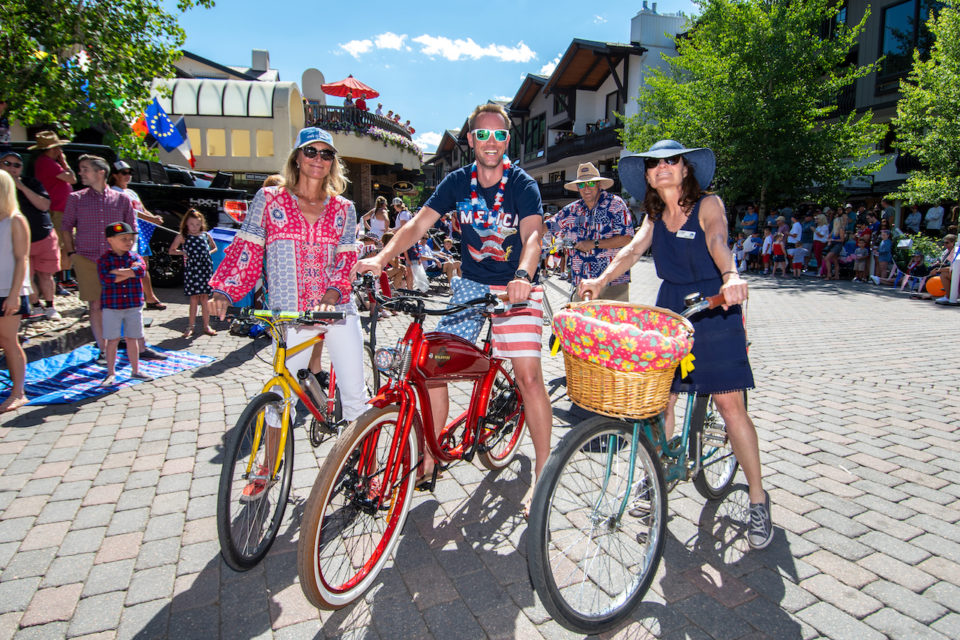 July 1 to 4; event times vary, see online for details
Celebrate America's birthday outside and in a big way this year with two concerts, art walk, Run for Independence, and fitness in the park. Schedule is subject to change so keep checking back for additional information, ticket prices, and new event protocols.
Price: Free; Run for Independence $30-$35 adult, $25-$30 child
Location: Various locations around Winter Park