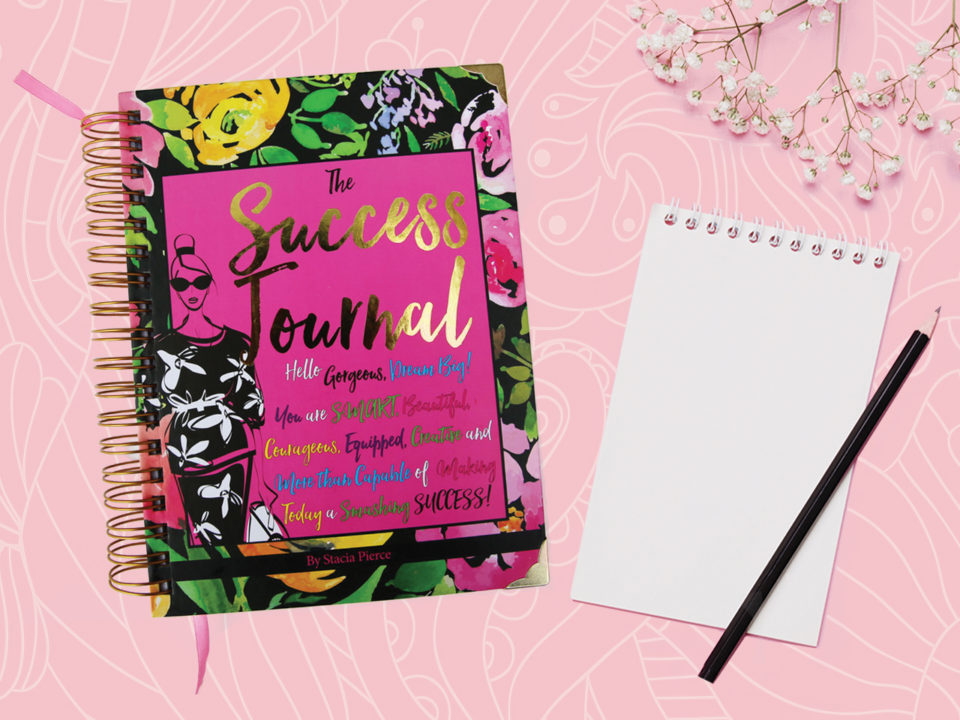 A Journaling Journey
Harness the Power of Journaling to Reach your Personal and Family Goals.
For years I've kept a journal to chronicle my life, plan for my dreams, and strategize my goals. It is one of the important success habits that I do daily. Journaling empowers me to take my ideas and turn them into reality.
You can use the power of pen and paper to strategize and create anything you want. Many successful people use this method to attract their dreams and goals. Others use it to overcome slumps and as a form of self-therapy. As a mother, I used my journal to plan beyond my current circumstance—it's very easy to get sucked into living for the day. I planned my family's future, my personal goals, ideas for the kids, and so much more in my journal. It's how I kept my dream alive during my kids" younger years, when I spent a great deal of my time focused on raising them.
Webster's Dictionary defines a journal as "a daily record, as of occurrences, experiences, or observations." While that is certainly true, your journal can be much more. You can allow your journal to be a sacred space to dream beyond your means and share your truest desires with yourself. Use it to shape your future in the following ways.
Capture brilliant ideas. Whenever an idea comes to you, grab your journal and write it down. Journaling is a way to capture ideas and keep your dreams alive until you can put them in motion. Ideas are all around you, yet they can become vapor if you leave them floating in your head. Writing your ideas enables you to remember and retrieve your inspired thoughts whenever needed.
Help solve problems faster. Writing things out gives you the accurate perspective necessary to attract the right solutions. Every day, I write questions in my journal concerning my business and my family. Writing questions helps me to sort through my own thoughts. Writing with an expectancy of answers will help you attract the answers in some form. Write down questions that you have about your problems. When you ask the right questions, you will get the right answers.
Chart what works. Recording your systems and progress on paper empowers you to backtrack to see what's working and what's not. Sometimes you're able to see problem spots more clearly. Other times, you"ll spot a growth spurt that can be analyzed and duplicated. However, without the record of events, you"ll just pass through each day letting it take you in all directions. Successful people track progress and failures in order to improve, improvise, and innovate.
Consistently recording your life's events gives you the insight to repeat what works and make adjustments where needed to live a rewarding life. This is especially important for moms. Every time I developed a system for my family that worked, I wrote it down and shared with my assistants so that we could continue to implement it.
Record notes and information from reading and research. As an avid reader, I often fill the margins of my books with notes and ideas that come to me while reading. When I'm done, I transfer those notes to my journal for safekeeping and quick reference. I also make a note of what I need the information for and how I plan to use it. By taking only a few moments to record this information, I prepare myself for future projects.
Stay in a state of gratefulness. Practicing gratitude is vitally important to your contentment on your success journey. The best way to do this is by regularly writing down what you are thankful for. Each night, think back through your day and write everything you are grateful for; every victory, whether big or small. Doing this will heighten your awareness to all the good things that are happening in your life and family—and when you are focused on the good, you will attract more of it. Every night I write a gratitude list and review it each morning. Thankfulness is the key to happiness. It builds your awareness and fosters humility as well as empowers you to continue on your success track.
Awaken your dreams, stay inspired, and manifest your dreams and goals through journaling.
Two Books to Get You Started
Journaling for creative inspiration? In Journaling Sparks: Fire Up Your Creativity with Spontaneous Art, Wild Writings, and Inventive Thinking, Emily K. Neuburger highlights journaling ideas, from quirky to playful, that launch you into imaginative self-expression.
In The Success Journal, life coach Stacia Pierce collected prompts and special features from her own personal journaling methods, to help individuals record their dreams and reach their goals.