A Tasty New Reason to Visit Punch Bowl Social
Punch Bowl Social Stapleton's new Milkshake Lab offers 11 decadent milkshakes that are big enough to share with the kids.
In case your family didn't have enough reasons to visit Punch Bowl Social Stapleton with it's great food, vintage arcade, giant outdoor patio, mini golf, bowling, and private karaoke, there's another—the new Milkshake Lab—where you can choose from 11 over-the-top ice cream masterpieces. "The idea was to add another layer to Punch Bowl," says Patrick Williams, national beverage director for Punch Bowl Social. With milkshakes packed with mix-ins, topped with cookies and cakes, and wrapped in another whole dessert on the rim of the glass, they did so, literally.
When you bring the kids, your server will give them an old-fashioned View-Master as a fun way to see all the milkshake flavors. (Parents, get coolness points by showing your kids how to use one.) Kids will love the Worms & Dirt chocolate shake, $12, filled with Oreo crumbs and gummy worms, or the Slumber Party, $18, a strawberry milkshake complete with Reese's Pieces, Cotton Candy Fizzes, gummy sharks, Pop Rocks, a Twinkie, slap bracelets, and glow necklaces. "There's something for everybody, and we wanted to pick up little pieces of nostalgia," Williams says.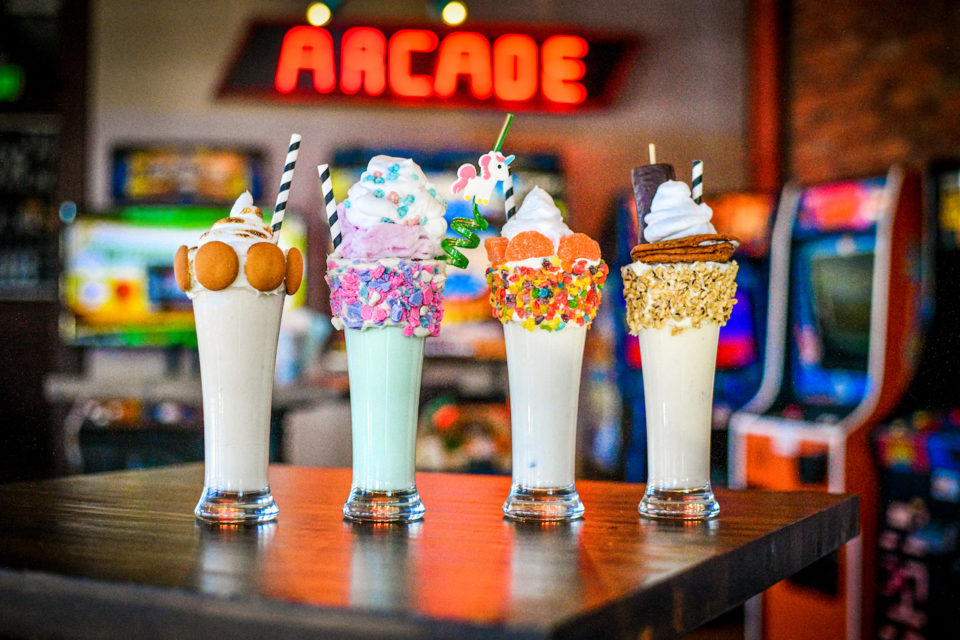 For Valentine's Day, the milkshakes are more than enough to share with a loved one—try flavors such as Chocolate Covered Cherry and Strawberry Shortcake topped with cherry wax lips. Be warned, though: With so many concoctions, it might be hard to compromise on just one, especially if you're bringing the kids.
One Milkshake Lab flavor will change with the seasons; the staff narrowed a list of 30 recipes down to 11 for the new menu, Williams says. So the next time you have something to celebrate, eat a really light dinner, head to Punch Bowl Social and Party Like It's Ur Birthday—that's the name of their cupcake flavored milkshake, served with sparklers.