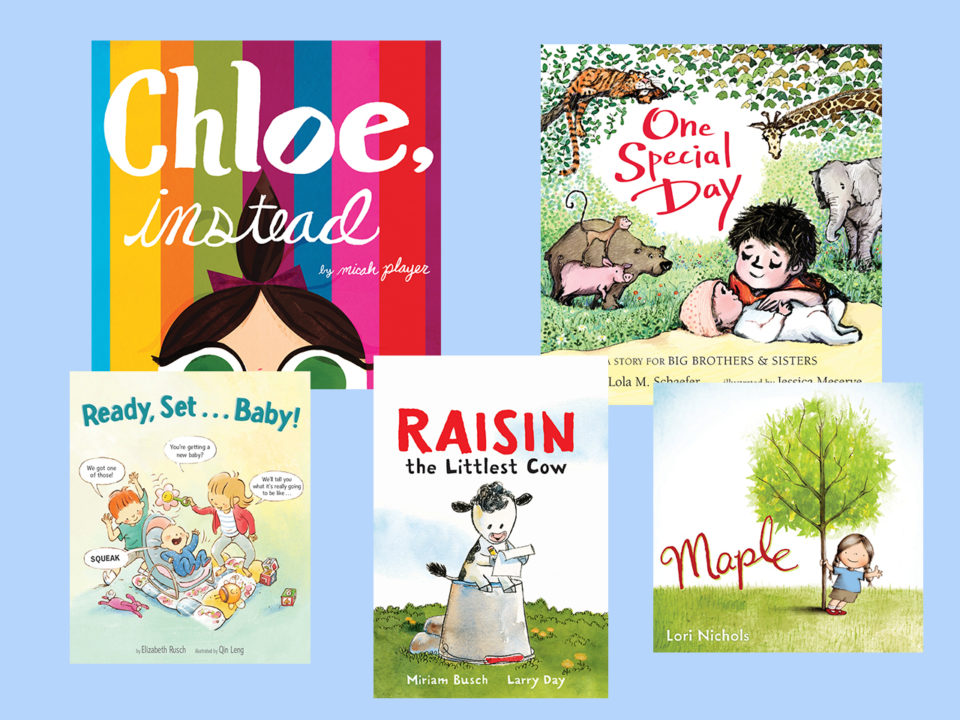 Books That Celebrate a New Sibling
Recommendations from librarians and book experts.
New growth is springing up everywhere, and for some families, that means a new sibling, too. Here are a few books to help the older, wiser children in your house celebrate—or adjust to—the new arrival.
by Lola M. Schaefer; illustrated by Jessica Meserve
Disney Hyperion, 2018
"[One Special Day is] by far and away my favorite because it celebrates the older sibling, explores how much he or she can do, how much this child already is, acknowledges the child, and just makes them feel so special…[it's] so important to do that," says Barb Langridge, children's book expert and creator of the online children's reading resource, A Book and a Hug. The story shows that Spencer—who is strong, funny, wild, brave, and free—can be gentle, too, when the baby arrives.
by Miriam Busch; illustrated by Larry Day
Balzer + Bray, 2017
Parents sing the praises of Raisin, The Littlest Cow as a great gift for a young child who is struggling to adjust to a new baby in the house. Raisin loves being littlest cow on the farm—but then Raisin's mother has a new little one who is even smaller. Everything goes wrong until Raisin discovers that even the littlest cows need slightly bigger cows to look after them.
by Elizabeth Rusch; illustrated by Qin Leng
HMH Books for Young Readers, 2017
"Ready, Set…Baby conveys so many helpful tips for new older siblings in a really fun and engaging way," says Amy Forrester, children's librarian at the Denver Public Library. In a comic-style book with fun, factual information, big siblings Anna and Oliver tell kids what to expect when a new sibling is on the way. The book concludes with helpful tips and resources for parents.
by Lori Nichols
Nancy Paulsen Books, 2014
"For new siblings, I simply adore the Maple series by Lori Nichols," says Denver-based children's author, Carmela LaVigna Coyle. "Baby Willow comes toward the end of the book, but it's so endearing, and thus begins their new adventures together." Check out Maple's companion books, Maple & Willow Together, Maple & Willow Apart, and Maple & Willow's Christmas Tree.
by Micah Player
Chronicle Books, 2012
Molly wanted a sister just like her—but she got Chloe instead. Molly loves to color, Chloe eats the crayons; Molly loves books, Chloe rips them apart. Then Molly realizes that having a sibling who is different from you has its advantages. Chloe comes on the scene as a toddler, making the book fitting for an adopted sibling, too.
Book experts and librarians also recommend:
Peter's Chair by Ezra Jack Keats
15 Things Not to Do with a Baby by Margaret McAllister, illustrated by Holly Sterling
I'm a Big Sister by Joanna Cole; illustrated by Rosalinda Kightley
My Mei Mei by Ed Young
The Baby Tree by Sophie Blackall
There's Going to be a Baby by John Burningham; illustrated by Helen Oxenbury
Ten Days and Nine Nights by Yumi Heo
Pecan Pie Baby by Jacqueline Woodson, illustrated by Sophie Blackall
Another Brother by Matthew Cordell
Princess Penelope Takes Charge by Todd Mack; illustrated by Julia Gran
Hello in There! A Big Sister's Book of Waiting by Jo Witek; illustrated by Christine Roussey
Waiting For Baby by Rachel Fuller
Julius, the Baby of the World by Kevin Henkes
Lola Reads to Leo by Anna McQuinn, illustrated by Rosalind Beardshaw