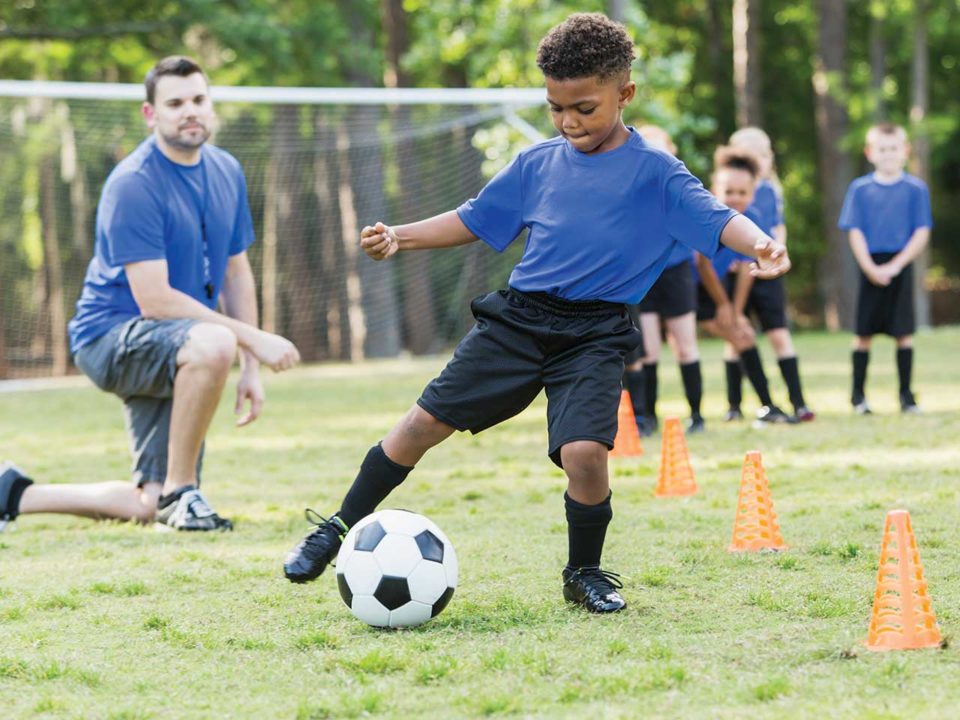 Cashing in on Summer Camp
How to make sure you're getting your money's worth when it comes to summertime experiences.
I might be raising the next Picasso or Pelé. It's possible. As the mom, I am required to see potential for greatness in my offspring. This necessitates sitting down in January surrounded by guides, catalogs, websites, and forms in order to select the essential summer camp for Picasso and Pelé—to nurture aforementioned potential for greatness.
Yes, long before the Christmas credit card bills are paid, it's time to sign kids up and sign big checks. The most popular camps fill up fast, and they aren't cheap.
I confess that in my most honest moments I wonder: Am I really raising Picasso and Pelé, or am I selling off my grandmother's silver to pay for what will essentially become an occasional hobby or nice memory? Is that summer camp really worth the time juggle, transport tango, and price tag?
"Camp is about giving your child the opportunity to explore things that they might not get to do during the school year," says Lisa Leafgreen, director of education at the Arvada Center for the Arts and Humanities. "Is it worth it? I think it is, to help your child discover what they're passionate about and to see their creativity and confidence blossom."
OK, so in general terms, it's worth the effort and expense for kids to gain practical and social skills in addition to having fun, getting exercise, and making friends—greatness aside. But is that specific camp worth it for your specific kid?
Not every camp is for every kid and not all camps are created equal. So where does a parent start sorting through the myriad options to get the best bang for their buck?
Determine Your Goals
When our kids were preschool/primary-age, summer camp was childcare. We chose camps that had a wide array of activities and lots of good snacks. We just wanted them to stay busy, have fun, and be safe.
In the middle grades, we have a completely different set of criteria. We started to look for camps that would help our kids branch out and try new things they wouldn't experience in school or within our family. They were still searching for their proclivities and passions, so we wanted them to try all the flavors: science, sports, survival, wilderness, writing, weaving—you get the idea.
Levi Weatherall, an instructor at Trackers Earth wilderness camps, agrees that summer camps are definitely a place to get kids out of their comfort zones. The mission of Trackers Earth is to "re-wild" kids, pushing them to expand their limits in nature. He recalls a third grader from his Stealth, Archery & Wilderness Survival camp. "He arrived wanting nothing to do with anything or anyone. By the end of the camp he was the kid who got completely coated in mud and forest debris for camouflage and stealth games. All you could see was his smile. It was a complete contrast from the beginning of the week when he wouldn't even sit on the ground."
However, Weatherall acknowledges that there is an ideal window of time for introducing kids to new things. "With younger kids it's way easier to get them involved," he says. "If an older kid isn't interested and doesn't want to be there, it's pretty hard to win them over." If your goal for summer camp is to introduce your child to something new, do it before fourth grade, and then start with a one-week rather than a six-week program.
By adolescence, kids have typically honed their interests and are looking for more advanced, specialized camps. This is where Picasso and Pelé emerge. These tend to be pricier, sometimes involving plane tickets and special equipment. When you are investing at this level, it becomes important that the camp presents the right degree of challenge to fit your child's skill—neither too advanced nor too basic.
Being intentional about your goals will narrow your options and guide your selection process significantly.
Choose Wisely
Probably the biggest factor in getting maximum value is matching your child to the right camp or program. "The type of kid that wants to attend an immersive Harry Potter camp is likely a different kid than wants to attend a whitewater rafting trip in a neighboring state," says Hannah Leeper, who worked as an instructor and director with YMCA and other camps for 10 years. It seems obvious, but don't rely solely on a short media blurb. Ask questions, read reviews, and make sure you know what you're signing up for.
Katy Goebel, Stapleton mother of Emma, age eight, and Jack, age six, agrees. "My daughter Emma has a strong personality. She knows what she likes and what she doesn't like so I have to choose things that will suit really her. She likes camps where she can choose between different activities. I like camps that teach activities that our family likes to do so my kids can learn from someone besides me. Then when we go as a family we can just enjoy—someone else already taught them the skill."
Goebel relies heavily on recommendations from the families in her neighborhood, her local school, and recreation center. As a working mom, convenience and location are big factors, as well as choosing well-established organizations that she trusts. Emma and Jack attend the camps from the Denver Museum of Nature & Science and the Denver Zoo every year, as well as the mobile camps from Avid4Adventure. "I appreciate that so many of their staff are professional teachers and that they send an email summary of activities and pictures every single day," says Goebel, who learned about Avid4Adventure at a one-day promotional event.
Many camps offer similar open house events where you can tour the campus and participate in activities. "This is a great way for kids to dip their toe in and get an idea of whether they want to spend a whole week or a whole month at that camp," says Leeper. "Stay-away camps offer tours and 'see-for-yourself' weekends for potential campers."
Like Goebel, Rina Coury, a Lakewood mother of Malena, 17, and Aliana, 11, says that she prefers programs that are well established and have a strong reputation. "I base my choice on interest first, schedule second, and recommendations from people and organizations I trust, like the ENOR environmental programs through CSU Extension and the Cleo Parker Robinson dance camps."
Coury has discovered some wonderful programs through her girls' teachers and school groups or clubs. Last year, Malena attended the RYLA (Rotary Youth Leadership Award) camp sponsored by Rotary clubs, which she described as, "Epic! One of the best weeks ever."
Get the Scoop
You can certainly dig deeper than reputations and referrals. Parents might ask about teacher credentials, background checks, curriculum content, staff-to-camper ratios, and age-appropriateness. Luckily for those of us without the patience and stamina for all that research, there is an organization that does it for us.
The American Camp Association (ACA) is the only accrediting organization for all types of camps—the best measure of safety in all 50 states. Leeper confirms the ACA accreditation as the guaranteed indicator of quality. "They check everything from whether the archery range is safe and the pool setup, to hiring procedures, menus, and how the horses are groomed."
The ACA's checklist, administered annually by trained auditors, is correlated to a point system. The point system is customized according to the specific type of camp being audited. For example, an art day camp will not be scored on where and how the horses are groomed but rather on the condition of its paintbrushes. If a camp doesn't earn and maintain the required number of points for their specific type of program, they will not receive accreditation.
The ACA advises that if parents only ask one question, ask whether the camp is ACA accredited. Pretty much all procedural, hiring, health, and safety issues will be covered by that one question. Check out its website to find 2,400 accredited camps across the country.
Do Your Part
Parents actually have a lot of control over whether their camp experience is worth the investment. Prior to the start date, help your child prepare. Mark the first day of camp on the calendar or print out a copy of the camp's checklist early, and post it in the house. Talk with your child about what to expect at camp.
Once camp starts, send kids off prepared, well rested, and well equipped. If they show up late, or in the wrong clothes, or without proper shoes, or forget their lunch/healthy snacks or sunscreen, we are setting them up for an unsuccessful and possibly miserable experience.
Don't schedule kids for a camp the same week that you have guests in town and plan to be up late, or when there is some significant family event that they will have to miss. Also, allow yourself time at drop-off and pick-up to meet the instructors and exchange important information. It would be a shame to miss the final performance or competition because you were harried and neglected to pick up the flyer or list your email address.
"We know everyone is in a hurry," says Leafgreen, "but we ask parents to take the time to fill out all the forms, meet the teacher, communicate any special needs, and provide contact information. This enables us [to] keep your child happy and safe."
Should a problem or question arise, don't wait until the end of the week and then give negative feedback. The teachers and directors can help you get to the root of the issue and turn things around early in the week. The most common reasons for camper discontent are hunger, feeling outcast, and missing parents. These are easy fixes with just a little communication.
When camp ends, capitalize on your investment by asking your child to share his or her new skill—archery, computer coding, or making crepes! This reinforces their learning and multiplies the benefits for the whole family.
Helpful search sites to find just the right program for your camper: