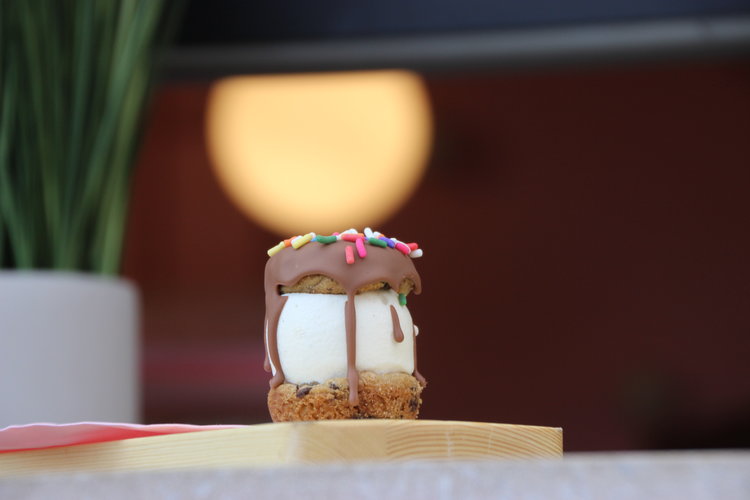 Chocolate Chip Cookie Treats
Where to find creative renditions of the classic cookie around Denver.
Whether to celebrate the first day of school, as a reward for the end of a rotten day, or just because, a chocolate chip cookie is always the right answer. In honor of National Chocolate Chip Cookie Day on August 4, we went looking for bakeries and restaurants in Denver offering a creative take on the classic; treats like a deep-dish chocolate chip cookie, a chocolate chip cookie cupcake, and even a brownie cookie studded with white chocolate chips. Bite into these melty, warm treats.
Peteybird's ice cream sandwiches (pictured above) are a labor of love; made over the course of a week, involving an 11 step process which includes making chocolate chip cookies from scratch and using simple, natural ingredients. The chocolate chip and vanilla bean sandwich is covered in milk chocolate and sprinkles. 3040 Blake St., Denver.
You'd never guess this gooey brownie cookie with white chocolate chips is allergy friendly, but that's just how Allergy Free Baking Company does business. Their brownie white chocolate chip cookie is gluten free, nut free, soy free, and corn free, but full of flavor. 14011 W. Quincy Ave., Suite J, Morrison.
The chocolate chip cookie takes on the cupcake with Gigi's delightful chocolate chip cookie dough cupcake, made with chocolate chip cookie cake with cookie dough frosting, sprinkled with chocolate chips, and topped with a homemade chocolate chip cookie. 7301 S Santa Fe Dr., Suite 625, Littleton.
Otherwise known as "Cookies Rule Everything Around Me" CREAM serves up bigger and better ice cream sandwiches, and even an ice cream sandwich cookie cake, with eight scoops of ice cream lovingly placed between two giant, freshly baked cookies. Personalize them with toppings that are added inside the sandwich and on the sides for a Insta-worthy treat. 7357 W. Alaska Dr., Lakewood.
Old Chicago
In addition to their creative kids menu, where your child gets the chance to customize their meal, Old Chicago serves up a cookie that will please the whole family. Their big cookie is a deep-dish pizza pan loaded with chocolate chip cookie dough, baked, and cut in slices. The cookie comes in two sizes; a 6" that serves one generously, and a 9" that serves two to three. 13 metro Denver locations.
LoDo's Public School 303 serves up a creamy, salty, sweet treat with their Nutella cookie sandwich; vanilla ice cream and pecan bacon brittle sandwiched between two chocolate chunk cookies spread with Nutella. 1959 16th St., Denver.