Warm Up Your Mug with Colorado Coffee Liqueurs
Treat yourself to some much needed mommy me time and put a little nip in your sip with these tasty coffee liqueurs.
When the temps drop and a dusting of snow covers the ground, nothing warms the soul more than a steaming cup of coffee. On weekends, however, I sometimes indulge my mug with a dollop of coffee liqueur. However, I don't use that mass-produced syrupy stuff. Colorado has some mighty fine coffee liqueurs of its own. Perhaps familiarity with cold blustery mountain winters helps Colorado distillers know their way around this dark rich elixir? Or maybe it's because Colorado has both amazing coffee roasters and distillers? Either way they have the awards to prove it. Below are a few of these special Colorado spirits to warm up your winter weekend mornings. They make great gifts too.
Arrosta Coffee Liqueur, Vapor Distillery
From the distillery formerly known as Roundhouse, this award-winning dark liqueur is made with Central American coffee beans personally roasted by Boulder's Gerry Leary of The Unseen Bean. Leary, who is blind, is one of Colorado best known coffee roasters. To that already coffee-licious base, Master distiller Ted Palmer adds Madagascar Bourbon Vanilla Beans and pure cane sugar for a sweetness to compliment the roast.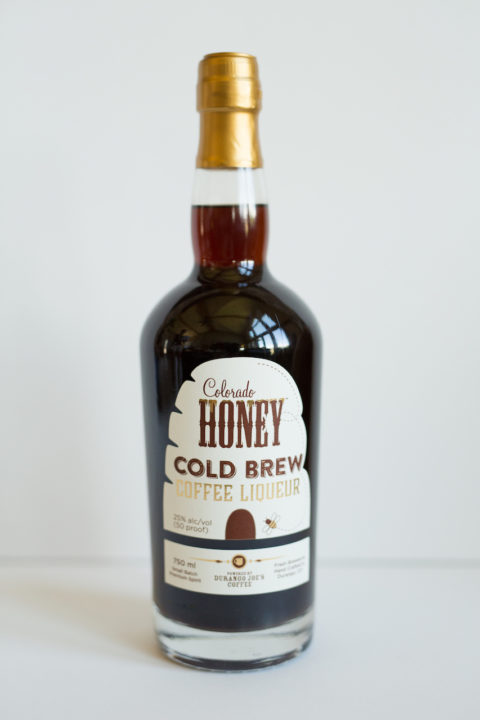 Durango Joe's Cold Brew Coffee Liqueur, Honey House Distillery
The folks at Honey House in Durango didn't let the 416 Wildfire stop them from releasing Durango Joe's Cold Brew last July. Made with roasted espresso beans from Durango's own Durango Joe's Coffee, the beans are cold brewed at the distillery and mixed with original corn spirit. Honey House then adds Rocky Mountain Wildflower Honey from its sister company Honeyville, pure vanilla, and brown sugar for a richly sweet coffee liqueur.
Frenchpress-Style American Coffee Liqueur, Leopold Bros.
This renowned Colorado distillery makes a wide variety of specialty liqueurs and aperitifs using high quality ingredients that every palate can appreciate. Their coffee liqueur is no exception. Using a proprietary blend of fresh roasted coffee, the distillery puts the roasted beans in its own 25L waterpress. Head distiller Todd Leopold then adds raw cane sugar and bottles the spirit while still warm. Perfect for hot toddies and other warm cocktails all winter long.
Head distiller and owner Connie Baker loves to tell the story about the coffee liqueur her mother made to give as gifts for the holidays when she was a youth. "Not sure how legal that was, but it filled the house with the most amazing smells," she says. Using locally roasted Guatemalan coffee beans from Carbondale's Bonfire Coffee and cold brewing it in the distillery's mash tun, Baker adds Ugandan vanilla beans and sweet beet sugar to recreate her mother's special treat.
Nooku Bourbon Cream, Old Elk Distillery
Many a coffee lover has put a certain bourbon cream from Ireland in their coffee for decades. However, Old Elk in Fort Collins took on the challenge of that market by creating Nooku Bourbon Cream. A Native American word for snowshoe rabbit, Nooku is made with the distillery's high-malt bourbon and real dairy cream from upstate New York. That's it, yet the taste has elements of caramel, toffee, and vanilla and it's oh so silky texture will smooth out your morning cup. Old Elk also has a Peppermint Nooku for the holidays.
Richardo's Decaf Coffee Liqueur, Black Canyon Distilling
Made in partnership with Black Canyon Distillery in Mead, Richardo's is a pleasant mix of roasted coffee and vanilla that creators Rick and Linda England of Lyons used to make in small batches to give to friends and family for the holidays. They began selling the spirit in 2012 and it quickly won multiple awards. Because the spirit uses decaffeinated coffee, England says less sugar is needed than other liqueurs. A delicious use of Richardo's liqueur is in the Englands' Black Richardo's Cake recipe, which can be found on the company's website with a variety of other desserts and cocktails.