16 Corn Mazes and Pumpkin Patches to Visit This Fall
Pick a place and go for some outdoor autumnal amusement.

•
It's time to get out and breathe that crisp, fall air. Harvest time at farms and plots across Colorado's Front Range means pumpkins, gourds, hay, corn, and animals; many even incorporate carnival-like attractions. Find a corn maze, pumpkin patch, or fall festival nearby, or make a day trip to one!
Through Oct. 31. Daily, hours vary
$12,  free age 3 and under

Get lost in Colorado's longest-running 25-acre corn maze. Anderson Farms offers dozens of pumpkin, squash, and gourd varieties ripe for the picking. Enjoy delicious concessions, let your little one visit farm animals and play on the Kiddie Korral Playground, or challenge someone to a race on the pedal karts. Find tickets and operation updates online.
---
Through Nov. 1. Daily, 10 a.m.-6 p.m.
Free parking and entry, $1-$5 produce and activities

Pick a day, any day, to come up to the Bartels farm for harvest fun. They celebrate an 11th annual pumpkin patch this year with opportunities for picking, a punkin chunkin pumpkin launch, farm animal encounters, a kids' mini straw maze, and a hand-carved corn maze. Hand sanitizer and wash stations will be available, and masks required on the grassy area if busy.
The Bartels Farm, Fort Collins
970-493-3853
thebartelsfarm.com
---
Through Oct. 31. Mon-Tue, 9 a.m.-1 p.m., Wed-Sun, 9 a.m.-5 p.m.
$10-$13, free age 3 and under

Take part in much more than a picking patch; the whole family will love gathering around large outdoor games, a petting zoo, a small kids maze, and more. Take home a jar of pumpkin butter to slather on toast and remember your good times.
---
Through Oct. 31. Fri-Sun, 9 a.m.-7 p.m.
$10-$12 adult, $6-$8 ages 3-­12, free age 2 and under

Wind your way through seven acres of corn at Denver Botanic Gardens Chatfield Farms 20th anniversary corn maze. Take a peek at the routes above the cobs via 15-foot tall illuminated bridges. Younger maze explorers, under the age of 10, are welcome to explore the mini-maze. Round out the fall festivities with a pumpkin purchase. Purchase tickets online and wear your mask that covers your nose and mouth, Halloween masks and costumes aren't permitted.
Denver Botanic Gardens at Chatfield Farms, Littleton
720-865-3500
botanicgardens.org
---
Through Oct. 31. Daily, 10 a.m.-6 p.m.
$5 admission Sat and Sun, free on weekdays and for children under 5

Gear up for a gourd time! This family farm invites you to their land any day of the week. Find a corn and straw bale maze, visit farm animals, and view their big tractors. Preorder options available for pumpkins and squash you can take home. Find updated information on hours, tickets, and activities online. Don't forget a mask.
Cottonwood Farms, Lafayette
720-890-4766
cottonwoodfarms.com
---
Through Oct. 31. Thu-Sun, 10 a.m.-6 p.m.
$15, $5 age 65 and older, free age 2 and under

Scarecrows, pumpkin painting, a petting zoo, two bale mazes, oh my! Pick out that perfect pumpkin for carving, or corn stalks, straw bales, and gourds to up your decor game.
Flat Acres Farm, Parker
303-805-1038
flatacresfarm.com
---
Oct. 2-4. Fri-Sat, 9 a.m.-8 p.m., Sun, 9 a.m.-6 p.m.
$15, free age 3 and under
When you think autumn, you might think pumpkin patch, crafts, live music, and tasty treats. Find all those and more at Four Mile Historic Park's old-fashioned fun festival. Snag tickets for a 90-minute experience online. Members have exclusive access to a free preview night on Oct. 1.
Four Mile Historic Park, Denver
720-865-0800
fourmilepark.org
---
Through Oct. 31. Fri-Sun, hours vary by day
$14.95-$17.95 entry includes most activities, free age 2 and under

The Fritzler Family celebrates its 20th year offering more than a dozen attractions—add them to the family fall fun to-do list! Check out their corn maze, sunflowers (new this year), giant patch, pumpkin cannon, rides, food, and more. High touch items will be sanitized after every use, common areas will comply with social distancing, and hand washing stations will be available. Find tickets online.
Fritzler Farm Park, La Salle
970-737-2141
fritzlerfarmpark.com
---
Through Oct. 31. Thu-Sun, 9:30 a.m.-4:30 p.m.
Free admission

There are pounds and pounds of pumpkins to pick at this farm and orchard. Sniff your way over to find apple cider donuts on the weekends and Applewood smoked barbecue brisket and pulled pork each Saturday and Sunday till 3 p.m. Pets welcome.
---
Through Nov. 1. Fri-Sun, 10 a.m.-8 p.m.
Tickets online: $19.95, $16.95 seniors and military, free age 3 and under. Entry includes most activities.

It's a giant, farm-themed playground over at Lone Creek's festival where you'll find swings, zip lines, pedal carts, mine cart rides, and animals from chickens to goats and donkeys. Pick a pumpkin and grab an apple cider donut.
Lone Creek Farms, Franktown
303-800-1243
lonecreekfarms.com
---
Through Oct. 31. Sat-Sun, 10 a.m.-5 p.m.
$12, free age 2 and under

Take a spin around this real working farm where you'll find a petting zoo, pumpkin patch, corn maze, and scarecrow building activity. $40 per scarecrow, materials provided.
Mazzotti Farms, Hudson
303-536-4089
mazzottifarms.com
---
Through Nov. 15. Daily, 9 a.m.-6 p.m.
$25 age 14 and up, $15 ages 4-14, free age 4 and under

Peek into the agricultural process behind the food on your family table. Celebrate harvest season on the farm where you can take a tractor ride with stops along the way to pick vegetables—load a wagon full for $40. Become one with the corn while navigating a maze through the stalks. Enjoy a picnic meal and don't forget to snag a pumpkin for home decor. Social distancing, sanitizing, and mask wearing will be maintained.
---
Oct. 10-24. Sat, 9 a.m.-4 p.m.
Tickets online: $10 admission includes all activities and a pumpkin.

Support the Western Museum of Mining and Industry while having a great time on a 27-acre campus; head to the Miners' patch and enjoy a hay maze, pumpkin picking, photo props, gold panning, and live entertainment. Social distancing will be observed.
Western Museum of Mining & Industry, Colorado Springs
719-488-0880
minerspumpkinpatch.com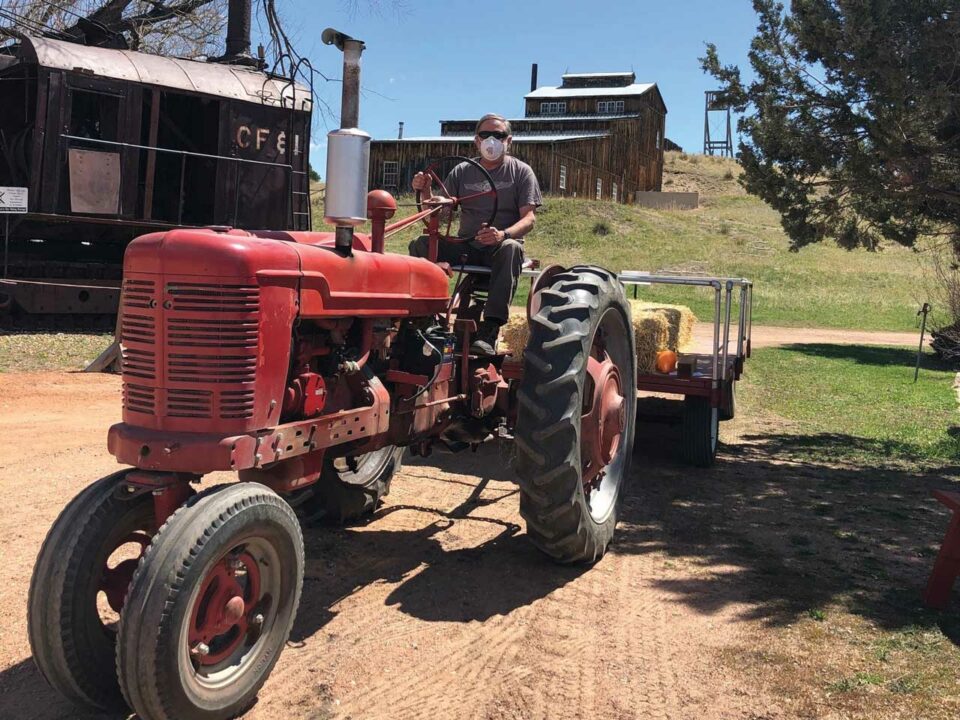 ---
Through Oct. 31. Daily, 10 a.m.-6 p.m.
Free parking and admission; produce prices vary.

Step onto the Osborn Farm grounds to find a field full of pumpkins, gourds, Indian corn, and straw bales, all available for picking and purchasing. Open every day until good weather or stock runs out. Hay rides are offered on Saturdays and Sundays. Dogs are allowed on leash. Bring a mask for checkout.
Osborn Farm, Loveland
970-541-1212
osborn.farm
---
Oct. 3-31. Sat-Sun, 9 a.m.-6 p.m.
$1-$10 per activity

Pull up to this patch ready to pet animals, ride carnival rides, make your way through a hay maze, and of course pick pumpkins. Rides are geared towards kids ages 3 to 7. Masks are required and social distancing will be maintained.
Rocky Mountain Pumpkin Ranch, Longmont
303-776-8688
rockymtnpumpkinranch.com
---
Through Nov. 1. Daily, 9 a.m.-5 p.m.
$10, free age 2 and under

Make El Paso County's largest petting zoo your playground this fall. Visit the animals, enjoy rubber duck races, pedal carts, ride the hay wagon, and picnic with your own food or concessions from the farm store.
Wishing Star Farm, ​Ellicott
719-244-7252
wishingstarfarm.com