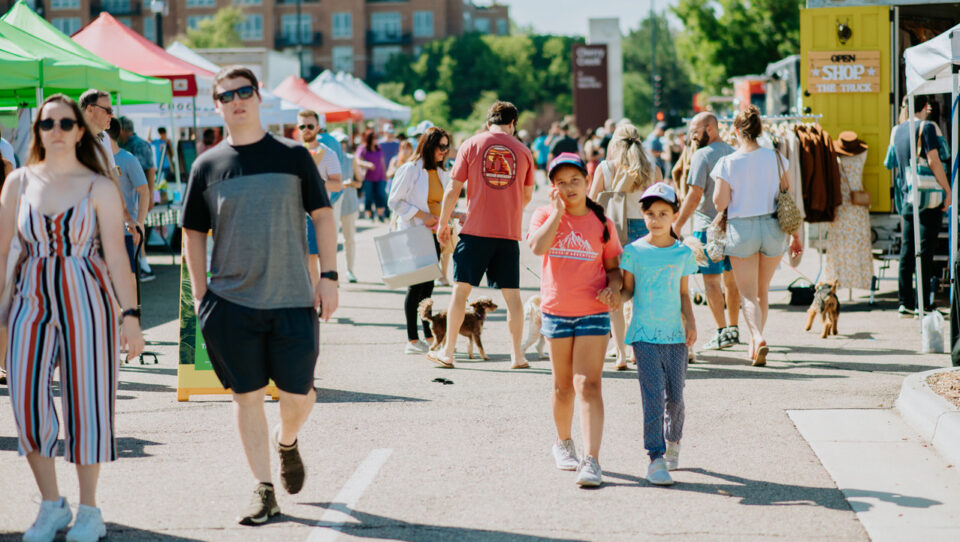 Denver-Area Farmers' Markets to Freshen Up Your Summer
Whether you're looking for locally grown produce or a place to meet up for some family fun, these markets are the hot spots to hit this season.
Even kids who get wiggly at a grocery store will find their jam at a farmers' market. With samples of juicy fruits, special activities just for them, and the chance to meet a farmer or chef, what's not to love? Here are a half-dozen local markets to check out with the kids this summer.   
Along the promenade at Denver's largest park, this market has a prime location and major family appeal. 
Word of Mouth Chefs buy ingredients from Croft Family Farm—and now that they sell their Rainbow chard, baby lettuce mixes, and dozens of other veggies at the market, you can too. From the food-truck lineup, Green Giraffe's real fruit smoothies, with fun names like Pink Flamingo and Purple Urple, have big-time kid appeal on a hot day. And Butter Moon Bake Co. sells delish square biscuits, in buttermilk and vegan varieties. 
Family Vibe It's hard to think of a better place to have a picnic breakfast or lunch with the kids. Snag a table or bring a blanket to spread out on the grass. Local musicians play tunes, and once a month, renowned local chefs give cooking demos. The chefs shop the market and then make bite-size samples that shoppers can try for free. 
Open every Saturday 8 a.m. to 1 p.m. from May 14 to October 29, 2022; there's ample parking nearby. 
A neighborhood institution, this large market has brought joy (and goods) to local families for 25 years. Shoppers meet up with friends, pull their kids in wagons, and even take the family pet. It's held in the parking lot of the Cherry Creek Shopping Center in Denver, across from Whole Foods Market. 
Word of Mouth Reunion Bread's award-winning Venezuelan breakfast pastries draw crowds every week. Don't miss the Pastéis de Nata (lemon custard tarts), Golfeado (Venezuelan sticky bun), and Churro Dulce De Leche Croissants before they sell out. Your kids may ask for a soft pretzel from Mile High Pretzel Co. If you need to buy flowers for a gift or for yourself, Little Hollow Flowers has you covered with seasonal bouquets. June is prime time for peonies!
Family Vibe With live music at two performance venues, kids can't stop themselves from dancing. The type of music changes from week to week, but jazz, bluegrass, and country are some of the popular genres. 
Open Saturdays 9 am to 2 p.m from May 7 to November 5, 2022 and Wednesdays from 9 a.m. to 1 p.m. from June 15 to September 28, 2022.
Check out a farmers' market and a stack of books all on one trip! This 20-year-old market sets up shop in the west parking lot of the Golden Public Library. It's located about 15 miles west of Denver. 
Word of Mouth Head to the market early for Hinman Pies. Its hand pies, in savory and sweet varieties, sell out fast. While there are some expected flavors like blueberry and cherry, it's fun to see the unusual combinations, like pork green chile. Hipster Lettuce is the spot to go for side dishes. Its jars of kraut, including one made with red cabbage, are hot items. And Eat A Peach Farms brings sweet, organic fruit (including Palisades peaches when they're in season) that it grows on Colorado's western slopes. 
Family Vibe Market organizers have a genius way to keep the kids excited: They hide a wooden golden bee, the resort's mascot, at one of the stands. When a child informs an employee of the bee's secret hiding place, they'll receive a small prize. 
Open Saturdays 8 a.m. to 1 p.m. from June 4 to October 8, 2022. Parking is limited, however, accessible spots are readily available as well as two large parking garages are located nearby.  
About 10 miles northwest of Denver, Arvada's Olde Town Square is bustling when vendors set up their tents and food trucks roll in for the weekly market. 
Word of Mouth Stop by Cookie Pies booth; it sells lattice-topped, hand-held treats that are a mashup of sugar cookies and fruit pies. Björn Colorado Honey is another local fave. This small-batch producer uses their own bees to craft honey with flavors like vanilla bean and lemon. Founded in 1949, family-run Miller Farms brings an amazing array of produce, including asparagus, tomatoes, and beets. 
Family Vibe The market is a fab place for a playdate. Kids can climb on tumbling mats and foam structures on the grassy area, and then head to the pop-up jets on the splash pad to cool off. You and another adult can take turns shopping. And no one has to make snacks or food—there are plenty of delicious things at the market for the kids to munch on. 
Open Sundays 9 a.m. to 1:30 p.m. from June to September 2022. Nearby street parking is available and a parking garage is located a few blocks from the market. 
In a stunning tree-lined location near Boulder Creek and the Boulder Museum of Contemporary Art, this two-day-a-week market is run by a nonprofit organization that helps people experiencing food insecurity.  
Word of Mouth Sample dips from the Yummy Yummy stand. It sells hummus in a wide variety of flavors, ranging from avocado to balsamic vinegar & green onion. Kids love dipping pita chips and veggies in the hummus. To fill your produce drawer, you can't go wrong with the goods from Eden Valley in Loveland. Their sustainably grown greens, melons, and berries are shopper faves. 
Family Vibe Kids look forward to making a new nature- or food-themed craft every week. A radish-inspired Mother's Day card that said, "Mom, You're Rad!" was one of the recent projects. On Wednesdays, kids and parents can get their Zen on together at the market's family yoga class.  
Open Saturdays from 8 a.m. to 2 p.m. and Wednesdays from 4 p.m. to 8 p.m. from April 2 to November 19, 2022. A parking garage and a customer-only parking lot are available. 
Located in the shopping center's parking lot, this seasonal market has lifted up this south Denver neighborhood. 
Word of Mouth Everybody Must Get Scones—one of the most popular vendors—puts a healthy twist on the treat. They're made with non-fat Greek yogurt rather than heavy cream. Pastamore (with its colorful, gourmet linguini) and Tamales Lady (which sells the hand-held Mexican dish with a variety of fillings) are also favorites.  
Family Vibe Combo the market trip with your Target run (the store is in the same shopping center). Kids may also ask you to swing by Timbuk Toys, another shop in the plaza. Later this summer, the market plans to offer programming for kids.
Open Saturdays 9 a.m. to 1 p.m. from May 14 to October 29, 2022; park right in the lot.