Disney's Aladdin Brings the Magic to the Buell Theatre
See favorite characters from the classic movie live on stage.
Disney's Aladdin will truly be a hit for boys and girls of all ages. The musical adaptation of the Disney film classic packs in different musical and dance styles to suit a wide variety of tastes. When the Genie and the ensemble perform their rendition of "Friend Like Me," keep your eyes glued to the stage—you won't want to miss a single, fabulous detail. The number is reminiscent of the late Robin Williams' performance for the movie, yet with style that only the stage can offer. There are quick costume changes, tap dance numbers, magic tricks, and gymnastic feats. This Genie (performed by Anthony Murphy) makes the role his own, switching in and out of different characters, adding recent pop culture references, and even singing bits from other famous Disney movie songs.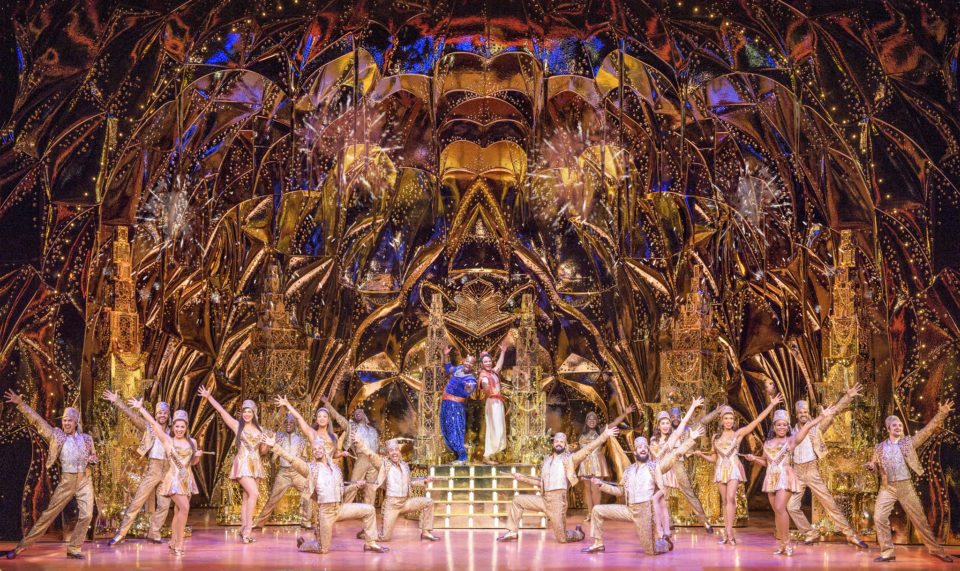 You'll marvel at the set design—the scene with the gilded Cave of Wonders, in which the Genie is first revealed, was a favorite for my nine-year-old son. Kids will love Aladdin and Jasmine's "real" magic carpet ride through the twinkling night sky and be enthralled by the color, hustle, and bustle of the city marketplace. There are also choreographed sword fights, shooting streamers, beautiful Las Vegas-show-style costumes, and enough glitter to satisfy, well, kids who really love glitter.
It's funny too—Jafar and his sidekick Iago announce when it's time for their evil laughter and Aladdin's friend Babkak is always dreaming of food ("did someone say falafel?"). And those are just a couple of many moments that add humor to the show.
Younger audience members should be aware of several abrupt flashes of light and lightning at various points, but they are gone as quickly as they appear. Young viewers of the movie will recognize some of their favorite songs, but will leave with a whole new lineup of favorites.
What you need to know:
See Aladdin on stage at the Buell Theatre through April 28. Recommended for ages 6 and up. Tickets: call 800-641-1222 or visit denvercenter.org. April 20 performance includes a free (to ticketed patrons) 15-minute audience Q and A with members of the company after the show. April 22, 2:00pm matinee is an accessible performance, with sign language, audio description, and open caption options available by calling the box office.