An Exhibit You Would Not, Could Not Want To Miss
Oh, the places you'll go when you step inside the pages of your favorite Dr. Seuss books.
The only thing better than reading The Lorax with your kids is walking into its pages…which is totally possible now through Labor Day when you visit The Dr. Seuss Experience, an interactive art installation opening March 25 at Centennial Promenade. 
When it comes to children's book illustrators, Dr. Seuss is the head honcho of ridiculous rhymes and fantastical narratives. When his books are combined into one massive, interactive display, you wind up with a colorful, touchable, over-the-top installation that the whole family can enjoy.
In addition to providing incredible backdrops for your Instagram feed, the 360-degree exhibits at The Dr. Seuss Experience eliminate all boundaries imposed by traditional paper books by letting visitors step inside their favorite scenes. The first set you'll encounter is an interconnected maze of thousands of suspended pastel balloons inspired by the artwork from Oh, The Places You'll Go! (Don't worry: The balloons aren't real; your kids can't accidentally pop them.)
The maze serves as the attraction's centerpiece. After your children race through it a few dozen times, look for the doorways leading off this main entrance hall. These doors transport you to eight additional Seussian-themed scenes.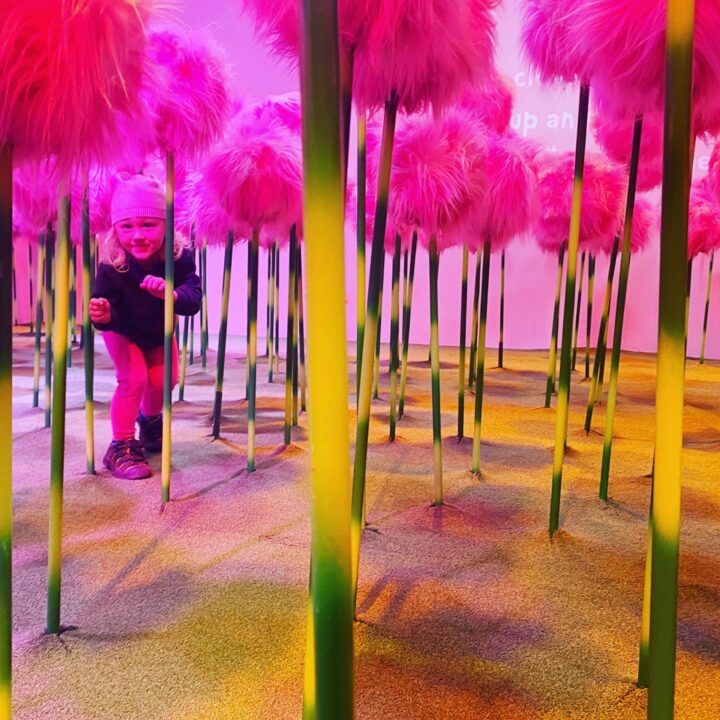 When I agreed to review Denver's newest interactive exhibition, I thought I'd be recommending the experience for families with toddlers and preschoolers. My three-year-old daughter went crazy viewing colorful displays and hugging a parade of characters. What really surprised me, though, was how much my older kids, ages 9 and 11, enjoyed the experience. 
All of the rooms are filled to the brim with vibrant displays and hands-on activities, including an I Spy game (There's A Wocket in my Pocket!), a real carousel ride (If I Ran the Circus) and a Let's-Go-Fishing inspired game where players try to stop the Grinch from stealing presents by grabbing them off a conveyor belt (How the Grinch Stole Christmas). The Cat in the Hat room was also a hoot with its life-size talking cat and a game that basically just involves making a giant mess. (What kid doesn't love making a mess?)
The interactive installations at The Dr. Seuss Experience are meant to "help the next generation of young fans fall in love with reading through immersive engagement," explains Susan Brandt, president and CEO of Dr. Seuss Enterprises. As a boring old adult, I appreciated opportunities to sneak in some reading with my preschooler. Quotes from Seuss's books were painted on the walls, and I read them aloud as we traversed the rooms. 
We couldn't get through the gift shop without grabbing a copy of The Cat in the Hat, which my sons read to my daughter on the car ride home. We're headed to our local library today to check out all of the Dr. Seuss books in stock. I guess the installation did accomplish its mission by bolstering our love of reading.     
 A few words to the wise:
The entire experience is highly stimulating with bright colors, big sounds, and lots of people. If your child requires a low-sensory experience, keep an eye out for low-sensory days coming this summer. Dates will be announced online later this spring.   
While The Dr. Seuss Experience is following current COVID-19 guidelines, and employing cleaning and sanitizing protocols, this is an indoor event drawing lots of people. If you want to be extra safe, book your tickets for first thing in the morning, and get through the installation before the crowds ascend.  
Reserve a time online in advance—many time slots sell out quickly. Tickets are $25-$30; free under 12 months.