Spend a Long Weekend in Family-Friendly Fort Collins
A long weekend in Fort Collins is the perfect end-of-summer getaway with a standout dining scene, kid-friendly attractions, and ample outdoor offerings.
If I'm being honest, I was dreading our visit to Fort Collins.
I'd spent a few hours there years ago, when one of my cousins was touring Colorado State University; aside from some bad traffic on I-25, nothing about the day trip was particularly memorable. What's more, my third baby arrived in June, and the thought of traveling with a newborn—even for a mere 24 hours—was exhausting. But my older children were cheated out of their standard weeklong summer vacation, so canceling our staycation seemed wrong.
Fortunately for this sleep-deprived mom, Denver's fourth most populous city was a far cry from the town I remembered. With a standout dining scene, kid-friendly amenities, and ample outdoor offerings, the low-key destination manages to strike that perfect balance of fun and leisure—and it was only an hour's drive from Denver.
Hiking Trails and Open Spaces
If you're used to hiking in Boulder or Summit County, it might feel like you've left the state while gazing over the Eastern plains in Coyote Ridge Natural Area. This welcoming preserve with 2.2 miles of well-marked trail accessed via a parking lot on the west side of Taft Hill Road is just 10 miles south of Old Town.
During an easy mile-long ascent along Coyote Ridge Trail, you're liable to spy burrowing owls, and plenty of prairie dogs, before reaching the Hidden Clues Trail, a short, interpretive loop encouraging children to become "nature detectives" by observing their surroundings.
West of Old Town, Horsetooth Mountain Open Space is another great option, with 29 miles of hiking and biking trails connecting to the Blue Sky Trail and Lory State Park. The 2,711-acre plot is named for its distinctive Horsetooth Rock formation. For families with children, though, nothing beats a 2.4-mile out-and-back trek to Horsetooth Falls, which is still a worthwhile target, even if the fall is more of a trickle by late summer.
Horsetooth Mountain Open Space requires a $9 entry fee, payable to a ranger by credit card or cash. The lot fills up fast on weekends, and rangers limit the number of cars waiting in line to enter. Your best bet is to arrive by 8 a.m. on weekends and holidays, or visit on a weekday.
There isn't much shade along the Horsetooth Falls and Coyote Ridge trails; bring plenty of water and sunscreen. Other notable natural areas include Bobcat Ridge Natural Area, a favorite stop of local history buffs, and Reservoir Ridge Natural Area, providing a more rugged foothills experience. In Lory State Park, Well Gulch Nature Trail is an enjoyable and easy hike with kids.
Good Eats
After working up an appetite, try Foco Doco—aka the Fort Collins Donut Company, on N. College Avenue in The Exchange—where made-to-order donuts come in an array of flavors. Since they're something between a donut hole and full-size bun, you're totally justified in sampling a few before heading south to Old Town.
If Old Town Square looks familiar, that's probably because downtown Fort Collins was the inspiration for Disneyland's Main Street U.S.A. From Snooze to Beau Jo's to Next Door Eatery, there's a local restaurant for every type of diner in the city's eclectic shopping district. My whole family digs organic, plant-based fare, so we tried Tasty Harmony, and left fully satiated by the joint's healthy salads, bowls, and innovative Veg-Mex offerings.
If you happen to visit on the third Friday of the month, the Fort Collins Foodie Walk is a good way to whet your appetite. A dozen Old Town culinary shops dish out hearty samples, from 5 to 8 p.m.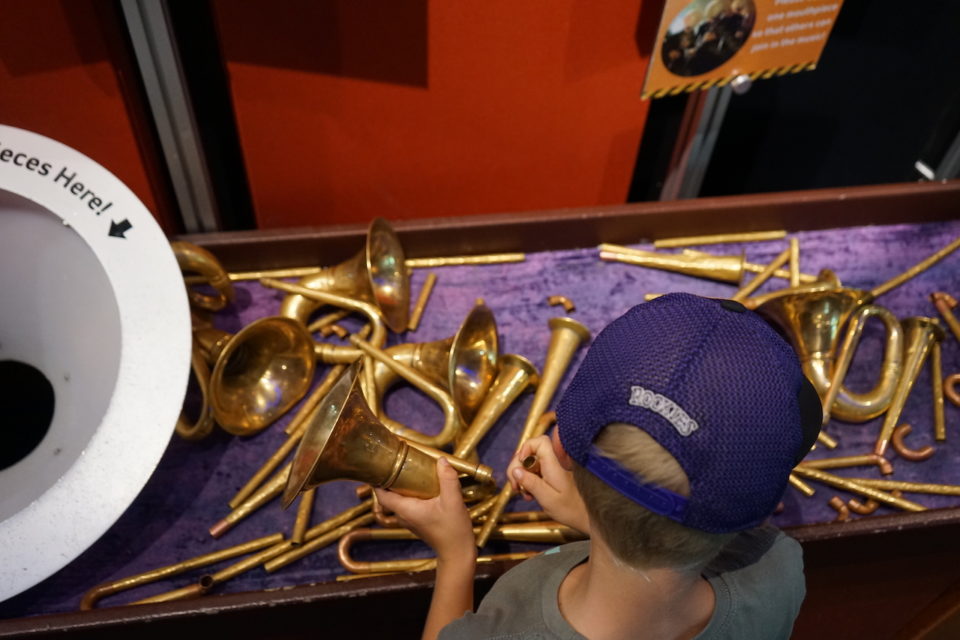 Museum Break
By 1 p.m., the Fort Collins Museum of Discovery was a welcome break from the heat. This city-sponsored museum is a hodgepodge of hands-on exhibits encompassing everything from prehistoric times to modern sound and indigenous creepy crawlers. Somehow it works.
It was hard to tear my older son away from the entryway, where he could lift a piano with a rope (and lever). After that, a series of music and sound exhibits captivated my seven-year-old, who loved building his own horn, seeing sound through dancing Styrofoam pellets, and making music with his body in the pitch-black Soundscape Room. I caught my husband jamming on a drum kit in the Music Garage, tucked away behind a cluster of miniature sound studios with guitars, keyboards, drums, and synthesizers.
The Tot Spot is perfect for younger children, with a train track, tree house, coloring and dress up stations, and a water feature with toys just right for splashing hands. If you're enjoying the air conditioning, head up to the second floor for a show in the OtterBox Digital Dome Theater, Northern Colorado's only 360-degree dome theater.
Have More Than One Day?
We hit the sheets after a long day of exploring. The Fort Collins Marriott and Hilton Fort Collins both have pools and plenty of double rooms for families.
On our second day, we woke up and took a short walk through the flat, dirt trails at CSU's Environmental Learning Center, where a series of interpretive signs engaged my children during an easy 1.2-mile loop. If you visit during the summer months, bring tons of bug spray to battle the mosquitoes swarming the Poudre River.
Our next stop was Twin Silo Park, at the intersection of Kechter and Ziegler roads. It was a total crowd pleaser. My boys could have spent the entire day monkeying around on the ropes and cargo nets leading to a giant slide connecting two 48-foot farm silos. With community gardens, an orchard, paved trails, pickleball courts, and a BMX park, there's plenty to do until your stomach rumbles—at which point Silver Grill, northern Colorado's oldest restaurant, 218 Walnut St., is a smart detour for breakfast or lunch. The diner is known for its enormous handmade cinnamon rolls, but serves up plenty of savory dishes, too.
Open every day but Monday, The Farm at Lee Martinez Park, 600 N Sherwood St., is a fun experience for families with younger children, and animal lovers of all ages, who can feed the chickens, goats, and sheep (feed available for a quarter at the Farm Store), ogle the resident hog, ride ponies, and play on tractors. For big kids and grown-ups, the Heritage Museum presents a history of the farm and local agriculture with a big dose of old-timey nostalgia. A babbling brook with shaded benches and picnic tables is the perfect spot to stop for a drink or snack before heading home.