7 Ways To Pamper Dad This Father's Day
Shower Dad with yummy indulgences and much-deserved TLC on his special day.
Whether it shines through in his enthusiastic sideline cheers, in the way he bandages a battered kneecap, or when he tears up (OK, sobs) at a movie like CODA, it's clear that deep down, dads are big softies. And we love them for it. Here are five ways to nurture that softer side with a bit of pampering this Father's Day. 
Decadent Eats
Get in the Father's Day spirit with the whiskey-infused chocolate bars from Nuance Chocolate in Fort Collins. For cacao connoisseurs, try the American Whiskey 70% Dark Bar. Then again, if he prefers chocolate as sweet as he is, you can't go wrong with the 55% cacao Bourbon Cream (both $13.20). Maybe Dad is a full-on foodie? If that's the case, he'll appreciate the Taste of Dairy Block package (starts at $469 per night) from The Maven in downtown Denver. In addition to a night at the boutique hotel, the offering includes apps and a wine tasting from Blanchard Family Wines, a five-course dinner at Foraged, and cocktails and cupcakes from Deviation Distilling.
Lively libations
Three cheers for the world's best dad! What to cheers with? We recommend the Blanco ($37) from Costa Tequila, makers of a unique "Hi/Lo" blend that features a floral and fruity (but not too sweet) initial taste and smell that transitions to a silky texture and slightly peppery finish. Maybe Dad is more of a whiskey guy? If that's the case, opt for Porter's Rye ($30) from Ogden's Own Distillery, a delectable blend of rye & barley aged for three years in new, heavy-charred oak barrels.
Yachting around
Dad will never forget the year you got him a boat for Father's Day. And with Boatsetter, an AirBNB-esque marketplace for boat owners/captains and short-term renters, this memorable option is within reach. Choose from a wide range of speed boats, pontoons, and fishing vessels (available with and without a captain) in Colorado and beyond. Round out your gift with the UPF 40+ Bamboo Lightweight Shore Hoody ($68) from Free Fly for a dose of sun-defying style.
Saturday Morning Essentials, Elevated
Dad's banana blueberry pancakes are legendary—as are his holey socks and that stained t-shirt that desperately needs to be retired. Replace them—and add a bit of relaxed class to the Saturday morning routine—with a pair of Glerups slippers ($100 for The Slip-on with leather sole). Made entirely of felted merino, these slip-ons take advantage of wool's natural ability to manage moisture and odor-causing bacteria. Translation: They won't stink–even when worn barefoot. Pair them with the organic cotton Weightless Waffle Robe ($110) from sustainability-focused brand, Happy Place. This lightweight, easy-wearing cover-up is sure to become a weekend morning staple.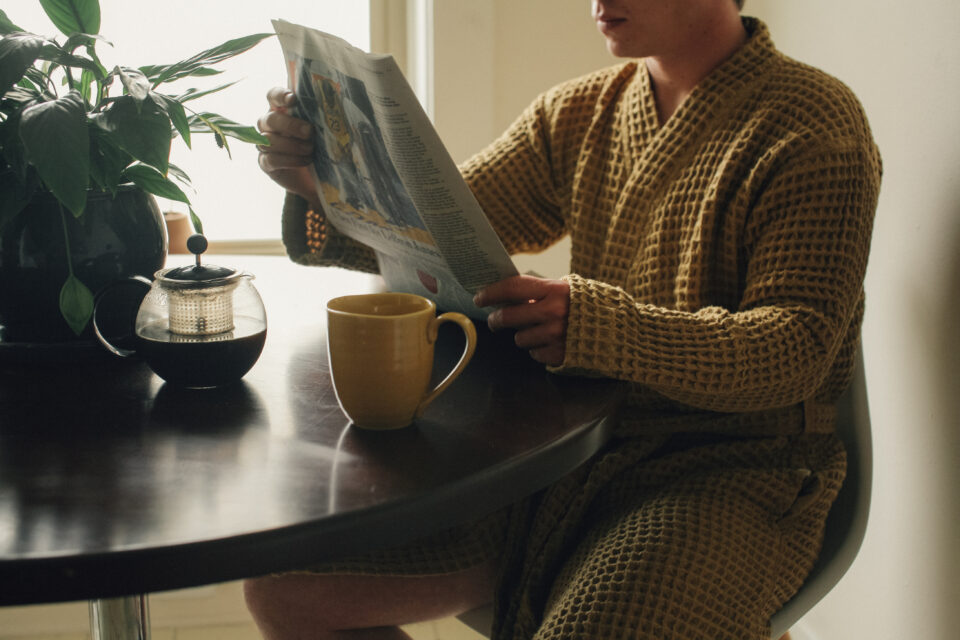 Sensory Delights
Now Dad's favorite pint-fillers are available in soap form. The bath and body product experts at Salus offer plenty of bath bombs and body oils, but if Pops is a beer guy, gift him one of their sudsy collabs with their fellow Fort Collinsians at Odell Brewing Co. Of their microbrew beer soaps, the Odell Easy Street Wheat Beer, Orange and Clove Essential Oils ($8) is our fave. Another way to add soothing scents to Dad's special day: a candle from Evergreen-based Old Pine Candle Co. Their Mountain Man scent ($24) features a blend of sandalwood, amber, and smoke, along with a hint of fresh tobacco.
Campsite Luxuries
If Pops is most relaxed in the great outdoors–away from the hustle-bustle (and never-ending to-do list) of home–treat him to an elevated camping experience with a rental from Rossmonster Vans. Though the Longmont-based outfitter has a bevy of tricked-out Sprinters and Jeeps, families of three will love the overlanding-ready Baja ($275 per night), which features a queen-size bed over the cab, a flip-down dinette/bed conversion in the main camper area, and a full kitchen. Have more than a trio in your household? Bring a tent along too. Once the fam has arrived at your campsite, ask Dad to join you on his second gift, a two-seater camp Loveseat ($140) with adjustable armrests from Boulder-based Kelty.
Spa Splendor
Give him a sp-aaah experience with a treatment at the Garden of the Gods Resort and Club in Colorado Springs. Choose the Bamboo Massage ($220 for 75 minutes) for a deep tissue experience achieved with warmed bamboo canes and rattan stalks or opt for a straight-razor, hot-lather shave (starting at $45). If Dad would enjoy sipping while sauna-ing, he'll love the Beer Spa package (starting at $489 per night) from the Crawford Hotel, which includes a 90-minute session in a private beer therapy room (including a beer bath hydrotherapy treatment and a dip in a full-spectrum infrared sauna), two beverages from The Beer Spa's taproom, and of course luxurious accommodations at one of the hottest hotels in Denver.