Fostering Anti-Racism in the Family
All family members can get involved concretely in the long fight against racism.
Colorado parents and children assembled at Denver's Civic Center Park on June 4, 2020 to hear the youth proclaim: Black Lives Matter. Some held signs up, reading, "Racism is a pandemic too," "No Justice, No Peace," and "My mom is raising me to be an anti-racist."
Protests in the capital city acknowledged young people in the movement, bringing them on stage as the crowd stretched out affirming hands. Several kids took the mic to show just how much they understand about what's going on.
Jacob, age seven, talked about having white privilege as a light-skinned biracial black person: "But that doesn't mean something bad wouldn't happen to me, or that I wouldn't come out and join you all here," he said.
Mac, age eight, expressed confusion about why black people are being treated differently when they're just as nice, kind, and unique. "There's another true statement that I want to shout out, and it's don't judge a book by its cover—that's not being taken very seriously right now," she said, to much applause.
Tavian quoted Ghandi, encouraging the audience, and those who feared going to protests, to know their power, even when they feel small. "If my 70-pound self can stand in front of the police in full riot gear until he tears up, then you can, too. The more we stand side-by-side with the Black community the louder their voice becomes," he said.
Alex shared her experience with racism from a classmate on her middle school track team. She was teased about being a Chinese girl who was working out. "I should have told him that women can work out, Asians can work out, Black people can work out, anyone can do what they want to do," she pressed, "Educate your children so they know this is not OK."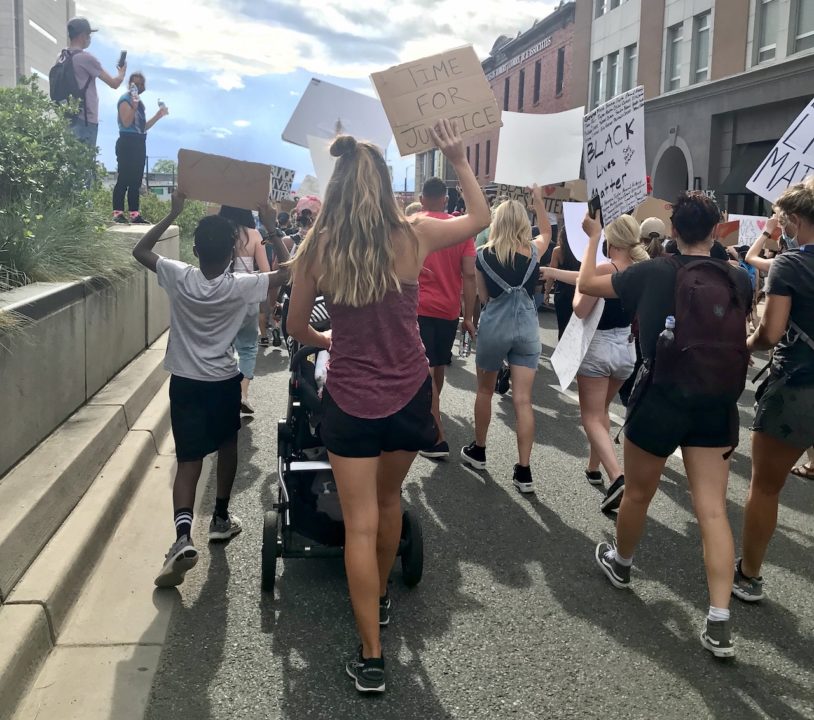 Addressing privilege
Christi Matens, a Denver mother of three children ages 10, 11, and 15, brought her kids to the protests to be "white faces amidst all of this and stand up for what we believe in," she says. Black lives matter the most right now because they're in danger, she said—her son interrupted her to say they matter anyway not just because they're in danger, but because they are people. Matens' kids teach her a lot, she says, and they've all been talking about implicit biases and reading books. She and her husband are in a group called Be the Bridge, founded by Latasha Morrison; the discussion guide, plus youth-focused groups, are available online.
"[Be the Bridge is] doing an amazing job with making white people aware of the systemic racism that's been going on and how we've grown up on it," says Matens.
One step in anti-racism work involves recognizing one's identities and how they might benefit from their social location. Soul 2 Soul Sisters, a Denver-based, Black-woman-run organization, facilitates the Facing Racism group, which helps adults begin self-inquiries and share with others. A book like Me and White Supremacy, by Layla F. Saad, provides insight on how white supremacy culture (how white, Eurocentric values determine norms) informs individual and systemic biases, prompting readers to excavate those dynamics in their own lives. The Conscious Kid, an education research and policy organization, offers anti-bias parenting resources on its website. This video by act.tv breaks down systemic racism with a simplified storyline and key terms that families can use to reflect on their own positions.
Parents and kids can come together and talk directly about how racism shows up in the world. Establish a rule of honesty so all family members can call out and admit to things done or said that are harmful, and expose each other to voices and cultures that differ from the ones at home.
Learning and listening
There are numerous books, toys, movies, podcasts, and music to help start these conversations. Anti-racist educator and mom Britt Hawthorne asks parents to help kids look at books' authors, their backgrounds, and how they present black, indigenous, people of color (BIPOC) in their writing—if they hold space for them at all. Denver Public Library's Read. Awareness. Dialogue. Action. (R.A.D.A.) group provides lists of books for different ages and tips for continued discussion about systemic racism: use explicit and proactive language, talk about people with a multidimensional view, and ask open-ended questions with follow-ups.
"It's never too early to start the conversation because it's happening, it's something that's kept behind closed doors," says Alex Vega, father of four-year-old Aiden, who rode on his dad's shoulders through the demonstration march on June 4. Vega hopes changes to policing are coming so Aiden won't have to endure the unfair treatment he's faced as a person of color.
"The youth are our future and they need to know what's going on," says Vega. "This is history in the making … it's part of [Aiden's] future, so I thought it would be important for him to live it."
Shaking up your status quo
Marching with the Vegas is one way to live into the movement; another is to take stock of the things that take space in your family's home and life—toys, music, movies, TV shows, and social media—and analyze how those center whiteness or represent broader populations in an empowering and celebratory way.
Research to find stories, past and present, about how people of color have originated or innovated in areas your child is passionate about. Challenge yourself and young people to reflect on what people of color are saying in those spaces.
If you're interested in history, visit the Black American West Museum, Sakura Square, and Tesoro Cultural Center, or the National Museum of African American History & Culture online. If the family loves art, find revelations at the Museo de las Americas or Ila Art Gallery, and read this PBS article about Black art inspiring conversations with kids. Thespians can enjoy powerful performances at Su Teatro Cultural & Performing Arts Center and The Source Theatre Company, and dancers will love Cleo Parker Robinson and the Flamenco Fantasy Dance Theatre. Take a look through Urban Intellectuals Black History flashcards, coloring books, and worksheets to find more. Remember to monetarily support anti-racist educators when you benefit from their work in providing books, music, films/videos, exhibits, social media posts, blogs, and more.
With each resource, parents can probe kids about how differences made them feel and what they learned about life from another perspective.
"Different is beautiful in the sense that it really teaches one about themselves and how to grow," says Dr. Annette Nuñez, licenced psychotherapist and founder and director of Breakthrough Interventions, LLC. "It also helps others understand people who are not like them and where they're coming from. It's really an education thing."
Talk with kids about what it would look like to affirm other peoples' whole beings; their lives, love, joy, rest, ideas, and freedom, however they choose to express it.
Coming alongside
"If you have come to help me you are wasting your time. But if you have come because your liberation is bound up with mine, then let us work together." —Lilla Watson, Aboriginal rights activist from Australia
It's one thing to talk about and learn definitions of things that keep systemic racism and implicit biases in place. It's another to match behaviors that actively free yourself and your neighbors from those forces.
Denver mom of four Alexandra Kuykendall says she and her family make decisions about their environment and community involvement according to a larger belief about life and people.
"That's where our faith comes in, that we've been building a message of imago dei, the idea that every person reflects God's image, in our everyday decisions, in the big decisions and the little decisions," she says.
That includes the church they attend, where scripture is read in three languages, and where the girls go to school, where a majority of students are not white. Kuykendall believes her continued conversations about diversity and anti-racism with her girls solidify as they are in relationship with people in their everyday lives. Committing this way to their community, she says, means you're committed to staying in the room when things might become uncomfortable or intense.
"If our children have that muscle built in something that matters to them, with maybe people who are different from them, they're going to take that muscle memory with them into adulthood," says Kuykendall.
Parents can affirm their kids' ability to be effective allies by reviewing the tools they have. Use something like artist Danielle Coke's illustration: Anatomy of an Ally, to start brainstorming ways your family can engage in anti-racist practices. This might include buying from people of color-owned businesses, referring to guides like My Black Colorado, Asian Avenue Magazine, and Latin Life Denver. Join and support multicultural and interfaith organizations such as the Multicultural Mosaic Foundation and Interfaith Alliance of Colorado. Spread the words and art of different creators on social media. Attend civic engagement opportunities led by people of color advocating for their interests.
Work with your kids and their teachers to build inclusive curriculums and equitable classrooms, referring to The Race Institute, Black Lives Matter at School, MindShift podcast, or Denver Public School's Student Voice and Leadership program, which helps students collaborate and direct their own learning.
Ellis Elementary School teacher Sarah Al-Haj, who marched behind young people leading the protests last week, can't help but teach about injustice as she remembers her grandfather, a Palestinian refugee with an interrupted education. Al-Haj insists on presenting kids with situations plainly and encouraging students to use their voices.
"Especially in classrooms where you have kids from different backgrounds and cultures where chanting and singing and shouting out is so powerful and important; and that doesn't usually align with white-dominant culture," she says. "So I've seen in my classroom, we do a silly cheer, we do a chant … It's so powerful for them to use their own voice and hear their own voice. Start that at a young age."
Raising allies who will speak out when someone is being treated unjustly is vital for Vega.
"As a minority, you have to have those conversations of safety when you go out, be careful, know how to act around police officers, just conversations that people who aren't of color don't need to have with their kids," says Vega. "[Ally parents and kids] should have those conversations because they can be the voice for kids who are minorities when they feel like they don't have a voice."