Fun and Easy Easter Crafts for Kids
Get a little crafty (and celebrate Easter at the same time) with these at-home activities.
Easter is sure to look a little different this year with a stay-at-home order and social distancing, but there's still plenty of fun to be had at home. In fact, it's the perfect time to sit down and create a few crafts together as a family! Here are a few easy crafts to help you celebrate Easter and the spring season—no trip to the craft store required.
Card stock and pipe cleaners transform into cute little chicks in this easy-to-make craft. Bonus: They double as Easter egg holders!
Use templates for bunny ears, whiskers, and eyes to turn basic paper plates into fun masks that kids can play with throughout the season.
A little paint, pom-poms, and glue come together to create a whole lot of Easter magic. Set these throughout your house for cheerful holiday decor, or use them for an afternoon egg hunt.
Think twice before tossing that egg carton in the recycle bin! Turn it into a clutch of baby chicks with some paint and a little glue.
Turn your child's handprint into a cute keepsake that can be hung up in the house or sent to a loved one far away.
Grab a plate and colorful paper to create your own Easter bunny. Sparkly tissue paper adds some extra bling.
Kids will love playing with these chick, bunny, and sheep finger puppets made out of paper tube rolls.
Who needs puffy paint when you can create the same effect with white glue and kitchen salt? These painted eggs make cool decorations on Easter cards.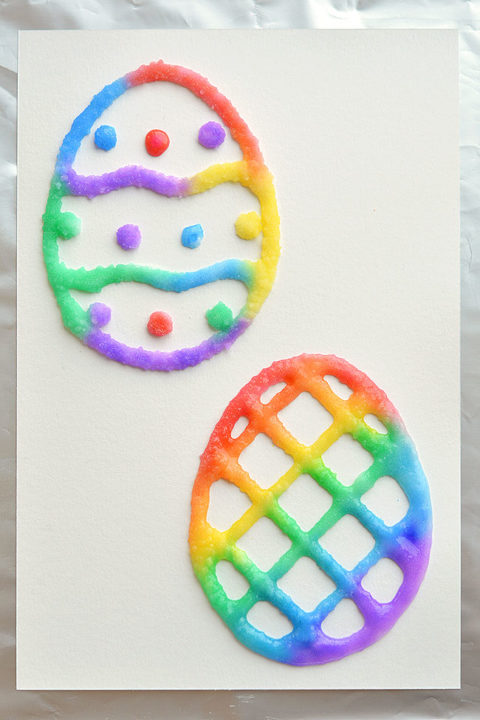 Celebrate spring by making these fluffy chicks out of cardstock and pom-poms. Try making other animals like bunnies and sheep too!
Get a little messy with this fun art project and create cool marbled Easter eggs using a squeegee.