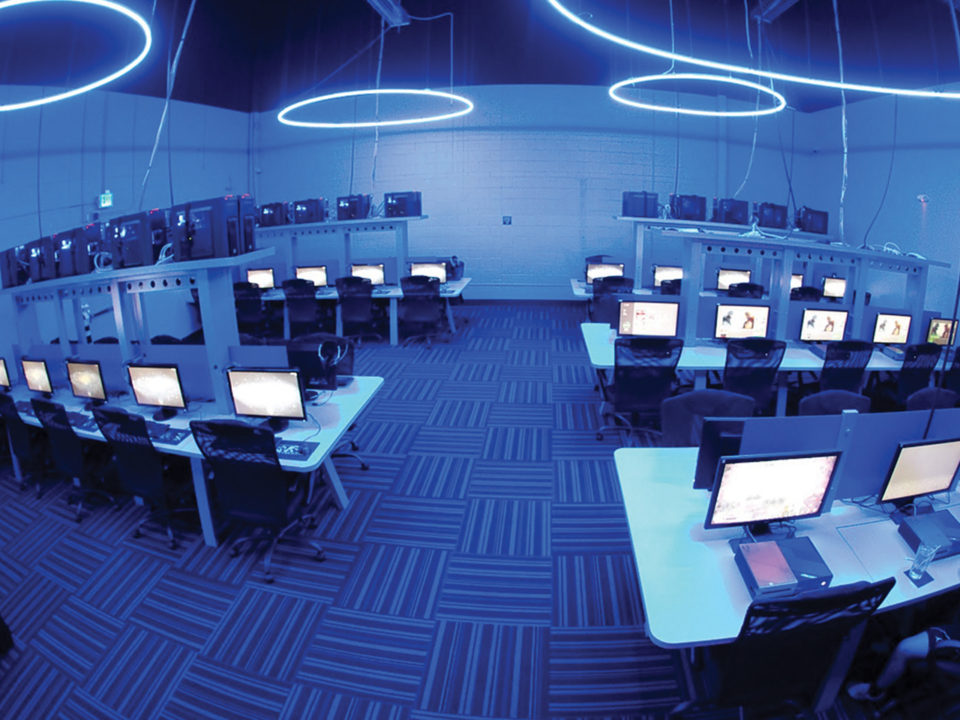 Let's Go: GameWorks Denver
Discover retro to modern gaming fun in this Northfield Stapleton spot.
Situated in The Shops at Northfield Stapleton's 36,000 square-foot gaming center is jam-packed with a roster of classic and modern attractions. From video games, pinball machines, and air hockey tables to old-school electro-mechanical arcades, GameWorks Denver has been entertaining Front Range families with more than 160 games and 210 player stations since opening its doors last March.
"Our goal is to provide families of all ages with a premier entertainment and gaming experience in a safe, welcoming environment," says Laura Kenitzer, director of events.
Beyond its massive game room, this venue boasts a 5,500 square-foot split-level laser tag arena modeled after G-Force, a popular video game. During 15-minute sessions, up to 24 players traverse a colorful playing field touting laser guns that automatically recharge. "The whole experience is state-of-the-art," says Kenitzer. "Currently, we have just over 25 missions loaded, but we"ll be adding many more."
GameWorks Denver garners further bragging rights with its eSports LAN gaming zone—the only one of its kind in town. A popular destination for gaming tournaments, this partitioned room houses 25 LAN stations for PC gamers, along with nearly two dozen Xbox One S consoles, and five Nintendo Wii U systems.
The overall vibe is kid friendly. "We want to engage the adults while the kids have a good time," Kenitzer explains.
At a restaurant attached to the game room, parents can enjoy American fare and a craft beer while watching their children play. The venue's beverage program includes a full bar and 16 taps, half of which dispense Colorado brews. "We offer killer happy hours," Kenitzer adds, before pointing to a collection of large screen TVs for sports lovers. "From novice players to hard-core gamers, we"ve got something for everyone."
Check it Out: 7950 Northfield Blvd., Denver
Need to Know: Open daily, 11 a.m. to 10 p.m.; until midnight on Friday and Saturday for age 21 and up
Admission: Entry is free; games are priced individually
When You Arrive: Don't forget to purchase a rechargeable game card before you hit the floor. Available in increments of $5, game cards are how you"ll access hundreds of games in any GameWorks facility. While you're at it, download the Thanx app to earn free rewards every time you play.