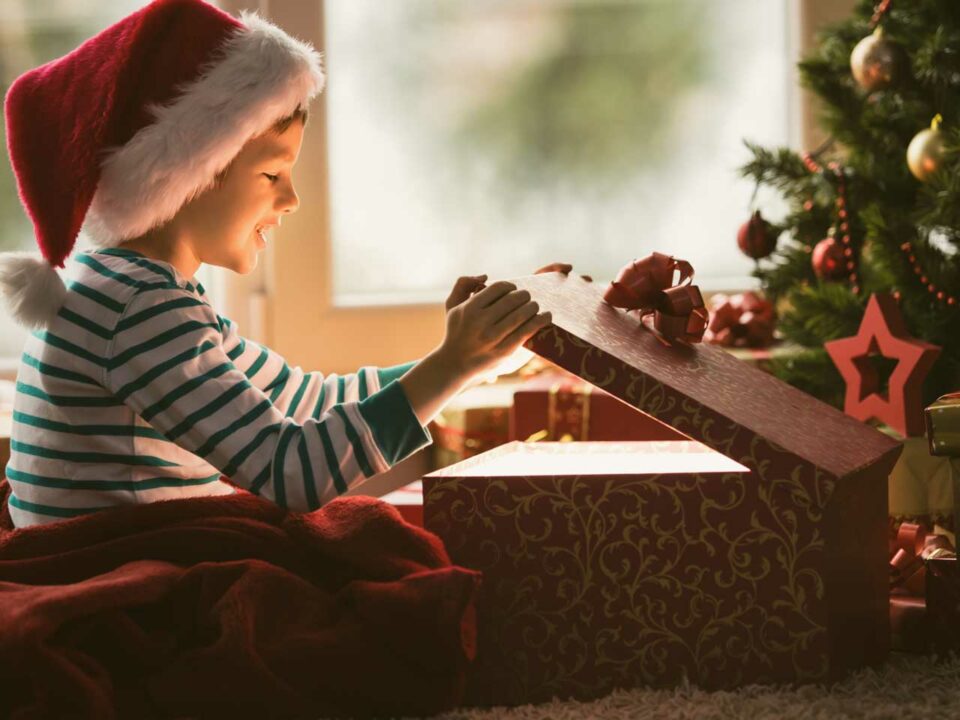 50 Kid-Approved Holiday Toys
Unique toys that wowed Colorado kids and their parents.
How We Picked the Winners
With a slew of toys bombarding store shelves at the holiday season, it's hard to know which presents will be a hit. To make your gifting easier, we spent months researching, testing, and ranking holiday toys to come up with this list of 50 tried-and-true gifts that kids are sure to love.
Here's how they scored a spot on our list:
Three local toy stores, Beyond the Blackboard, Grandrabbit's Toy Shoppe, and Timbuk Toys, submitted toy nominations to kick off our research.
We narrowed down the nomination list and gathered 25 Colorado families to take the toys for a test run.
Each toy was tested by three families, with kids ranging in age from five months to 14 years old.
After nearly eight weeks of testing and tallying scores, these 50 toys were given a stamp of approval from testers and their parents based on quality, educational and creative value, and their child's interest level.
Note: If you buy something using the retail links in our stories, we may earn a small commission.
Best For Baby
Even our youngest testers were tough critics of the teethers, rattles, and blocks in this category.
Infants were drawn to the noise made with this hand-knit Finn + Emma Rattle Buddy while parents were pleased that it wasn't too loud. The dangly arms and legs were easy for small hands to grab on to, and one tester liked that even when her daughter chewed on it, no lint got in her mouth. $28, finnandemma.com
The Yoee Baby Fox proved to be best for parent-and-baby playtime. Parents enjoyed using the long and soft tail to tickle their babies, while little ones were intrigued by the crinkle sounds and silicone teether.
Babies pulled and pushed the colorful blocks in and out of this stretchy Fat Brain Toys Co. InnyBin, problem solving along the way. One mom raved about the toy's durability and unique textures.
Stack, roll, and twist together these Lalaboom Balls + Beads to engage your baby in educational play. One tester's one-year-old could put some pieces together on his own, while her toddler liked that it could be taken apart and put back together in different ways.
Since all of the shapes are attached to the Fat Brain Toys Co. OombeeCube, parents didn't have to worry about losing the different pieces (and cleanup was a breeze). Testers were fans of sorting the squishy silicone pieces, and yes, they found delight from putting them in their mouths.
For all of our tiny testers, unpacking this Melissa & Doug Turtle Ball Pit resulted in love at first sight. A highly-pleased parent said her daughter played in it for more than 20 minutes; unheard of for busy little babes.
Toddler Thrills
These toys kept curious tots busy—making them total standouts.
Toss the plush Thinkfun Roll and Play cube, choose the matching color card, and have your little one complete the activity shown. Prompts range from "Moo like a cow" to "Find something white." Parents appreciated that the toy made learning fun.
Our toy-loving toddler testers liked coming up with their own animal stories while playing with this SmartFelt set, which was developed by a speech therapist. One mom said her son "continues to play with it daily" while another feels confident that it will be "a family favorite for years to come."
The wooden, puzzle-like blocks in the Janod Forest Blocks Box are painted with cheerful characters that appealed to toddlers. The six-in-one puzzle helped kids hone important skills, like counting and problem solving.
This adorable Begin Again Safari Bowl set kept active kids entertained while inside. Parents loved that it's constructed with eco-friendly materials, and had fun cheering and celebrating with their young bowlers when they scored a strike.
Toddlers got a thrill from pulling their favorite toys and stuffies behind them in this tot-sized Green Toys Wagon. Moms and dads were happy that it was made with 100% recycled plastic.
Crafted in Colorado, this Begin Again Puzzle & Playset was a hit for aspiring astronauts. One tester said her child was fascinated by the vibrant colors and enjoyed sorting the chunky wooden pieces.
These SmartMax Safari Animals were fun for testers to color match, count, and use for pretend play. Parents thought they would be enduring favorites, as they can be used with other toys and games as kids grow.
Outdoor Fun
Cold weather can make it tough to play outside, but give your kids something to look forward to with these active toys and games. 
Landing a nearly perfect score, Spikeball proved to be the most versatile, family-friendly game from our list. A tester said: "It's a game the kids can play, but once they leave it, the adults can get their competitive juices flowing."
Parents adored the unique design of the Balance Bike and said they preferred it over the plastic bikes most kids use. The lightweight wooden construction made it easy for kids to get the hang of scooting. Another perk: It was quick to assemble!
Kids of various ages had fun balancing on the slackline and swinging across the rings on the NinjaLine from Colorado-based b4 Adventure. "It's a huge bonus that it's portable. We can't wait to take it camping," one mom noted. 
When hyped-up kids jumped on top of the launch pad to send these Stunt Planes soaring, they felt pure joy. Innovative testers created a game with hula hoops and tried to get all the rockets to land in them.
"It was a big hit," one mom said about this colorful Swing. Kids loved spinning, gliding, and pushing the swing high into the air. Adults felt comfortable with it because it's "extremely stable" and was "easy for kids to get on and off of on their own."
Kids went crazy for the oversized balls that came with this Giant Kick Croquet set. They also had fun building their own courses and creating their own games. Parents were pleased that the balls could be deflated for simple storage.
Imaginative Play
These playful picks ranked high for their versatility and ability to spark budding imaginations.
One mom admitted that she wasn't sure if the tiny Pixio Magnetic Blocks would be a hit, but she was surprised by how much her son loved putting together the 3D figures. The magnetic component to the blocks made for a refreshing new twist on traditional blocks.
The Janod Cooker Reverso has two sides to play with—a kitchen on the front and a laundry room on the back—making it a great choice for families with more than one kid. Our testers liked that it came with pots and pans and that the stove could light up and make noises.
It came as no surprise that all reviews of the American Girl Courtney Doll were positive. Kids were elated that the '80s-inspired doll had "fashionable shoes and a real scrunchie" and were pleased that her eyes could open and close.
A four-year-old tester acted like a waitress as she took orders and prepped "pizzas" with the Melissa & Doug Top & Bake Pizza Counter. The wooden set comes with different tools and toppings, as well as pretend money that kids loved counting.
Creative kids got a kick out of the VTech KidiZoom Creator Cam while they planned out scenes and plots like movie stars. The buttons and camera settings were "pretty intuitive for a six-year-old" as one parent said. Kids found the camera stand and flippable lens to be helpful to their little hands.
The Janod Pirate Ship was an imagination-inducing toy. Kids found it fun to put together the sturdy cardboard ship pieces, and liked playing with the wooden pirates. One tester's child "made up silly stories and had the characters act them out."
Parents noted the Fat Brain Toys Co. Squigz as "long lasting" and "a staple toy." Kid testers stuck the suction construction pieces to windows and other household surfaces while building funny shapes.
Ideal for a dress-up loving girl, the Kaloo Ava Deer Plush is small enough for your child to tote along on car rides. One mom was thrilled that it could be thrown in the washing machine after it got a lot of use.
Two toddlers thought it was fun to play with the Janod Shaving Set in the bathroom while looking at themselves in the mirror. The set comes with a pretend razor, shaving cream, comb, and more—perfect for kids who want to be just like dad.
Compared to a regular pop-up tent, the Airfort blew testers away. When attached to a box fan, the Airfort becomes a big tent for the entire family to play in. One mom of a two-year-old said that her son's eyes light up every time they play with it.
Creative Projects
Harness your child's creativity with these crafty finds.
Calling all Lego lovers: This Thames & Kosmo Catapults & Crossbows set got rave reviews. It kept one family's "very energetic son" occupied for hours, and got bonus points for turning into toys after all ten models were built.
This Janod 3 Little Animals kit proved to be a more challenging craft for kids, so it's best for those age 10 and up. Once the yarn animals were put together, testers enjoyed playing with them and putting them on display.
Our trial of the Craft Tastic DIY Surprise Balls made for the perfect afternoon activity, keeping kids busy for a solid hour. One mom said she'd be purchasing it for her daughter's Girl Scout Troop for the holidays.
Although it turned out to be a lengthier project, robot fans found the Thames & Kosmo Mega Cyborg Hand to be a blast to put together. Once kids were done building it, they got to wear the mechanical hand and operate it with their fingers.
These goofy Fat Brain Toys Co. Hey Clay Birds landed perfect scores from all of our testers. It wowed parents because unlike traditional clay, it had no smell and resulted in no mess. Kids were excited to follow along with the free app that taught them how to make the birds, and were pleased with their finished products.
Made with organic flour, the Green Toys Tool Essentials Dough Set comes with three tubs of dough, seven tools, and a two-sided activity mat. One tester's four-year-old daughter loved making "spaghetti" with the spaghetti extruder, while mom liked that each tool could be put in the dishwasher.
When one mom asked her child to rate the Kiwi Co. Bubble Machine out of five stars, he gave it a solid ten! Other reviews revealed that the directions were easy to follow, and parents liked that it came with a booklet of fun science facts.
Little crafters enjoyed writing their own stories and bedazzling this Story Magic Storybook Maker with gems, sparkles, and stickers. One mom mentioned that it would be perfect for a child who is learning to spell and write, and another said her daughter was obsessed with the unicorn mask.
Aspiring scientists enjoyed watching the transformations that resulted from the many projects they created with this Thames & Kosmo Chemistry Station. Parents found it refreshing that the activity didn't result in a big mess, and that it was fun and educational.
Colorado kids sure love to camp, which made it no surprise that the Klutz Make Your Own Tiny Camper was a total win. Kid testers ranging from eight years old to 13 thought it was fun to make a "puppy pal" and parents liked that it got kids away from their screens.
Another Kiwi Co. win: the Kiwi Co. Monster Mix and Match Art Pack. Kids learned about the science of pencil rubbing art while creating friendly-looking monsters. One mom was glad her kids could do it independently, and pointed out that it would be great for restaurants or car rides.
Family Games
All of these products appealed to a variety of ages and took family game nights to the next level.
Kids loved watching their parents act out different scenarios while playing the improv-inspired eeBoo Sloth in a Hurry game. It didn't take long for families to find themselves laughing at some of the downright outrageous scenes.
TENZI's BUILDZI requires kids to construct unique towers as fast as possible—without letting them fall. One mom, who is also a teacher, liked that this game encouraged her three kids to work on their spatial reasoning and hand-eye coordination.
The beauty of Blue Orange's Tell Tale Fairy Tales is that it can be played for as long or short as you'd like. Kids picked cards and created their own stories to share with family and friends. "It was fun to see their imaginations at work and how goofy they can be," a mom of a six- and eight-year-old said.
With TENZI, everyone gets ten dice and rolls them as fast as they can until someone gets all their dice on the same number. This simple, crowd-pleasing game turned out to be a fun frenzy for kids and parents alike.
I Got This!, by Fat Brain Toy Co., pulled out all of the competitive vibes in the families who tested it. Different challenges get kids in on active play, with prompts varying from "catch the ring on your foot" to "bounce the ping pong ball ten times."
The simplicity of AMIGO's five-rule Polar Panic matching game appealed to parents who had kids with big age differences. "My four-year-old and ten-year-old enjoyed it," one mom shared. Another parent revealed that her five kids played the game "over and over."
Setup, play, and cleanup were all easy with the Blue Orange Where's Mr. Wolf memory game. Kids liked it because it was easy to understand, and since there isn't really one winner, it makes playtime more enjoyable than stressful.
Results showed that Clack! by AMIGO was a fast game that engaged and entertained everyone. The goal: Build the tallest stack of magnetic disks by rolling the dice and matching up the colors and shapes. Kids were fans of the clacking sound the game made.
The festive Santa Cookie Elf Candy Snowman game by Dolphin Hat Games is ideal for kids who enjoy something fast-paced. Players take turns slapping down their cards while calling out "Santa!" "Cookie!" "Elf!" and so on until the card they put down matches what they say.
"This will be in our regular game rotation from now on," one parent said about AMIGO's Bear Down! Her kids were excited to try and get their bears to collect the most fish without falling over the waterfall. But when they did go over the edge, she said they all "had a good laugh."