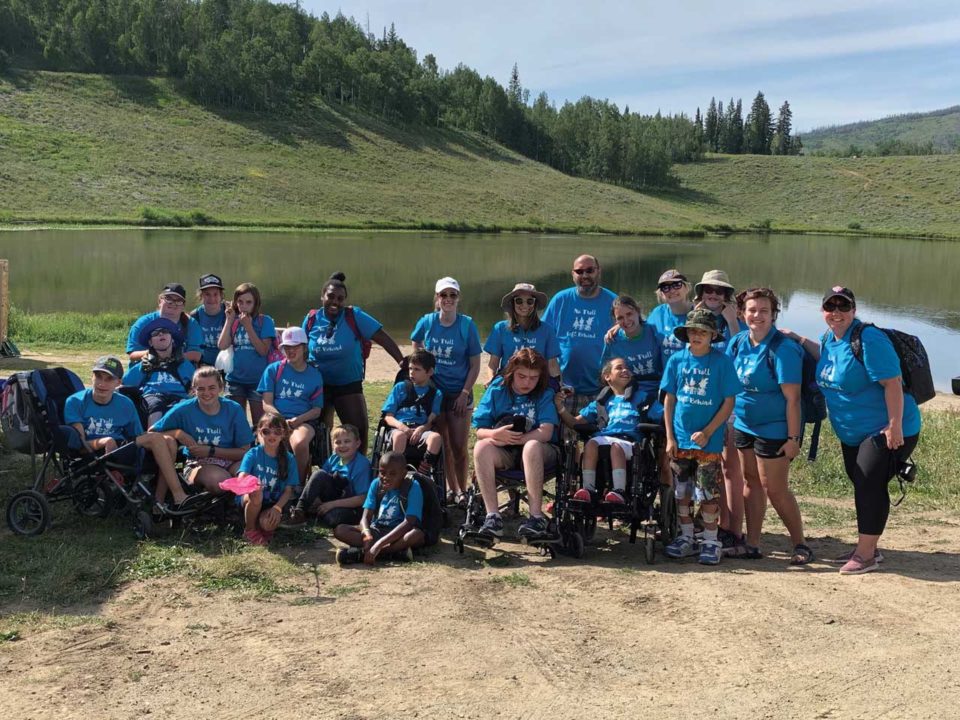 Great Colorado Camps for Kids with Special Needs
These summer camps offer accessible experiences for Colorado kids.
Summer camp helps kids discover all of the things they can do—testing limits, discovering new abilities, and gaining confidence. These camps create accessible experiences for kids with a variety of differences, whether they're physical, emotional, developmental, or intellectual.
Intensive therapy and recreation for children and adults with a variety of special needs.
Various Denver-Metro locations, Colorado Springs, and Granby
The Early Start Therapy Program, for ages six months through four years, offers half-day intensive play-therapy sessions throughout the year. Overnight Adventure Camps for ages nine and up include weekend getaways in the Metro area, four-day road trips, and weeklong camps at Snow Mountain Ranch in Granby where campers go ziplining, sailing, horseback riding, and swimming. Programs are designed and delivered by trained therapists.
Registration: Camps fill up fast but waiting lists are available. Contact: Lesley at 303-563-8290, lesley@adamscamp.org.
---
Recreation opportunities and programs to expand social, cognitive, affective, and physical abilities.
Aurora
A.R.I.S.E. day camps are held Monday through Thursday, for age 13 and up. Camp experiences include cooking classes, swimming, museum visits, behind-the-scenes tours, and attending plays, water parks, and farms. There are two overnight weekend camps for age 18 and up.
Registration: Begins on April 10. Register online, in person at any Aurora recreation center, or by phone at 303-326-8650. Waiting lists are also available.
---
Camp for kids age seven and up on the autism spectrum, offering opportunities to get outdoors.
Roaring Fork Valley
Incorporating a Naturalistic Developmental Behavioral Intervention approach—the use of natural settings to teach developmental skills—the staff at Ascendigo creates individualized lesson plans to help provide unique experiences for campers. Activities include sports, horseback riding, wakeboarding, rafting, and climbing.
Registration: Registration and scholarship applications are available online. If a particular week or sport is full, a waiting list will be started.
---
Outdoor adventure camps for a variety of ages, disabilities, and special needs.
Breckenridge, Arkansas River, and Buena Vista
Overnight camps provide experiences with camping, rafting, rock climbing, fully accessible high ropes course, canoeing, and kayaking depending on the type of camp. Kids live, work, and play with supervision by BOEC staff and, in some camps, specialized therapists from Children's Hospital Colorado, Brain Injury Alliance of Colorado (BIAC), and other specialty organizations.
Registration: Begin the registration process on the BOEC website to learn more about specific camps.
---
Sports and leisure day camp for people ages six to 25 with various cognitive or developmental disabilities and diagnoses.
Lakewood
Staff trained to assist in Activities of Daily Living (ADLs), including grooming, feeding, and other daily tasks. Campers are divided into small groups with one staffer for every four kids for activities that include swimming and other sports, arts and crafts, hiking, drama, and music.
Registration: A preregistration process must be completed before signing up for classes. Campers will be automatically placed on a waiting list when they select their desired sessions, until their profile is complete and verified.
---
Twelve-week day camps for children age two and up with motor disabilities.
Arvada, Aurora, and Loveland
Children at CFCE summer camp work on gross and fine motor skills, increase their flexibility and strength, and practice life skills, such as dressing, transferring, and eating in groups of similarly-
abled peers. Campers also spend time outside, make arts and crafts, bake, and play games.
Registration: Set up a free assessment by emailing admin@conductiveed.com before registering. Download the registration form to get dates and fees online.
---
Day camps for kids of all ages with various special needs, but especially designed for those with cognitive or developmental disabilities.
Glenwood Springs and Basalt
iCan Bike day camp, through the iCan Shine program, helps kids age eight and up with disabilities learn to ride a conventional two-wheel bicycle using adapted bike equipment. A second camp, The Magic of Music and Dance, is a weeklong (Monday through Friday) day camp for all ages to practice dance, movement, singing, and acting while creating and performing a production. Activities also include swimming, rafting, and a family barbecue.
Registration: Register online at challengeaspen.org/summer-camps. If camps are full, call 970-923-0578.
---
Provides summer programs for people with special needs, ages eight to adult.
Pike National Forest, 30 minutes west of Colorado Springs
These weeklong (Sunday through Friday) summer camps are geared toward people with a variety of special needs, including blind and vision impaired, deaf and hearing impaired, Down syndrome, Asperger's syndrome, sensory processing disorders, and mental disabilities. Working in a 1:4 staff to camper ratio, activities include archery, arts and crafts, a ropes course, talent show, sports, and nature activities.
Registration: Register online. Names will be placed on a waiting list if camps are full.
---
Children ages six to 13, with academic challenges and developmental disabilities, gain socialization while exploring Denver metro communities.
Denver
This camp starts in a classroom setting, where campers work on targeted IEP goals or individual skills at their level. Afternoons are spent on daily field trips around the metro area related to the theme of the week, in supported, small ratios.
Registration: Complete the online application. Discounts are available for multiple weeks. A meet-and-greet will be scheduled prior to camp to aid in the transition and personalize the experience.
---
Sports and science camps for kids with a variety of needs.
Highlands Ranch
A variety of programs are run by Therapeutic Recreation staff and assisted by volunteers. Camps include teaching balance and coordination; skills to play a variety of sports, emphasizing teamwork; a STEM challenge with engineering with Legos; and training for a kids triathlon in August.
Registration: Register online, by phone at 303-471-7043, or email Summer Aden at summer.aden@hrcaonline.org. Waiting lists are available. Contact Summer for availability of classes of interest.
---
Respite care and summer camp for children with disabilities, ages three to 18.
Wheat Ridge and YMCA of the Rockies: Snow Mountain Ranch
In addition to activities and field trips at their Wheat Ridge location, a select number of children attend the sleepaway YMCA camp which includes archery, paddling, fishing, swimming, and summer tubing. Many of the staff are trained on seizures, g-tubes, catheters, injections, and medication administration. All staff are CPR/first-aid certified.
Registration: Begins on April 1. Call Kristin at 720-427-1979 to set up a tour and meet with staff to make sure camp will be a good fit. Paperwork is available online.
---
Adaptive lessons for athletes with any physical, emotional, behavioral, or cognitive diagnosis.
Snow Mountain Ranch, Granby
Four-day overnight camps for individuals age 10 and up include cookouts and tent camping. Campers learn how to tend to and ride horses, practicing skills in the arena and on daily trail rides. Campers who are not independent in self-care require a personal care provider.
Registration: Registration and waiting lists are available online. If the minimum number of campers is not met 7 days prior to the camp, it will be canceled. Contact Diane at 303-807-5722.
---
Sleepaway camp in the mountains for people, age six and up, with any kind of physical and/or developmental disabilities.
Empire
Campers at Rocky Mountain Village enjoy horseback riding, zip lining, climbing, swimming, arts and crafts, music, drama, and fishing while gaining outdoor living skills. Counseling staff works in low ratios with campers, often providing one-on-one care. Two nurses are on-site all summer.
Registration: Register online and create a profile. If a camp session fills up, the camper will automatically be put on the waiting list. Contact campinfo@eastersealscolorado.org or call 303-569-2333 for more information.
---
Half-day camps for kids ages three to 17 with sensory processing challenges and other diagnosed disorders.
Centennial/DTC
Camps through STAR Institute include School Readiness Boot Camp, Superhero in Training Summer Camp, and Bike Camp. Social skills, language, and engagement are developed through games, sports, crafts, and cooking with guidance from occupational therapists trained to assist with sensory processing and integrated skills.
Registration: Visit the website to select the desired camp and complete the intake registration form. Once received, parents will be contacted with next steps to either pay a deposit or be placed on the waiting list.
---
Students with autism spectrum disorder are exposed to hands-on activities that are enjoyable but also lead to skilled trades.
Denver
Camp classes are geared toward specific age groups and include guidance in hands-on activities such as learning how to make musical instruments, sewing, furniture-making, and an introduction into the trades that includes carpentry, electronics, fiber arts, and auto mechanics.
Registration: Visit the website to register. Camps fill up fast due to their small size. Contact Becky at becky@buildwithtact.org for questions.