12 Influential Colorado Moms
The impact of these local moms can be felt in everything from children's TV programming to state legislation. Here, they share—in their own words—how they pursue their passions while raising their families.
Motherhood is a powerful thing. It can bond us, divide us, show us greater love than we knew was possible, and virtually flatten us. These are the commonalities. We have differences too—in how we parent, how we live our lives, and what we pursue as our passions. These 12 Colorado women stood out in their communities for their unique passion projects, and how they contribute to society. Here, they share in their own words what motivates and inspires them.

The Dreamer
Lorena Cantarovici
Age 47, Mother to Ivan 13, Gaston 10
As the CEO, chef, and founder of Maria Empanada, the nation's leading brand of artisan empanadas, Lorena introduced Denver to a taste of her childhood in Argentina. She learned how to create empanadas at her grandmother's side. Now with five restaurant locations in Colorado, this mother of two provides empanadas to area restaurants and cafes and a glimpse of what can happen when you just can't let go of a dream.
Job Satisfaction:

I love sharing this part of my culture, and seeing people enjoy it is incredibly satisfying for me. Through the food, you are knowing a little about me too.

Balance:

My husband and I each juggle everything as best we can, but the one thing we make sure we do is take vacations, even if it's just going to the mountains for a couple of days. We turn off email, messages, and all that, and have time with the kids. It's the way we recharge together.

Looking back, what would you tell yourself?

Don't be afraid. Ask for help if you need it. There are people around you who are so much more knowledgeable.

Influences:

My mother, Maria, is who I named the (restaurant) concept after. She taught me how to be fearless.

Motherhood Advice:

Embrace the chaos!

The Leader
Amanda Mountain
Age 42, Mother to Freyja 3
In a time filled with thousands of on-demand streaming options, families in metro Denver still turn to public television for the shows that their kids and the whole family can watch. The first female CEO of Rocky Mountain Public Media, which includes Rocky Mountain PBS, Amanda influences the programming that helps prepare children for success in school and life.
Job Satisfaction:

I've experienced firsthand working in cultures that weren't family-friendly and flexible. Being a parent, and, in particular a working mother, can be a mark against a career. It's really important for me to be a different kind of leader that really tries to create a different path forward and prove that successful organizations are ones that really do care about the people who work there and make it possible for both work and personal life to coexist harmoniously.

On Motherhood:

Having my daughter in my life has taught me to be brave and how to have perspective, how to keep grounded in what really matters, and always try to put my humanity first above logic and tools that I rely on in my every day decision-making.

Balance:

This idea that everything has to be a balancing act is something that is a negative paradigm that women are almost forced to live up to, and it's not really relevant or fair.

Looking back, what would you tell yourself?

Don't put limitations on yourself based on your own insecurities. Be brave and take risks.

Motherhood advice:

Be kind to yourself above all because we're all in this together even though it can feel like the most isolating role on the planet.

The Problem-Solver
Kristin Langenfeld
Age 38, Mother to Charlie 3, Hugh 1
Kristin knows how fast kids outgrow all of their stuff, and how frustrating it can be to get it out of the house without putting it in a landfill. As the co-founder (and CEO) of Good Buy Gear, she created a managed marketplace for secondhand baby and kids gear. They pick up used gear from parents wanting to sell it, ensure it's safe and high-quality, resell it, and put a check in the parent's hand.
Job Satisfaction:

Parenting is really hard and time is our most precious asset. So anything we can do to give families back time; that's at the core of what we do.

On Motherhood:

I thought I was efficient before, but motherhood has made me laser-focused and therefore more efficient.

Balance:

Be present and efficient when you're at work or at home and make sure you're taking care of yourself and family first.

Looking back, what would you tell yourself?

We've had a lot of great mentors for the business, but we've learned that nobody knows your business and your customers the way you do.

Influences:

My parents. Every parent thinks their kids are special and could be anything but making them believe that and truly internalize that is something my parents were able to do.

Motherhood Advice:

We need to accept help more. You don't have to do it all. We used to bring up kids in communities and we've lost a little bit of that with the evolution of family, so we have to get that community and help in other ways.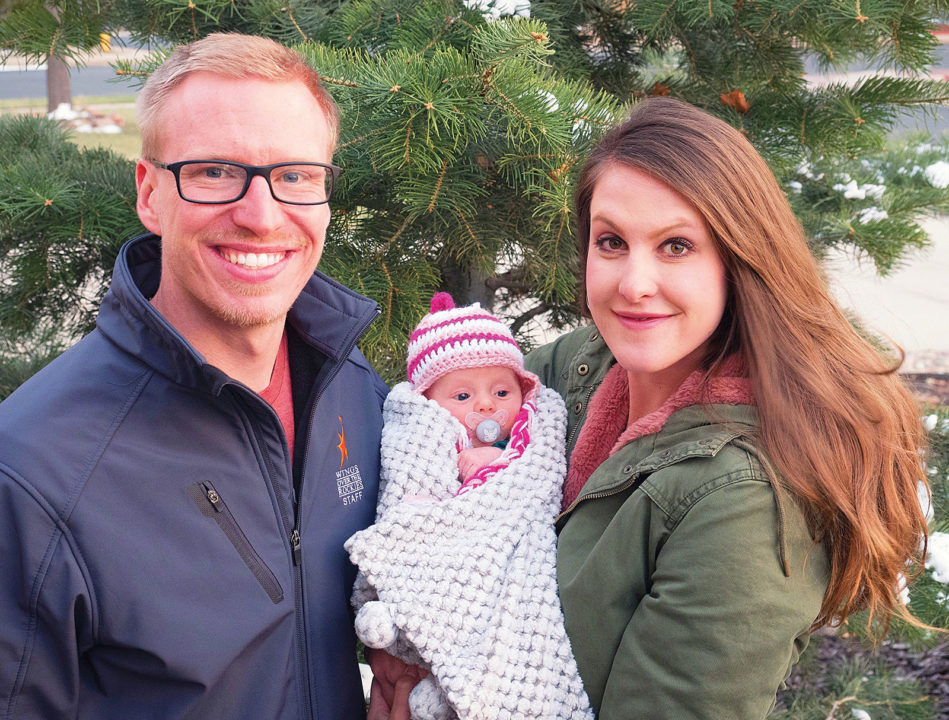 The Teacher
Allie Theune
Age 27, Mother to Rosie 2 months
Allie, a special education teacher for the Douglas County Bridge Program, helps teach her students life skills, independent living, and vocational skills so they can become as independent as possible in their home, work, and community. She instills in her students—who face tough odds each day—the understanding that hard work and a sunny outlook can overcome any adversity.
Job Satisfaction:

Not only is my job to teach, but it's also to be an advocate for my students and to educate our community about how our students can benefit their organization or business.

Influences:

My greatest influence in my work were the special education students I worked with during my high school days. My mom is definitely my greatest influence in motherhood. She has shown me nothing but unconditional love my entire life.

Balance:

Right now, I am just trying to figure out this new way of life and balance feedings, getting things done around the house, and tending to Rosie's needs on very little sleep.

Looking back, what would you tell yourself?

As a teacher, you see so many "Pinterest" teachers with perfect classrooms. Being passionate about my work and making my students feel loved will have much more of an impact than a perfectly-organized classroom ever will.

Motherhood advice:

This new life change of being a mom and raising a baby is hard and scary, and it's OK to ask for help.

The Equalizer
Carrie Germeroth
Age 39, Mother of Grace 6, Eliza 3, Minna 1
Carrie is pushing aside hurdles to make quality early-education resources available to everyone. As a managing senior researcher at Marzano Research, she works with school districts, the department of education, and other organizations locally and nationally to improve programs set up to create positive outcomes for children birth to age eight. She took pages and pages of early education guidelines and translated them into parent-friendly content for the WeeSchool parent app.
Job Satisfaction:

I have the opportunity to work on so many different projects with cross sections of the early childhood system, and everyone is so passionate about what they do. I'm able to find work that meshes with my values. Being a mother illuminated the inequities for children and families that I work with. I now have more of a social justice lens to my work.

Balance:

I'm fortunate to work for an organization that allows me to have a lot of flexibility in my schedule. And I have a supportive husband. It's important for me to say though, I'm overwhelmed on a daily basis. We need to all share the struggles and how hard it is and not put on this façade of "I've got it all together."

Looking back, what would you tell yourself?

Relax more and don't stress so much. Do a handful of things, do them well, and really focus on the people who matter most in your life.

Motherhood Advice:

Stop feeling guilty about what you're not doing and start focusing on what you are doing well. One of the most important things that buffers children against toxic stress and trauma in their lives is having that healthy relationship and someone who is responsive to their needs.

The Coach
Danielle Shoots
Age 33, Mother to Micai 16, Layla 12
Danielle took the hard lessons learned through her own journey—from teen mom to the youngest CFO in the history of the State Health department, and the youngest vice president in a fortune 50 company—and turned them into inspirational lessons to help other people grow their careers. She started Daily Boss Up, a virtual leadership coaching platform, to inspire women and men in all stages of their career.
Job Satisfaction:

Daily Boss Up was born from my addiction to journaling. I've tracked all the hard days, all the breakthroughs, and all the lessons I've learned. Knowing that all the hard days have been turned into lessons not only made me a better mother and career woman, but also made every single second worth it. If every hard day in our lives can be used to help someone, they just don't seem so hard anymore.

On Motherhood:

I was a mom long before I was anyone's boss. Motherhood instilled in me every characteristic I need to be a great leader.

Balance:

I don't always do this well because I am a recovering people pleaser and overachiever. What I do well though is compartmentalize and avoid multitasking. I put everything in my calendar (even rest time and TV time) and then I don't think about it too much until it's time to do something with it.

Looking back, what would you tell yourself?

Nothing is permanent. Everything will change and then it will change again, and you should be inspired by that.

Motherhood advice:

If you are mom, you already possess every single skill you could possibly need to pursue anything you want in this life.

The Advocate
Jacy Montoya Price
Age 43, Mother of Hugo 8, Cora 5
Through her work as advocacy manager at Raise Colorado Coalition, Jacy works to ensure that people most impacted by prenatal, infant, and toddler issues have the skills and understanding to effectively participate in policymaking. This mom of two is a longtime advocate of social justice and children's issues and is a co-founder of Colorado Organization for Latina Opportunity and Reproductive Rights.
Job Satisfaction:

It's exciting for me to see those who say they've never talked to a legislator learn that it's something accessible to everyone, and that they can have an impact on the process in tangible ways.

On Motherhood:

Motherhood helped me double down on the importance of supporting people to make their voices heard.

Balance:

I engage my kids in some of the work. If you start helping your kids understand the impact and the change they can make in the world from the beginning, they'll be so prepared when they are out in the world.

Looking back, what would you tell yourself?

People take actions and say things that have nothing to do with you, so don't take things so personally.

Motherhood advice:

My mom used to say, "treat yourself as you would a small child." We're so hard on ourselves and that just makes things harder in general. We, as moms, know so much more than we give ourselves credit for. We're experts in our lived experience.

The Nurturer
Heather Greenwood
Age 46, Mother of Avery 17, Henry 14
Heather is feeding her community. At GraceFull Café, her three-year-old Littleton restaurant and gathering place that partners with nonprofit organization GraceFull Foundation, guests pay only what they can. In return they get a delicious meal made from scratch. Everyone is treated with respect and dignity no matter how much they can pay.
Job Satisfaction:

When you step into people's stories, there's a lot of beauty and a lot of struggle. It's a privilege to have that daily opportunity to invest in people's lives. I like to use food as a tool to do that. (As a mother) you consider what kind of community and world you want for your children. That led me to ask, "How am I investing in my community?"

Balance:

We all go through seasons where our life gets out of balance and we need trusted people in our lives. For me, it's my husband who asks, "How's your heart, how's our family, where are we at, and what do we need to do to course-correct?"

Looking back, what would you tell yourself?

Remember who you were called to be and what brings you joy because that's a key anchor to sustain you through the hard times.

Motherhood Advice:

You're going to feel unbalanced and overwhelmed, but you are absolutely the very best mom for your kids. You know them uniquely.

The Communicator
April Fallon
Age 38, Mother of AJ 8, Lily 5, Vivy 4, Maliyah 2
April is the host of ADOPTION NOW-Telling Your Adoption Story, a nonprofit podcast and resource for parents, which started as a radio program. As an adoptive mother of four, she first started talking about her own experience on air. Now she gives a voice to adoptive parents, adoptees, and birth parents from all over the world.
On Motherhood:

Motherhood causes you to be a lot more empathetic, take life as it comes, and not be so stressed out about anything that's trivial. It's helped me be like, "OK, I'm going to work today and I have food all over me. I don't know how I got it but from the time I got dressed to the time I got the kids to school, somehow I'm gross." You just go with it.

Balance:

I involve the kids in my work and help them understand that sometimes you have to go away from the family to help others, but you always come back and spend that quality time.

Looking back, what would you tell yourself?

Calm down, it's all going to work out. If you're really doing it from the heart, it's worth it.

Influences:

My grandmother was very confident of who she was as a person, so she was confident in how she parented. She took the time to know who we were as individuals.

Motherhood Advice:

Especially for adoptive moms: This child was brought to you for a reason so don't stress out about what other people are thinking or what they think you need to know. Just be true to yourself and the child.

The Pathfinder
Abby Walker
Age 42, Mother of William 10, Vivian 7
Three years ago, Abby stepped off the corporate ladder, but kept on her high heels. Believing they are her superpower, she wanted to pass that feeling on to other women with the insole company she created, Vivian Lou, which enables women to wear high heels four times longer without pain. She shares her own experiences in her book, Strap on a Pair to inspire fellow moms to take the first step—or next step—toward finding their something more.
Job Satisfaction:

I believe a pair of high heels can change a woman's perspective on everything. We also donate a portion of every sale to organizations helping disadvantaged women get on their feet.

On Motherhood:

Through motherhood, I became more aware of what I wanted out of life. I no longer wanted to go on a mission to climb the corporate ladder.

Balance:

I don't believe in daily work-life balance. Some days, work takes more priority and then other days I rarely look at work because I want to go on a field trip or do something else with my kids.

Looking back, what would you tell yourself?

Spend less time comparing yourself to others because it's your journey and how you go through it is up to you. Don't be afraid of failure. Sometimes it hurts but there are so many lessons learned.

Motherhood advice:

Professionally, if you want to do something else, you don't need to know what that end looks like to take the first step. And you don't need to go all in; take a step every day.

The Connector
Aubre Tompkins
Age 44, Mother of Devin 22, Ethan 20, Arwen 13
Certified nurse midwife and director of midwifery at Seasons Midwifery and Birth Center, Aubre has been present at the birth of hundreds of Colorado children. She advocates for free-standing birth centers, and believes that they are more than a place to give birth, but rather a community center providing families with education, wellness, and support. As the founder of the Colorado Birth Center Coalition, she led a movement that adopted new, improved state regulations governing free-standing birth centers.
Job Satisfaction:

I have the ability to serve the families of Colorado in this really intimate time of their lives. Midwifery can change people's lives. When they receive really good care that empowers them, it can affect them their whole lives.

Balance:

When you're a midwife, you're called away on very short notice because babies don't pay attention to clocks or dates, so knowing I have an amazing support structure around me means that my kids are in good hands when I have to step away. Then, I do things to take care of myself like rest, read good books, and go on walks.

Looking back, what would you tell yourself?

Don't get overwhelmed by the big goal. Take little bites and keep plugging away at it.

Motherhood advice:

There's that old saying, "If you do what you love, you'll never work a day in your life." I like that saying but I want to add: "And it is a lot of work."

Advice to her own kids:

Give yourself the space to experience lots of different things. Don't feel like you have to pick something at 16 and stick with it forever.

The Entrepreneur
Olivia Omega Wallace
Age 40, Mother to Malia 16, Antoinette 13, Gabe 13
An entrepreneur herself, Olivia helps those in the health, wellness, fitness, and nutrition industries follow their passions. She and her husband run the brand strategy marketing firm, Wallace Marketing Group while raising their blended family together.
Job Satisfaction:

I love being an entrepreneur. There's a lot of freedom of schedule and travel but also freedom to choose to do what I love to do. I also love it because, through our business, we're able to help other people grow their businesses and help their entrepreneurial dreams come true.

On Motherhood:

Motherhood has made me nimble and flexible in my work, which allows me to be a better entrepreneur.

Balance:

I give myself grace and permission to not have balance. As long as my focus on my kids and husband balances out in the long run, I can give myself permission to have those days when I'm not so balanced and it's okay.

Looking back, what would you tell yourself?

Stop making the notion of multitasking so glamorous because you're not present and you're not enjoying anything when you're doing 20 different things. Do one thing at a time. Being present is the most important thing.

Motherhood Advice:

To moms with younger kids: As much as we feel going out and pursuing our careers—being away from our kids—is hurting them, I'm realizing raising teenagers, that now is the time they really need me. Now if I'm not there, they really notice and will call me out on it.