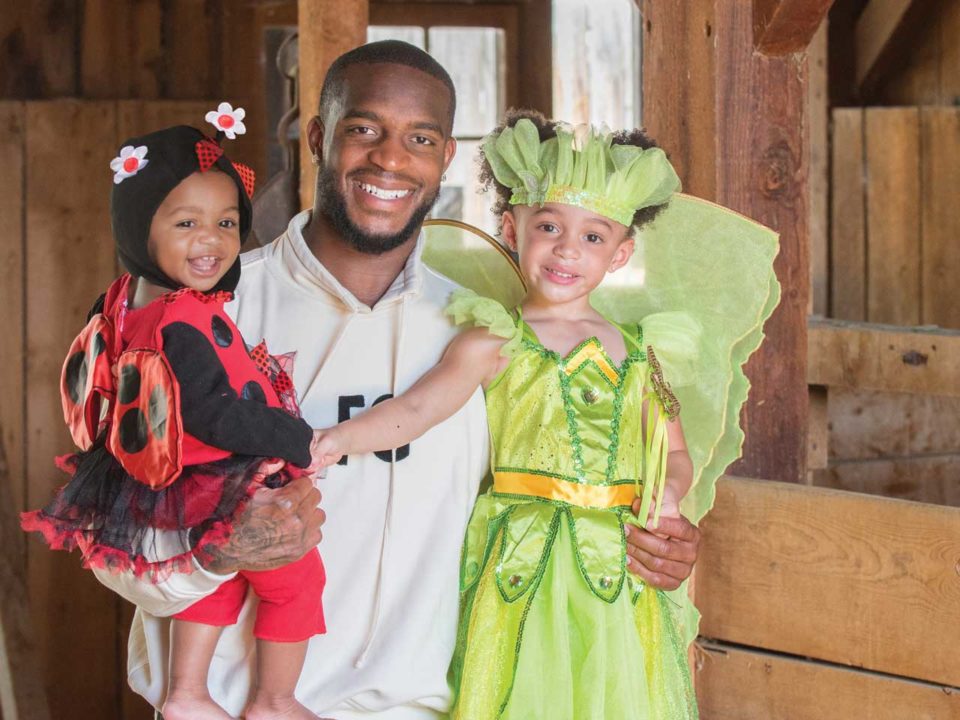 Giving (Corner) Back
Driven by his family's myriad experiences with cancer, new Denver Broncos cornerback Kareem Jackson brings his foundation to the Mile High City.
The nurses called him Jelly Bean. Before Kareem Jackson was a cornerback for the Denver Broncos, he was the brother of Shari, then six, who was spending a lot of time at what is now the Beverly Knight Olson Children's Hospital, Navicent Health in Macon, Georgia. She was fighting leukemia; it was the spring of 1992. Kareem was just four years old.
"We were doing everything from the hospital," Jackson, now 31, recalls. "I was going to school from the hospital. I didn't know the full extent of what was going on, but I knew my sister was really sick."
Those early experiences around cancer inform his work off the field today. Born in 1988 in Macon, Jackson graduated from the University of Alabama in 2010 and was a first-round draft pick for the Houston Texans. Jackson started with the Denver Broncos this season, and brings with him his namesake foundation, which supports women and children with cancer.
Beginning in 2020, the Kareem Jackson Foundation will host a number of Denver-based events to raise funds that support the foundation locally. In Jackson's previous home of Houston, a Pretty in Pink event invited local women who are fighting or who have survived cancer for a meal and pampering.
"It's all about making them feel special and getting their mind off their fight, which is 24 hours a day, seven days a week," Jackson says. "We want to bring the same events to Denver and make the same impact here."
Childhood Memories of Cancer
As a kid, Jackson was precocious. While Shari received chemotherapy, Jackson ran up and down the hospital halls, frequenting the playroom and endearing himself to staff. "I went a thousand miles per hour," he says. The nickname Jelly Bean stuck because, he chuckles, "I ate so much sugar."
There are also darker memories. Jackson recalls Shari losing her hair. Their mother, Rossalyn Jackson, says Kareem defended Shari when peers teased her for her smooth head. Jackson was forever changed, seeing firsthand the toll that cancer takes on families.
Then in 1995, Rossalyn, too, was diagnosed with cancer. There was overlap in their treatment: Sometimes Shari went in for a weeklong chemo treatment while Rossalyn took hers on an outpatient basis. A heartbroken Rossalyn, then a Macon elementary school teacher, couldn't visit her daughter due to being immunocompromised. Rossalyn's treatment took about six months. Shari's took three years, which included time both in and out of the hospital.
About seven years later in 2002, Rossalyn's breast cancer came back. "I had talked to my doctor one day, and he said a lot of times when cancer is found in one breast, it will get into the other breast," she says. "I wasn't totally shocked. But I had small children; I just had to fight."
By that time, Jackson was a teen and understood more. "I knew what she was about to go through," he says. "I didn't know exactly what cancer was, but I was familiar with the process of chemo and the toll it took on her body, losing her hair."
After another six-month process, Rossalyn took six rounds of chemo and 30 rounds of radiation. By September of that year, she was cancer free.
Hope for Other Families Today
Today, Shari is 33 and also cancer free. Jackson is now a father of two girls—Kaylen, age four and Kenzie, age one—with his wife, Amber. Among the many people Jackson meets on hospital visits are siblings of those enduring cancer treatment. As he well knows, much of their time is spent in the hospital, and what they need most, he says, is encouragement and someone to talk to. "Maybe they've been in the hospital all day, kinda sitting around," he says. "I try to be stability and an outlet for them."
When he'd visit patients in Houston at Texas Children's Hospital, Jackson would play video games with the siblings—just anything, he says, to get their minds off what their family was going through. For the young patients themselves, Jackson says his mission is simple: Be a good listener and give them a reason to smile. "They're in a hospital bed and not living a normal life, but they can still have fun."
Patients came to Texas Children's Hospital from all over the world, so many had no idea who Jackson was. "A lot of them were more familiar with soccer as opposed to American football," he says. "But it's not about me being an athlete or a football player. It's just all about those families."
Building a Foundation
Though he launched the foundation around 2012—the second year of his professional football career—Jackson says he is particularly proud of how far it has come in the past three years.
Andrea Baker, managing director of the Kareem Jackson Foundation, says its Denver launch has included assembling a local board of directors, among them restaurateur Troy Guard and Rusty Crandall of Meritage Homes, whose wife is a breast cancer survivor. Baker says a partnership with UCHealth will play a role in reaching those affected by cancer in Denver.
Although Jackson plays for the Broncos and will conduct his charitable work here, he says Amber and their daughters will likely remain in Houston for much of the year so as not to disrupt their schedules. His time off, he says, will be totally focused around family.
"The girls are at the age where they're a ton of fun," he says. "I try to fit in anything I want to do around their schedule." Sometimes he and Amber duck out for dinner and a movie, but they try to incorporate their kids into almost everything they do. "When I start the [football] season," he says, "I'm going to be away a lot more. The time now is so valuable."