Kid-Friendly Cooking with Chef Gino Campagna
The chef, author, and father of two dishes out tips for cooking with kids, and shares kid-approved recipes from his new cookbook.
Imagine this: You're in the Italian countryside, surrounded by beautiful produce and gazing at idyllic scenery while leisurely preparing meals for the ones you love. Sounds like a dream, right? For chef Gino Campagna, it's reminiscent of his childhood growing up in Italy, an experience that inspired him to teach kids and families how to prepare fresh and easy homemade meals together.
When Campagna moved to Los Angeles 12 years ago, he recalls being astounded by restaurants' banal kids menus—often consisting of chicken nuggets, pizza, and grilled cheese.
In Italy, he says, there is no kids menu; kids simply eat the same meals as their parents, although maybe a smaller portion. So when he first came to America and saw kids menus filled with grilled cheese, mac and cheese, and chicken nuggets made with lower quality ingredients, he was shocked."In Italy you want to give the best part of the meat to your children," the Parma-born chef says. "It's really bizarre that in the richest country in the world we treat our children like second-class citizens when it comes to food (quality)."
He feels that many parents simply hope that by the time kids turn 18, they'll magically develop a wider and healthier palate than the standard fast-food fare. Campagna says instead, parents should focus on making food from scratch whenever possible and teaching kids about appropriate portion sizes.
"I think too many times in America there are two classic pictures that we show our children," says Campagna. "On one end, there's the hamburger and soda (picture) and we say to them, 'If you eat this you're going to die' and on the other side of the spectrum there's a (picture of) chicken breast with a very sad boiled broccoli and maybe some brown rice. We tell them, 'If you eat this the rest of your life you will live.' There's a universe of flavors, and tastes, and colors in the middle of those two examples."
In Campagna's first cookbook, Chef Gino's Taste Test Challenge, he pushes the boundaries of what it means to eat like a kid.
The cookbook offers a kid-friendly look into cooking, with tasty kid-approved recipes including soups, salads, pasta, stuffed vegetables, and eggs. There's even a full chapter devoted to crepes, with an all-purpose recipe (see below), and fun riffs like sweet and savory crepes, crepe noodles, "crepelloni" (cannelloni using crepes), and a tower of crepe cake. All the book's recipes utilize easy-to-find ingredients and simple steps that the whole family can follow.
"My experience with kids is that they love to cook, they love the process, they love to understand," says Campagna. "In Italy, we know that the best food is the food you make at home. It doesn't take much time to prepare fish, or a salad, or pasta—something very simple. Some days [when] you have a little more energy to go to the market … get the kids to help, have them mix the soup as you prepare the salad. Then sit down at the table together to enjoy a meal while sharing about your days and your feelings. There's nothing but benefit to come out of that."
Below, Campagna shares two kid-approved recipes from his cookbook, Chef Gino's Taste Test Challenge.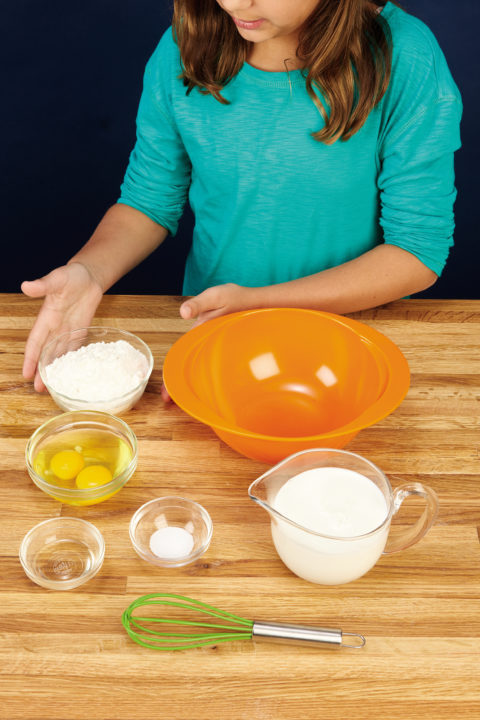 Basic Crepes
You probably don't have the large burner they use in France to make the crepes, but no worries! All you need is a nonstick skillet around 6 inches in diameter and you'll be fine! Makes 8 crepes, using 1/4 cup of mix per crepe.
Ingredients:
1 cup flour
2 large eggs
1 1/2 cups milk
2 teaspoons vegetable oil
1/4 teaspoon salt
Directions:
In a large bowl, whisk together the flour and eggs. Gradually add in the milk and oil, stirring to combine. Add the salt.
Heat a lightly oiled griddle or skillet over medium-high heat. Cook the crepe for about 2 minutes, or until the bottom is light brown. Flip it and cook for 2 minutes on the other side. Repeat the process until you use all of the crepe batter.
Crepes can be filled with a variety of combinations; butter and sugar, honey and walnuts, banana and coconut, hazelnut spread and strawberries for dessert. To make crepes savory, fill with a mixture of onion, mushrooms, mozzarella, and ham that Chef Gino calls "Savory Me a Crepe". Roll up the crepe and enjoy.
Pastuffed Ravioli with Ricotta and Spinach
This is my mom's best recipe. It's a classic dish the Parmesans (that's what they call people from Parma) eat all year round. But on the 23rd of June, when they celebrate San Joseph, they eat the ravioli very late at night, and then they wait for dawn so that after eating the ravioli, they can run through the dew in the grassy hills around the city: Crazy!
Ingredients:
1 cup frozen spinach
1 package (8 ounces) ricotta cheese
2/3 cup grated Parmigiano-Reggiano cheese
2 pinches of salt
1 recipe Basic Pasta Dough (recipe in book) or use store-bought dough
Directions:
Add the spinach to a small saucepan, cover with water, and bring to a boil over high heat. Allow to boil for about a minute until completely thawed and warm. Strain and squeeze the spinach to remove excess water. Once the spinach is drained, give it a rough chop and add to a medium bowl with the ricotta, Parmigiano-Reggiano, and a pinch of the salt. Mix thoroughly. Cover and let sit in the fridge for at least 10 minutes.
As you wait, roll out the dough with a pasta machine or a slightly floured rolling pin into long, thin strips, and place on a floured surface.
Remove the ricotta mixture from the fridge, and spoon teaspoons of the mixture an inch apart down the length of the pasta dough strip until you run out of room. Place another strip on top. Firmly press the space between the fillings with your knuckles so that the filling is contained in the pasta. Then take a cookie cutter, pizza cutter, or knife and cut out each ravioli. Dip a fork in same flour and press it along the edges of the ravioli so that the edges are sealed. Place them on a floured surface and set aside.
In a large heavy-bottom pot, bring 4 to 5 cups of water and a pinch of the salt to a boil over high heat. Have a grown-up help you carefully add the ravioli to the boiling water. Cook for 3 to 4 minutes, or until the pasta floats to the top and is cooked through. Carefully drain the pasta. Add to your favorite sauce. Serves 3 or 4.