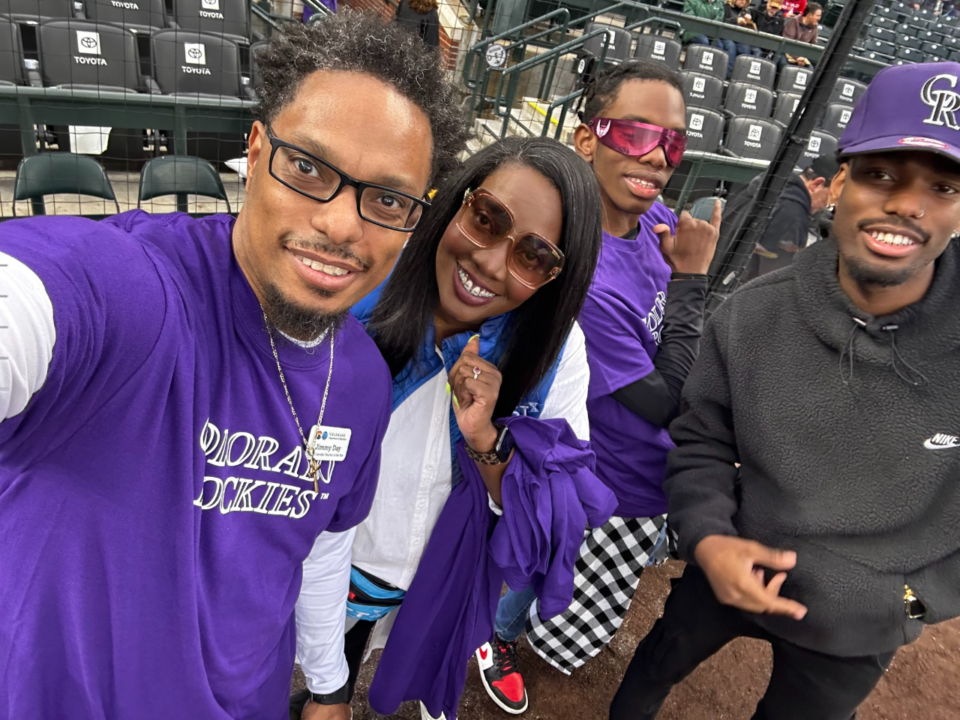 Meet the 2023 Teacher of the Year, Jimmy Day
Jimmy Day is a father of two boys, a husband, the Band Director and Instrumental Music Teacher at East Middle School, and has been recognized as the Teacher of the Year.
Mr. Day is musically influenced by many famous artists like Earth, Wind and Fire; Demondrae Thurmond; and Steven Mead, but he's been the most influenced by his previous band teachers and directors. From middle school to college, his band directors have had a powerful influence on him.
"They showed me not only how to be a great musician but how to be an overall good citizen," Mr. Day says. "That's what I try to instill in my students."
What made you want to become an instrumental music teacher/band director?
Jimmy Day: This phenomenon happened one day during my fourth year of college. I just changed my major (for the third time) to music. I wasn't planning on going into education; I just wanted to major in music. I took a music education class that had us going to various schools to observe other music teachers.
While I was doing one of the many observations we had to do, I had the pleasure of working with a middle school trombone player. His teacher was perplexed as to why this student was not catching on like the rest of the students. The teacher tried different ways of aiding the student, but nothing was working. With that being said, he asked me to pull him out and work one-on-one with him since he knew that my background was in low brass instruments.
I pulled the student into a practice room and assessed the situation. While assessing him, I quickly noticed what was messing him up. He was labeling some of his notes incorrectly. Once I brought it to his attention and had him make adjustments, he instantly became happy and very invested in being a trombone player. Doing that for that young man lit a spark under me, and I found what my purpose in life was.
At that moment, I knew music education was the path I wanted to take.
What is your teaching style, and why is it effective?
JD: My teaching style is building relationships with my students and setting up structures for them to be successful.
I believe the way to hook students is humanizing yourself. If you show them that you're human like them, it's easy to make connections with them. I put structures in place to give mystudents a safe haven where they can grow musically through self-discovery. The only problem I want them concerned with is how they are going to be better than they were the previous day.
If students don't have that space to grow because of behavior issues, and other unnecessary distractions, everyone's time is being wasted.
I was that teacher who struggled with discipline and structure my first couple of years of teaching. I NEVER want to go back to that. As a result, I work hard to be very intentional to make sure my students have that space for learning. With no discipline, there is no learning.
How can music impact students?
JD: Learning/playing music can impact a student very positively. The brain is impacted because learning music causes you to use not only your left brain but also causes you to use your right brain as well. That gives students the edge over their classmates who are not in any music classes.
Learning music can also help students sharpen their life skills. It teaches them the value of teamwork. It teaches them how to be leaders. It teaches them how to collaborate and cooperate. It shows the importance of work ethic and how to take constructive criticism and feedback. It teaches them how to be teachers because they are responsible for each other learning and performing new concepts that were taught. Before my students play a note, they are already learning these life skills. Playing music is the cherry on top.
What is your favorite part about teaching?
JD: What I love about teaching is the impact that I make in my students' lives, and seeing how they appreciate my style of teaching. Yes, I run a tight ship with my students, but it's all in the best interest of them, and they know it.
I like teaching them a skill that can possibly allow them to have experiences in music that they would never have thought about. Lastly, I like to see their joy when they experience success, whether it's in class or at a performance. The pride my students beam with is unmatched. It makes all of my rough days worth it.