Books That Show Appreciation for Nature
These recommendations from local book experts and librarians remind us of the impact that nature can have on a child.

•
When I was a child, if I was angry or frustrated or bored, I'd run out my door and directly into the forest that surrounded my home. I didn't know why at the time, but since learning about the benefits of unstructured, outdoor play as an adult, I believe I was drawn to it because I needed nature as much as I needed air to breathe. I don't have a forest outside my door anymore (and many reading this will not either), but thankfully, there are dozens of great books to remind us of the impact that nature can have on a child, and help draw us back to it.
---
by Wendy Pfeffer; illustrated by Robin Brickman (Aladdin Paperbacks 2007)
Three-dimensional paper sculpture complements lyrical text in this nonfiction picture book. Kids get a close-up look at the life cycle of a tree and learn about the interdependence of living creatures in nature.
---
by T.A. Barron; illustrated by Ted Lewin (Philomel 2004/Rocky Mountain Conservancy 2018)
Colorado-based author T.A. Barron tells the story of eight-year-old Harriet, who overcomes steep slopes, a blizzard, and other surprises on her ascent of Colorado's Longs Peak. Based on the 1905 historic event of the youngest person to climb the peak, the book was recently republished by the Rocky Mountain Conservancy, a nonprofit organization that supports Rocky Mountain National Park.
---
by Liz Garton Scanlon; illustrated by Lee White (Schwartz and Wade Books 2018)
Praised as a great read-aloud, when a wind blows on the top of a steep hill, everything turns upside down for the man who lives there. Kate comes up with a plan to protect the man's house and tame the wind by planting trees.
---
by Hannah Holt; illustrated by Yee Von Chan (Philomel 2019)
This book shows how a variety of fathers in the animal kingdom help care for their young, from the red fox dad who keeps his children safe by digging burrows, to the male seahorse who keeps his young safe inside his pouch. Written in rhyme, the book also teaches young children colors through animals living in a wide range of environments and climates.
---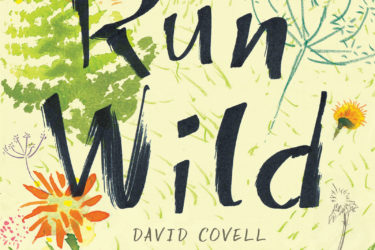 by David Covell (Viking Books for Young
Readers 2018)
"Lush watercolors capture the joy and movement of outdoor adventures in this ode to unplugging and immersive nature play," says Carrie Wolfson, children's librarian at the Denver Public Library. When a girl shouts, "Hey, you! Sky's blue," a boy bent over his digital device runs after her, leaving his screen behind for a world full of sunshine.
---
by Tomson Highway; illustrated by Julie Flett
(Fifth House Publishers 2016)
Recommended by Liesel Schmidt, children's librarian at the Denver Public Library, Dragonfly Kites tells the story of two brothers who spend a summer in the outdoors at various lakes in Manitoba. They make the acquaintance of a number of creatures and especially love dragonflies. The text is presented in both English and Cree, an aboriginal language most commonly spoken in Canada.
---
Librarians and books experts also recommend:
The Magic and Mystery of Trees by Jen Green; illustrated by Claire McElfatrick
I am a Warrior Goddess by Jennifer Adams; illustrated by Carme Lemniscates
An ABC of Flowers by Jutta Hilpuesch
In Blossom by Yooju Cheon
Hope by Matthew Cordell
The Giving Tree by Shel Silverstein
You Belong Here by M.H. Clark; illustrated by Isabelle Arsenault
Hello, World! Ocean Life by Jill MacDonald
Not Your Nest by Gideon Sterer; illustrated by Andrea Tsurumi
Lawrence in the Fall by Matthew Farina; illustrated by Doug Salati
The Home Builders by Varsha Bajaj; illus. by Simona Mulazzani
The Wolves are Back by Jean Craighead George; illustrated by Wendell Minor
Lizards by Nic Bishop
Inky's Amazing Escape by Sy Montgomery; illustrated by Amy Schimler-Safford
In the Red Canoe by Leslie A. Davidson; illustrated by Laura Bifano
Bringing the Outside In by Mary McKenna Siddals; ilustrated by Patrice Barton
Stick by Irene Dickson
Shakespeare's Seasons by Miriam Weiner; illustrated by Shannon Witt
What a Waste by Jess French
The Bee Book by Charlotte Milner
There's a Hole in the Log at the Bottom of the Lake by Loren Long
My Tiny Pet by Jessie Hartland
Camp Tiger by Susan Choi; illustrated by John Rocco
Daniel's Good Day by Micha Archer
Just Like My Brother by Gianna Marino
Animalicious by Anna Dewdney and Reed Duncan; illustrated by Claudi Boldt
The Little Green Girl by Lisa Anchin
Don't Let Them Disappear by Chelsea Clinton; illustrated by Gianna Marino
Bear Came Along by Richard T. Morris; illustrated by LeUyen Pham
The Sun Shines Everywhere by Mary Ann Hoberman; illustrated by Luciano Lozano