20+ Products for a More Natural, Non-Toxic Lifestyle
Keep your family healthy by choosing cleaner, safer products for your home.
It's not news that harmful toxins are hidden in many of our skincare products, cleaning supplies, and other household items, but it's easier now than ever to avoid these controversial ingredients. With a higher demand for safer ingredients, cleaner product choices for you and your family are plentiful—it just takes time to learn what to look for.
To help you clean up the items coming into your home, Karalynne Call, a nutritionist with a passion for better health and a mom of six, identified the four most harmful ingredients you should avoid. As far as getting started goes, she says, "I recommend working on one ingredient at a time. When you run out of a product that has one of these harmful ingredients, choose to buy a replacement next time."
What to Avoid Now
These ingredients—all of which health studies have linked to increased risk for early puberty, breast and testicular cancer, attention deficit hyperactive disorder (ADHD), and allergic asthma—should be avoided whenever possible. Read on to find our tried-and-true product picks, which are all free of these four questionable ingredients.
Phthalates
Bisphenol A (BPA)
Parabens
Artificial dyes
Household + Cleaning
Prep your meals with safe cookware, store them with confidence, and take care of messes with the knowledge that your product picks are safe.
Free of lead and polyfluoroalkyl substances (PFAS)—toxic fluorinated chemicals present in many pots and pans—the GreenPan 5-Piece Set was created to ensure that toxic fumes are never released during the cooking process—even if the cookware is overheated.
Your current laundry detergent scent may be nostalgic, but most of the options on the market are loaded with synthetic fragrances. Enter the Branch Basics Laundry Kit, a trio including soap, a bleach-free stain remover, and a reusable laundry bottle, that leaves dirty clothes, towels, and bedding ultra fresh.
The main ingredient in Cleancult Liquid Dish Soap? Coconut oil, which cuts through even the toughest grease on pans and dirty dinner plates. The soap is mailed in a recyclable milk carton, but you can transfer the liquid to one of the brand's glass refillable dish soap dispensers.
Squeak In the CLEAR glass cleaner easily removes fingerprints and makeup smudges from dirty windows and mirrors. White distilled vinegar tackles the mess while a variety of essential oils leave behind a fresh (yet safe) scent.
Wipe up spilled milk, sticky countertops, and messy highchair trays with the Branch Basics Concentrate. Simply dilute a small amount of the liquid with water and create your own all-purpose, glass, and bathroom cleaners.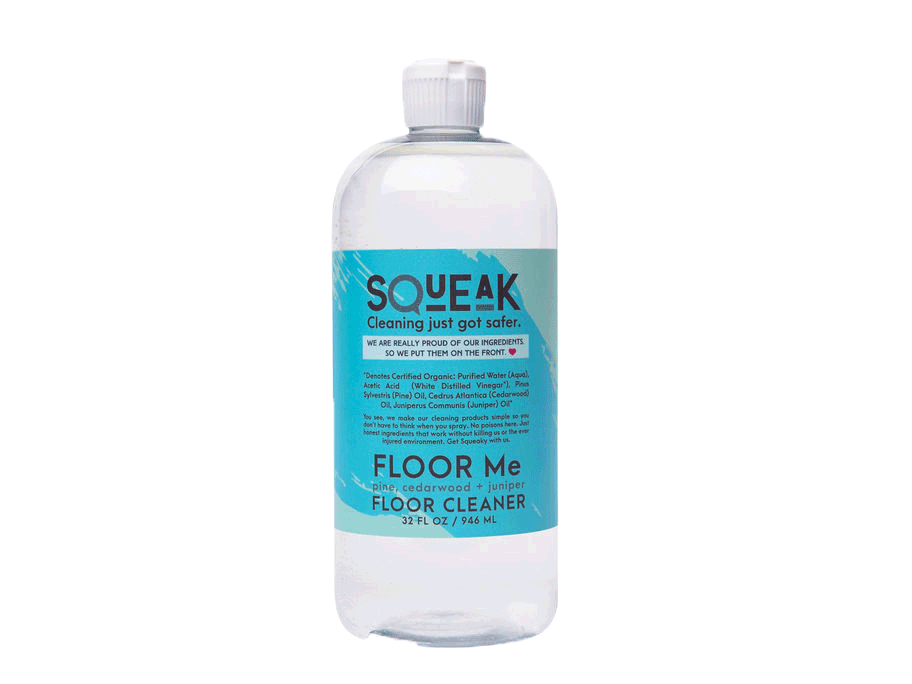 Pair a microfiber mop with just a squirt of Squeak FLOOR ME Cleaner and your floors will start sparkling. The cleaner can be used on any type of hard surface (counters, tables, and sinks) and leaves behind a subtle pine aroma.
---
Baby + Toddler Care
You want what's best for your little cutie—these choices help make that happen.
A baby bottle made from plants? Yep, you read that right. Although the actual Green Sprouts Sprout Ware Bottle is made with glass, the protective cover is made with silicone and the travel cap is made from plant-based plastic—minus the BPA.
Puree then freeze baby food in 15, 1-ounce portions by using the Green Sprouts Fresh Baby Food Freezer Tray. The flexible, food-safe silicone design allows frozen portions to release easily. Plus, the tray comes in three different colors so you can sort and organize different meals.
Keep your baby's post-bath ritual simple with the unscented Earth Mama Simply Non-Scents Baby Lotion. While the lotion is lightweight, it's also deeply moisturizing and easy to slather on your little one from head to toe.
The plant-powered Puracy Bubble Bath contains aloe and avocado extracts that are gentle on sensitive skin. French lavender blossoms are muddled with vanilla beans to give the product its fresh, floral scent. Most importantly, it creates big bubbles when held under running water.
The multi-use Primally Pure Baby Balm works wonders on diaper rashes, cracked and chapped nipples, cradle cap, and dry skin. Formulated with anti-inflammatory emu oil, the velvety balm penetrates deep into the skin to soothe and heal. It can even be used as a nourishing belly balm during pregnancy.
Look after your baby's delicate skin with the Earth Mama Baby Mineral Sunscreen. Organic red raspberry seed oil, which has the highest naturally occurring SPF value in the plant world, and organic pomegranate seed oil offer up a healthy dose of UV protection.
Say goodbye to artificial colors, flavors, and preservatives. The RiseWell Natural Kids Toothpaste features a kid-pleasing "cake batter" flavor that's made with pure vanilla extract and stevia, while minerals strengthen teeth.
Free of hidden chemicals and parabens, the Honest Co. Baby Wipes will help you with all of your diaper-duty needs. The durable yet super soft wipes have a convenient pop-up dispenser that makes diapering on the go (somewhat of) a breeze.
---
Beauty + Hygiene
What you put on your skin, in your hair, and near your eyes matters. When it comes to ingredients and performance, these beauty and hygiene finds are gentle on your skin and the environment.
Just a dab of the vegan NakedPoppy Nourish Cream Cleanser is all you need to remove grime, sweat, and makeup from your skin. The cleanser feels buttery soft when gently rubbed in and leaves your complexion hydrated and smooth.
The harsh Colorado sun requires year-round SPF, and it's good to pick a sunscreen that offers protection from blue light as well (limiting exposure to blue light can help with sleep issues). The Cocokind Daily SPF offers coverage against UVA and UVB rays, pollution damage, and yes, blue light.
Made with plant extracts that fade dark circles and puffiness, the Cocokind Revitalizing Eye Cream is the ideal choice for giving tired eyes some TLC. Another perk: the metal applicator soothes and cools your skin.
A dry climate makes for flaky, dry lips. Sugar crystals in the Three Ships Vanilla Lip Exfoliator work to lightly scrub off dead skin while shea butter and oils drench irritated skin with some much-needed moisture.
Short on sleep and trying not to look like it? The Lily Lolo Natural Vegan Mascara, which is made with sunflower wax and fruit oil, will help you look more awake. We tried it and were impressed with how well it enhanced our natural lashes.
The hypoallergenic Attitude Nourishing and Strengthening Shampoo & Conditioner is made with a powerful blend of olive leaves and grape seed oil. The duo works together to heal and hydrate even the most dull, dry strands.
The use of carrot pigment in the Ere Perez Carrot Colour Pot makes for a natural pop of cheek color. Available in five different shades, the creamy blush can also be applied to lips and the bridge of your nose.
While you wouldn't want to eat it, the luxurious Primally Pure Almond + Vanilla Body Butter was created with ingredients that are safe enough to eat. The whipped consistency feels amazing to smooth over your legs, arms, and stomach post-shower.
Our expert, Karalynne Call, created her own line of safer-choice products for her clients and followers. One of our favorites? The Just Ingredients Eucalyptus Mint Magnesium Deodorant. The magnesium works to neutralize odors while vanilla and coconut oil promote a healthy pH balance.