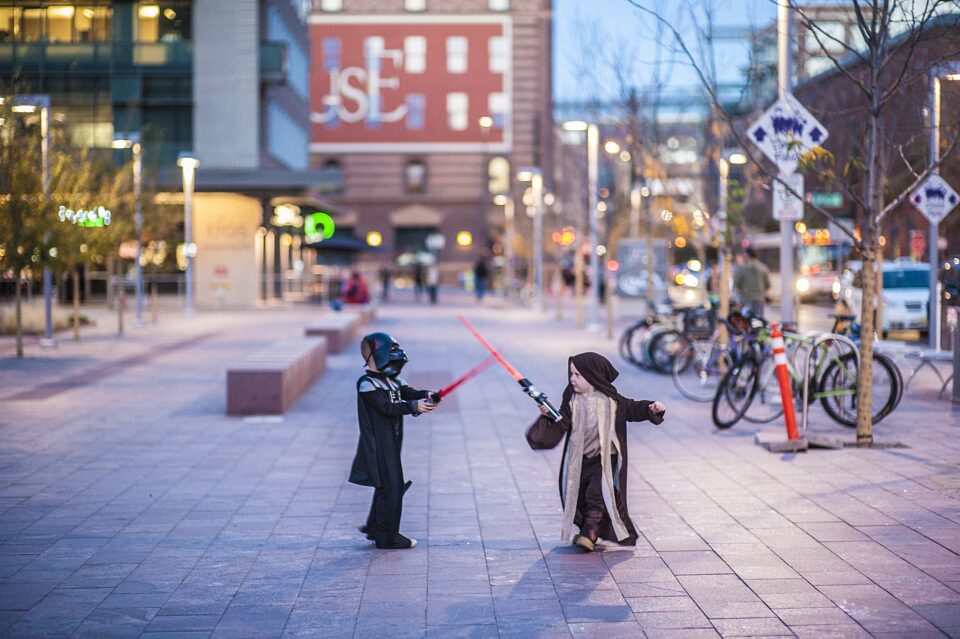 12 Things To Do in Denver This October
Add something fun to your calendar this fall.
This fall's got several spectacular showings of seasonal spirit, artistic ability, theatrical talent, and inspirational leadership. Catch one of these events at a local park, museum, theater, or events center.
Oct. 2 and 3, 10 a.m. to 5 p.m.
Celebrate Lakewood's agricultural heritage with a mix of live performances, activities, and harvest treats. Enjoy wagon and barrel train rides, historic demonstrations, and other children's attractions. Go on an "everything apple" food adventure through apple pressing, cider by the glass or gallon, and Apple Annie's Baking Challenge (Sunday only). Find tickets online.
Price: $6-$10
Location: Heritage Lakewood Belmar Park, Lakewood
Oct. 3, 11 a.m. to 4 p.m.
Celebrate all of the things that make Golden a bright and shining community. Head to the History Museum for an afternoon of family activities, chalk art, puppet shows, petting zoo, and Westernaires horse riding ($3 extra).
Price: Free
Location: Golden History Museum, Golden
Oct. 30, 2:30 p.m.
This family-favorite Colorado Symphony concert features music from films, television, and more. Costumes are encouraged (even the musicians get in on the festivities). Find tickets online.
Price: $27 adult, $10 child
Location: Boettcher Concert Hall, Denver
Oct. 7 to 24. Thu through Sat, 7:30 p.m.; Oct. 24, 2 p.m.
Players of Su Teatro Cultural and Performing Arts Center take the stage in a moving and comic tribute to community, family, and life in Denver's Westside. The corrido (ballad) laments the heart of the land and brown-skinned people stolen in the name of progress. Written by Anthony J. Garcia and directed by Hugo E. Carbajal.
Price: $20; $17 student, seniors
Location: Su Teatro Cultural & Performing Arts Center, Denver
Oct. 8 to 10, 9 a.m. to 4 p.m.
Enjoy a day of fall activities including the chance to pick a pumpkin from a 10-acre patch and do family activities while listening to live entertainment and enjoying local foods.
Price: $12 adult; $10 adult member, student, seniors, military, youth (ages 3-15); $7 youth member
Location: Chatfield Farms, Littleton
Oct. 9 through Nov. 7. Mon through Sat, 9 a.m. to 5 p.m.; Thu, 9 a.m. to 9 p.m.; Sun, 1 to 5 p.m.
Longmont artist Mario Olvera's work will anchor this year's Día de los Muertos display, also featuring ofrendas (altars) built by community members.
Price: Free
Location: Longmont Museum, Longmont
Oct. 11, 7 to 8 p.m.
Meet innovator, change-maker, author, and STEM education promoter Gitanjali Rao, from Lone Tree. At age 15, she was named TIME Magazine's first-ever "Kid of the Year." Her bold thinking has resulted in a device that detects lead in water, an AI-based anti-cyberbullying service called Kindly, and an opioid addiction detection device called Epione. Hear Rao share her journey and discuss the role of science as a catalyst for social change. Find tickets online.
Price: $5-$25 in person, $0-$25 virtual
Location: History Colorado Center, Denver
Oct. 17, 1:30 p.m.; 4 p.m. Sensory Friendly
The Seven Falls Indian Dancers is a family dance troupe representing four generations of dancers from the Pawnee, Flandreau Santee Sioux, and Crow Creek Sioux tribes. The troupe performs traditional dances including the Hoop Dance, Eagle Dance, Grass Dance, and more, explaining the origin of each dance with a story. The sensory friendly show is modified to ensure there are no startling noises or visually over-stimulating components. Face coverings are strongly recommended, regardless of vaccination status.
Price: $5
Location: Lone Tree Arts Center, Lone Tree
Oct. 22, 23, 29, 30; 9 a.m. to 8 p.m.
Put on your best Halloween costume and join Butterfly Pavilion for a socially distanced trick-or-treating experience. Enjoy candy stations, prizes, and exhibit access. Age 5 and up. Find tickets online.
Price: $13 adult, $9 youth (ages 2-12), SNAP and EBT will be accepted
Location: Butterfly Pavilion, Westminster
Oct. 23; 10 a.m., 2 p.m., 7 p.m. showtimes. Oct. 24, 2 p.m.
The Westernaires group showcases the hard-won skills in precision drill riding. Take in their high speed, rope tricks, flaming batons, and dazzling array of costumes. All are performed by young people. Find tickets online.
Price: $10
Location: National Western Stock Show Event Center, Denver
Oct. 28, 5 to 8 p.m.
Take part in the 7th annual parade, complete with trick-or-treating, mini-train rides, balloon artists, and face painting. Prizes will be awarded for best overall and best group/family costumes.
Price: Free
Location: Union Station, Denver
Through Oct. 31. Mon-Fri, 10 a.m. to 6 p.m.; Sat, noon to 7:30 p.m.; Sun, noon to 5:30 p.m.
More Than Street Art: De La Gente brings together eight Colorado-based street artists who bring their personal journey to represent a different viewpoint of the state, including themes of feminism, mysticism, activism, beauty, collaboration, and struggle.
Price: $5 requested donation
Locaiton: The Dairy Arts Center, Boulder