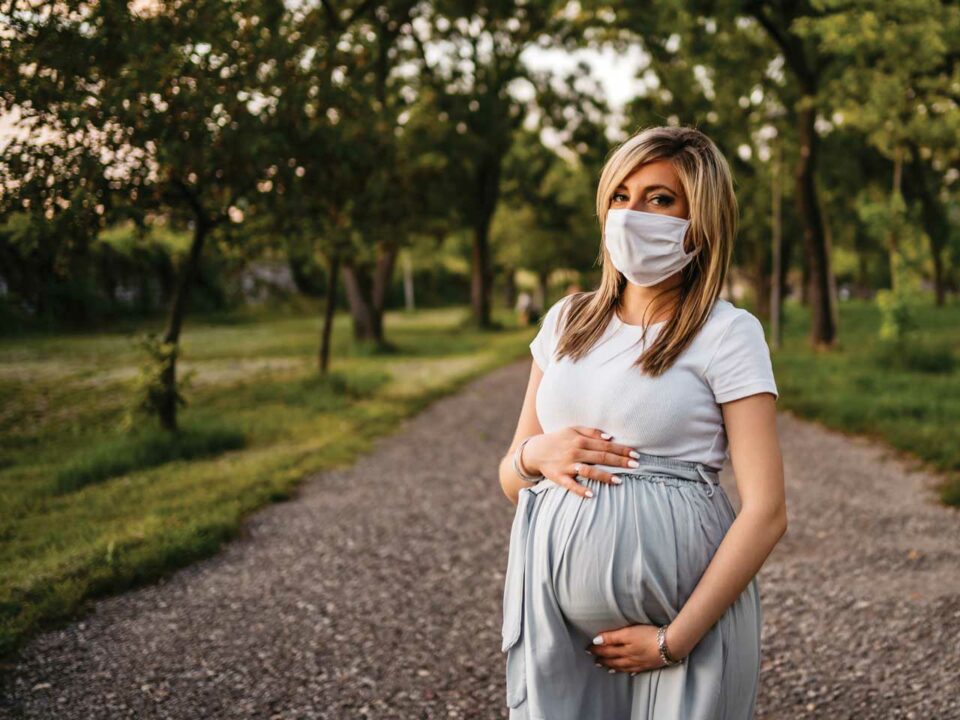 What to Expect When You're Expecting in a Pandemic
New parents' experiences with pregnancy, labor, and delivery during a very different time.
In early March of 2020, my husband and I watched our baby, no bigger than a sweet potato, kick and roll on the ultrasound monitor. I was 19 weeks pregnant, and seeing our first child's toes, her spine, even the four chambers of her heart was miraculous. "You're entering your second trimester," my doctor told me. "Enjoy this special time!" I felt like nothing could shake my joy. COVID-19 changed everything.
The news of global lockdowns and horrific casualties left us reeling. We stocked up on toilet paper and hand sanitizer. With each passing week, we canceled concerts, happy hours, weekend trips. By May, we canceled my baby shower. Even hugging my parents felt like too much of a risk. I burrowed into my pregnancy pillow at night, doomscrolling, while my baby did somersaults in my belly. I was so afraid my husband or I would get COVID-19, and so worried about what the world was going to look like once my baby arrived, that I started to regret getting pregnant in the first place. I felt incredibly isolated.
Like me, many women would give birth during the pandemic. Things were changing every day, and still are, but here's an idea of what moms can expect now.
Pregnant in a Pandemic
Brittany Rogers of Englewood found out she was expecting her third child last May. "I called my physician because I thought I had [COVID-19]," she says, recalling her fever and fatigue. When it turned out she was pregnant, she began taking precautions to limit exposure. Rogers was concerned that if her husband were to contract COVID-19 prior to her giving birth, he wouldn't be allowed at the delivery. She feared that if she were to contract the virus, she might be separated from her baby. Rogers was encouraged to self-isolate as much as possible for the four weeks prior to her due date and was required to have a COVID-19 test two weeks before.
"We got lucky because my due date was January 11," Rogers says. "So those four weeks preceding my due date coincided with the holidays, Christmas, and school break for my older two girls. So we really were able to kind of stop life, if you will, and just follow the doctor's orders."
Denver resident Leslie Will was thrilled when she became pregnant with twins last summer. Yet, Will, who is a physician's assistant, says that the fear of contracting COVID-19 has been an additional stressor during her pregnancy. "The concern about just getting [COVID-19] is a little higher because it's not just me that I'm worried about now," Will says. "It's three of us, the babies."
J. Honey Onstad, M.D. and OB-GYN department chair at Rose Medical Center, was keenly aware of pregnant women's pandemic fears. "There were a couple hospitals in New York City that had an absolutely no-visitor policy for a brief period of time," she says. "And that made pregnant women very, very worried across the country that that would happen to their delivery hospital." That was a unique situation, she adds, and one that didn't last very long. That said, COVID-19 has intensified an inherently anxious time for expectant parents.
Restrictions During Pregnancy
Pregnant women are at an increased risk for severe illness from COVID-19 compared to non-pregnant women, according to the Centers for Disease Control and Prevention (CDC). So, being careful is a good thing. Still, restrictions can be disappointing, and the situation seems to change by the week.
Lindsay Montgomery of Cañon City discovered she was pregnant in mid-March of 2020, right as doctor's offices were starting to shut down. It was tough for her to even get an appointment to confirm the pregnancy. Several practices turned her away, saying they weren't accepting new patients due to COVID-19.
Montgomery had hoped to have two support people at her side for the birth of her son. "I really, really wanted to have my mom there," she says, "The week before [I] was induced is when they said we're going back down to one support person instead of two." It was OK in the end, she says, because her mom joined by video call. Her son was born on November 24, 2020.
During my own pregnancy, I got to bring my husband with me to my prenatal appointments. I certainly didn't need him there while I peed in a cup and got my blood pressure checked, but having him around to hear the baby's heartbeat and jot down notes was immensely reassuring.
Some patients have the option of doing telehealth for their prenatal appointments as a way of limiting potential exposure. This is especially convenient for patients who live a long way from their OB-GYN, says Katie Chmielowiec, M.D., at St. Mary's Medical Center in Grand Junction.
At Denver Center for Birth and Wellness, clinical director and midwife Chance Galindo says the past year has been challenging for moms and midwives alike. "We as midwives are very high touch, and, you know, everything is now sanitized and disinfected. We can't shake hands. We're not supposed to hug our clients. So that loss of intimacy has definitely occurred."
Delivery Differences
At press time, most hospitals require a mask if you want to walk the halls or when providers enter your room, although some are more lenient once it's time to push. At UCHealth Highlands Ranch, moms are required to get a COVID-19 test once they are in active labor, or two to three days prior to their scheduled induction or C-section. Those who test negative for COVID-19 are offered nitrous oxide for pain relief at this particular hospital (not all hospitals are currently offering this). Once baby arrives, friends and family are still welcome to send flowers or gifts, and outside food and drink are still permitted. At UCHealth Highlands Ranch and Rose Medical Center, the nurseries are open and able to care for newborns, in order to give new parents time to rest, if needed.
Denver Center for Birth and Wellness screens everyone for COVID-19 with a temperature check upon arrival. Moms can be mask-free in their rooms, but need to mask up to move about the common areas. Additionally, nitrous oxide is an option for pain relief at this center.
Certified doula Terri Burleson attended 31 births at 12 different hospitals over the past year. "It was surprisingly normal," she says. "Honestly the biggest difference was that it was just quiet." Fewer people crowding the waiting rooms made the labor and delivery wards more peaceful, allowing more intimate bonding time for the immediate family.
The same was true of my experience. I arrived at Rose Medical Center deep in the throes of labor on a sweltering July evening, and a flock of nurses attended to us as if we were the only couple on the floor. I had to wear a mask the entire time, but I barely noticed. Our daughter arrived swiftly and safely, and we spent the next two days getting to know one another in the safety of our hospital room.
Rogers' experience sounded a lot like mine; her daughter was born on January 16, 2021. She says though she felt separated from the hospital population, she felt well cared for. "I thought [mask wearing during labor] was going to be more difficult, and more difficult to breathe specifically, while going through a very painful process," Rogers says. "It didn't prove to be as bad as I thought it was going to be. I was able to wear one of those paper-thin surgical masks, and having been accustomed at that point to wearing a mask while working out and doing everything else in life, it didn't bother me as much as I thought it might."
"I think [new moms] can honestly expect a very normal experience," says Onstad at Rose Medical Center. She adds that there's virtually no chance that birth partners won't be allowed. When we spoke, Onstad told me that Rose was planning to eliminate mandatory COVID-19 testing before delivering. "Because our [COVID-19] positivity rate has been so low for our patients, we are eliminating [COVID-19] testing as of April 1," Onstad says. They will reassess weekly, and reinstate testing if cases go up.
Beyond the Birth
Lisa Wynn, M.D., and women's service line chief at UCHealth Highlands Ranch Hospital, reassures new moms that hospitals are still committed to providing high-quality healthcare beyond birth.
"We still have our lactation support, we still have postpartum depression screenings, we still have counseling groups. They may look a little different than they have in the past, but we still have access to the things that make health care accessible and work for a lot of women."
In my experience, our friends and family have been endlessly supportive during the pandemic. They organized a surprise drive-by baby shower, dropped meals on our doorstep, and ooh-ed and ahh-ed at our baby over Zoom. With both of us working from home, we're present to watch our daughter grow and change each day. I feel incredibly grateful, and our new baby has been a bright spot in a difficult time.
It may be hard to see it now, but things won't always be this way. For anyone wanting to expand their family, Chmielowiec at St. Mary's Medical Center says the pandemic is a small blip on the radar in the grand scheme of things. "We're all kind of currently navigating a new normal in a lot of aspects of our lives, and having a baby is no exception," she says. "We're all here to help guide [parents] into their new lives with a new baby as smoothly and safely as possible."
---
Should Pregnant Moms Be Vaccinated?
Now that vaccines are becoming available, is it safe for pregnant mothers to be immunized? Studies are ongoing, says Lisa Wynn, M.D.
"We know that babies of moms who had [COVID-19] have antibodies at birth. Early data suggests that this is true for babies of vaccinated mothers as well," she says. The American College of Obstetricians and Gynecologists (ACOG) and the Society for Maternal-Fetal Medicine (SMFM) both recommend pregnant and nursing women be offered the vaccine and talk with their healthcare providers before making a decision. "Our practice is recommending that patients get the vaccine whenever they are eligible," says Wynn.
---
Monica Parpal Stockbridge writes about food, travel, and technology in Colorado and beyond. She lives in Denver with her husband and daughter.