Set Yourself Up for School Year Success
Clever tips and tricks for a flawlessly organized school year.
A distraction-free homework space and a set routine are important factors that will help your child succeed in school. While different organizational strategies work for different families, here are a few universal ways you can keep your child (and yourself!) on track this school year.
Create a Cozy Homework Space
Make Room on Their Desk
If your child typically does homework at a desk, keep it clear of clutter. Excess papers, books, or decorative items on the desk can make it difficult to spread out their assignments. Not to mention the mental distractions that come from a cluttered workspace.
If you're in the market for a new desk or study table this school year, opt for something that's long and rectangular. That shape offers more surface space than circular choices.
Another thing to keep in mind is desk location. If your student is doing their homework on tablets or laptops, make sure your child's desk is within reach of an outlet for hassle-free charging.
Choose a Comfy Chair
Goodbye hard dining room chair! There are unlimited seating options these days for little learners. Katie Zeiner, a third grade teacher from Colorado, suggests giving kids choices when it comes to homework seating. In her classroom, students can sit on a wobble stool, a yoga ball on wheels, a regular chair, or a couch. "As long as students are given expectations, having the choice of seating gives them some flexibility to learn how they work and gives them some responsibility."
When shopping for a chair for your child, remember that it's OK if their learning space changes day to day. Just like many of us move around in an office, your child might prefer a regular chair one day and their bedroom floor the next. These three picks accommodate different seating preferences without becoming an interior design eyesore.
Something Supportive
This classic desk chair is ideal for kids who need something with good back support. Ahna Bersagel-Briese, a kindergarten teacher in the Denver area, says a sturdy chair is a good option for some younger kids since it will stay put as they change positions.
Interactive Pick
Zeiner says that some of her students like to move their bodies while they work, and that's totally OK. This wobble stool allows kids to rock back and forth as they sit. Plus, you can adjust the seat height by up to six inches when your little one hits a growth spurt.
Cozy Choice
If your child prefers to switch between sitting and standing, this chair is easy to roll away when not in use. Featuring a soft, upholstered seat cushion that comes in a variety of fun prints, kids will love having some say in the design.
Be Mindful of Lighting
Good lighting in a homework space can encourage better focus and productivity. Bersagel-Briese points out that one of the best lighting options for kids is natural sunlight, which tends to help them feel more alert and awake. "If your child's desk can be near a window, that would be ideal, but if that's not possible, pay attention to the typical lighting in the room during the time of day your child will most likely be working," she says.
If the lighting seems dim or if you notice that your child is squinting while reading, an easy fix is to add a lamp. Bersagel-Briese recommends checking in with your child and asking how their current setup is working for them before making any changes. If they feel like there's room for improvement, suggest a couple of lamp options for them to choose from. Here are two finds that set your child up for their own lightbulb moment.
Double Duty
Keep pencils, pens, and sticky notes readily available for students in the base of this cheerful lamp. Other perks include five color options and an impressive price point.
Touch Table Lamp
This modern pick is perfect for more mature students who have their eyes on multiple papers at once. When your tween is ready to switch the light on or off, they can simply touch anywhere on the lamp.
---
Limit Distractions
While some stop and go during homework is inevitable, set your child up for success by keeping their workspace free of distractions. "Just like at school, toys shouldn't be on their desk," says Zeiner. "Keep it simple with just a pencil or back-up tablet or laptop, the assignment they're working on, scratch paper if necessary, and water."
To encourage your child to stay focused, give them breaks to look forward to. Try scheduling a few stretching breaks so they can stand up and move around in between assignments. Give them a choice of three different stretches and do them together whenever possible. If you aren't home during your child's homework time, remind them to take breaks by texting them (or their caregiver) links to stretching videos or instructions.
---
Consider Other Study Spots
No two learners are the same, and kids can benefit from different learning environments. If your child doesn't have or want a designated homework space, offer suggestions for other spots they might like to work. "Kids are a lot less likely to push back when it comes to schoolwork if they have some choice in things," says Zeiner. "If that's as simple as where they sit to work for that day, so be it."
Bersagel-Briese suggests asking your child to think about where they like to learn or where they feel the most focused while at school, then imitating that at home. Whether it's a standing desk or a seat at the kitchen counter, monitor your child's productivity in the spot they choose, then make changes if necessary.
Desk-Free Homework Spots
Front porch
Kitchen counter
Bedroom floor
On the couch
In the backyard
Dining room table
Hammock (perfect for reading!)
---
Keep Things Organized
Many students still have a flood of folders and papers coming home from school each day, and even remote learners have some assignments to print out. Keep things organized with these simple solutions.
Sort Through Papers Daily
One easy way to keep schoolwork under control is to do a daily backpack check. At the end of each day, empty out your child's backpack together and sort through any paperwork so nothing gets overlooked. "Papers can get easily lost in backpacks, so it's a good idea to help your child go through their backpack each night," says Bersagel-Briese. If your child is doing remote learning, follow this same practice by going through their binder or folders, or by reading through the most recent teacher email with important links.
Decide What to Keep
Minimize clutter by letting go of papers that your child no longer needs. Storing every test, assignment, and flyer that comes back from school will quickly add up and create a mountain of paperwork—one you'll eventually dread going through. "There isn't a big reason to hang on to papers that have been graded or checked. Just be sure to go over your child's work with them before you recycle it so they know what they can do differently next time to improve," Bersagel-Briese suggests.
If your child spent a lot of time writing a story or working on a project or report, that might be worth keeping at least through the school year.
Create a Filing System
Coming up with an organizational system that works for you and your family will likely entail some trial and error. Bersagel-Briese recommends starting out small, by placing all work that needs to be returned to school in a letter tray on the kitchen counter or your child's desk.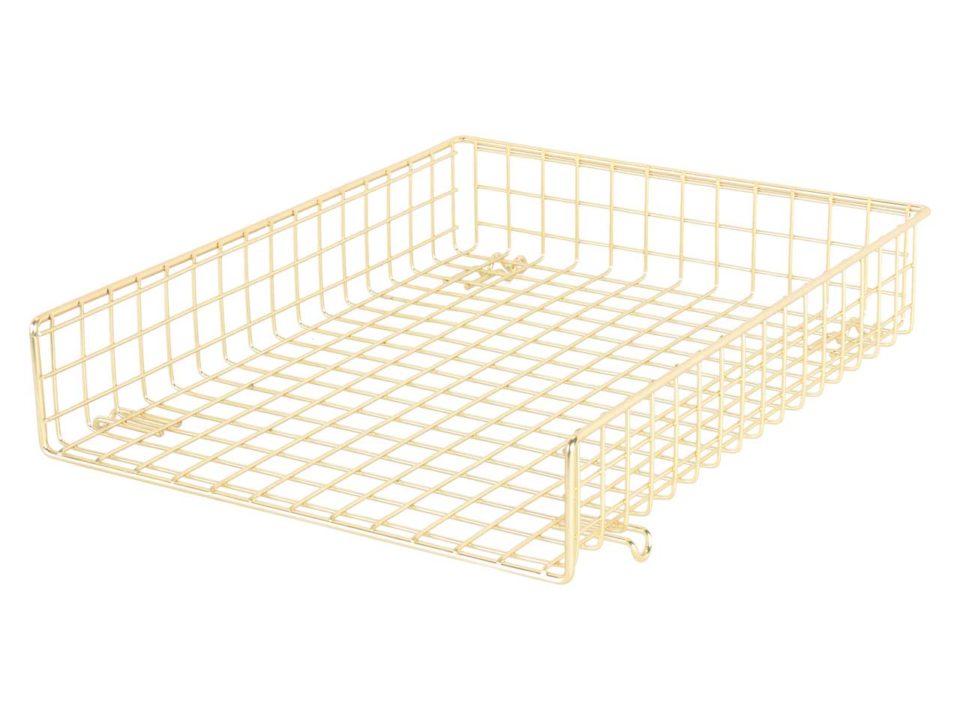 For those who want to create even more structure, try organizing paperwork in an expanding file organizer, or binder. If you have more than one child, designate one color-coded file for each of them. Bersagel-Briese says creating these three folder or tab categories can be handy: Important school year info, work that needs to be returned, and work you want to save (Label each tab "Info," "Return," and "Save").
Try one of these methods for a month or so, then make tweaks. It takes a while for both kids and adults to create good habits, so give it some time, but accept that it's okay to make changes.
Reclaim Control of Supplies
To keep your child's desk or study space from turning into complete chaos, Zeiner suggests designating one bin for at-home school supplies. "While not all kids will want to organize their supplies, it's important to have the expectation that at the end of their work time, supplies go away, just like at school," she says.
A desk drawer works just as well, if that's where your child tends to sit, but keep in mind that sometimes when things are out of sight, they can get even more unorganized. Make an effort to check your child's drawer or supply bin periodically (or whenever your jam-packed schedule allows) to ensure everything is in its proper place.
---
Stay on Track
A strong organizational start can quickly crumble into a disheveled mess as the school year ramps up. If you feel like you're losing control over your schedule—and you're not an app aficionado—keep track of deadlines, activities, and appointments with these visual calendars.
Acrylic Calendar
Write on this acrylic calendar with dry-erase markers and you'll never have to buy a yearly calendar again. Each day gives you enough room to jot down one to two reminders, creating a spot to keep track of big-picture events like birthdays or soccer games.
Daily Planner
This daily planner is small enough to toss in your purse and take on the go. A designated spot at the top of each page allows you to write down goals for the week ahead.
Desk Pad Calendar
Ideal for working parents, this calendar easily sits on top of your desk. Write down any events and reminders to see what's coming up with just a quick glance.
---
Pack Your Bag!
Three quality backpacks that will keep school supplies in order.
Best Starter
Wanderwild, founded by two Highlands Ranch moms, designed their Explorer backpack specifically for students in pre-K through fifth grade. Kids can choose from a number of designs, including unicorns, dinos, and aviator camo, and can have it personalized with their initials or name.
Something Durable
A sturdy backpack is a must for students who carry books or tablets around. This pick is made with durable canvas and has a flat base that keeps the backpack standing upright.
Budget-Friendly Pick
With padded straps, a front zipper pouch, and two water bottle pockets, this printed 'pack is a no-brainer for little learners. There's even a designated tablet sleeve for kids who have tech to tote back and forth from the classroom.