The Young Skateboarder's Guide to Front Range Ripping
Drop in to a supportive sport community.
On a sunny Monday afternoon Denver Skatepark is bustling. The 60,000 square-foot concrete slab is filled with variable-sized bowls, ramps, and rails. It welcomes all wheeled-sport fanatics, from the tough and fearless to the guy setting up a rainbow hula-hoop archway that kids can roll through.
That's Evan Kuzava, owner of Rocky Mountain Shred School. His clients for the day, ages four, seven, and 11, each have slightly different skateboarding abilities and coaching needs. Kuzava gives Miles, the oldest, a skill to practice while warming up the other two; then breaks Charlie, age seven, out for some ramp practice as young Simon gets used to pedaling. The juggling act goes on like this for an hour, and each child is afforded constructive attention.
"I like to be really goofy and silly, get down face-to-face, and bring props," Kuzava says. "The skate park is intimidating and sometimes you need somebody who's a character, who's really cheesy, because everybody's trying to be cool here and prove themselves… that can feel crazy for a first-timer, especially an introverted one."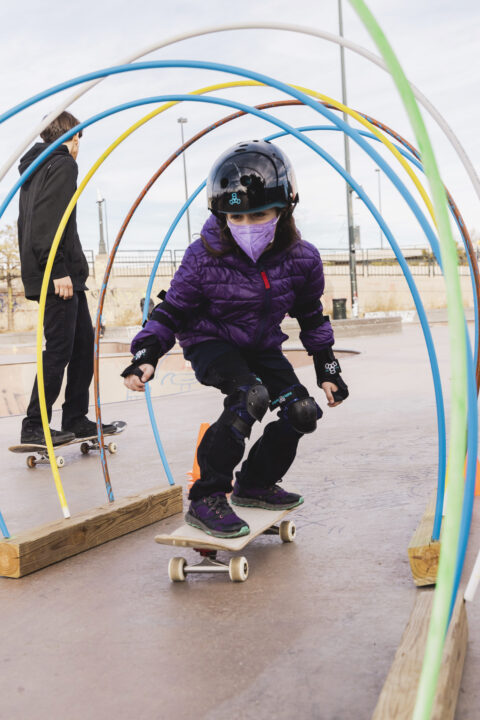 That's not to say skateparks are no place for newcomers. Cassidy Lovenstien, mother to Charlie and Simon and aunt to Miles, appreciates how the sport is individual with a touch of competitiveness, but also carries an open-handed mentality. "Everybody's really supportive of each other and cheers each other on," Lovenstein says. "When we were here last time, Miles was skating around after the lesson and some other guys came in to give him tips."
Kuzava shares how he was once very timid, and how skateboarding for 20 years allowed him to gain confidence. "I come from a single parent home and skateboarding was my vehicle to learn, grow and travel. Then it became my tool to serve and empower others while providing for my family."
Colorado's approximately 200 skateparks are an asset to instructors and folks dipping into the sport. Different parks have different types of designers, notes Kuzava, so he'd recommend one park for learning how to skate a bowl—south of Denver, there's a spot with a miniature one—and another park for first attempts at grinding.
For those just starting out, try going to a local basketball court or tennis court, wherever there's flat ground, and spending a few hours rolling on the board back and forth, understanding how to get in control. Practicing going uphill also helps develop pushing muscles.
Be careful with how-to videos on YouTube, warns Kuzava. Many times kids will search tricks that are several steps ahead of their present ability, and in trying them will either get hurt or needlessly disheartened. To combat this, Kuzava is working on a step-by-step app that takes users through the basics and into other disciplines.
Learn Through Lessons
Got the next Sky Brown—13-year-old Olympic bronze medalist—in your family, ready to shred? Check out these programs that can give them pointers on skating form, safety, and culture.
Rocky Mountain Shred School teaches beginners to advanced skaters ages four to 50-something. Evan Kuzava, a pro with more than 20 years of experience, gives private and virtual lessons, and hosts parties and summer camps. He also partners with parents and students struggling with school by offering incentives for good grades. Skate parks and homes around the Denver metro area (contact to arrange a meeting place).
Square State Skate owns two large indoor skating facilities, one in Boulder and another in Denver, where shredders of all ages can come for after school sessions, private lessons, weekend open hangouts, and camps. A loft with bar seating and wifi is a nice spot for parents to watch their kids progress. Teachers from Square State also bring their skills to schools in the St. Vrain, Boulder Valley, Jefferson County, and Denver school districts; ask about adding skateboarding to your school PE curriculum. Boulder and Denver. 
Curbside Skatepark's five coaches help run Saturday Skate Clinics, privates, and an after school program. The 11,000 square-foot space includes a snack bar and gear shop so you'll never be short on wax, bearings, wheels, decks, or sick apparel. Gals, don't miss the Ladies Skate Sesh every last Sunday evening of the month, open to all ages and abilities. Sheridan. 
Launch Community Through Skateboarding is a non-profit focused on self-expression and belonging for skaters throughout northern Colorado. In addition to open skate times at the 2,000 square-foot indoor park, kids can take private lessons, join the after school group, build their own board or ramp in the makerspace, and volunteer with the organization. The space also features a skateboard museum/library filled with old and rare boards, plus loads of literature including every issue of Slap Magazine. Fort Collins.
SkateStart, an instruction system and patented board design, helps beginners learn how to push, roll, and ollie through proper foot placement. Teachers bring the method to their own communities through classes, camps, and birthday parties. Railbender Park in Parker hosts a camp for novices age four and up. Redstone and Tanks skate parks in Highlands Ranch offer beginner lessons, plus camps for those at a slightly higher level. Parker and Highlands Ranch.
G&P Indoor Skatepark, the only indoor park in Colorado Springs, offers monthly passes and drop-in times for practice, plus private and group lessons, camps, and contests. Run by Process Skateboard Ministry, the park hosts a weekly Skate Church (age 13 and up) where folks can learn about Jesus while shredding. Colorado Springs.
Gear Up at Local Shops
Invest in a quality board, advises Kuzava. The anatomy of a skateboard is much more intricate than a wooden platform on wheels. Parents might be tempted to search Amazon for an inexpensive option that has a lot of ratings, but is made by a toy company. "Toy companies produce cute looking things that aren't as functional," Kuzava says. "The boards may look the same, but they don't function the same. That's why a lot of advanced skaters say, 'Support your local skate shop,' because the skate shops don't sell those cheap imitation boards."
Something in the $80 to $100 range should function well—anything less has the risk of the board being made by non-skaters who just want to sell toys, according to Kuzava. "If you invest up front, and your kid doesn't end up loving the sport, you can always resell on Facebook Marketplace, or bring it to a local skate shop and say, 'Do you know anybody who's in need of a board that can't afford one?' and you can make some of the money back. Testing the waters with the right equipment means your kid will be safer and have more fun."
Emage, Denver
7twenty, Denver
303 Boards, Denver and Boulder
Loco Skate Shop, Longmont