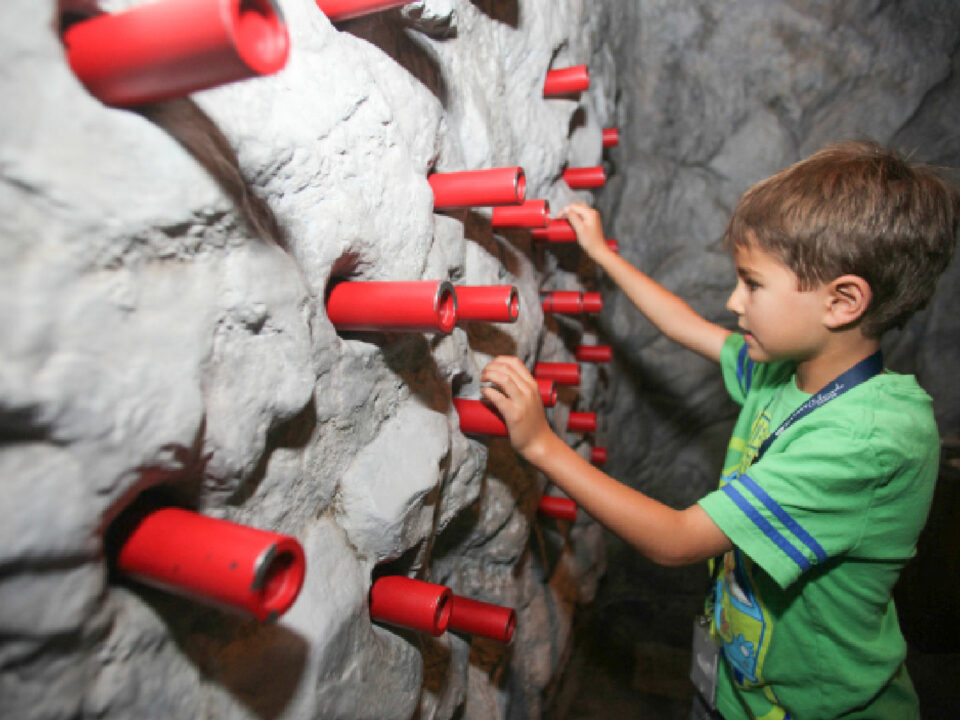 Best Needs-inclusive Spots for Families Near Denver
Activities and attractions everyone can do, all together.
When Chris Ritchie takes his family out for dinner, he's never quite sure how it will go.
His 11-year-old son is autistic, and tends to fixate on ceiling fans to the point where he needs to sit near them. Sometimes he feels overwhelmed in public, which can compel the boy to need to leave.
"Some places are still struggling to understand disability—my son's needs are very particular," says Ritchie, a father of two and teacher at Denver South High School. "Sometimes places still can't be accommodating or are confused by his behavior and don't know how to handle it," he says.
Ritchie often calls places in advance to alert staff of his son's needs. "One of the hardest things is having to essentially 'out' your child ahead of time in preparation to go anywhere in public, and then it is really a matter of how long he can basically last in any given situation."
However, Ritchie says, many places have gotten it right, making both his kids feel right at home. "There's such a different vibe when you go somewhere and people aren't only prepared to host kids with disabilities but are welcoming and excited to have you there—it's a relief when the family can go out together and have a good time."
Jason Gruhl, founder of The Joshua School, which serves children on the autism spectrum, believes that welcoming spaces benefit all people. "We need to ask ourselves, 'How do we create spaces that accommodate and support the diverse and beautiful people we have in our community so that all of us can share and learn from what inclusive environments bring out in us?'" says Gruhl, who is also an author of several children's books. "At first, places weren't sure about what accommodations would look like, and some created programs as a favor to certain communities, but the interesting thing is that thinking newly about access has ended up being beneficial and powerful for the whole community."
More spots on the Front Range are starting to build inclusivity into their culture. Here, are some of our favorite local places where families and kids of all abilities can have fun together.
Unified Teams and Classes
Finding sports teams and recreational classes suitable for kids of all abilities can be challenging, but the City of Lakewood's Therapeutic Recreation Program offers a variety of options for families of all abilities, including a sensory-friendly family swim, social dances, and a variety of Special Olympic sports teams including, bowling, flag football, swim team, track and field, and basketball. They also offer a summer day camp called Camp Paha for children and adults.
More unified teams and classes to cheer for: Unified Champion Schools through Special Olympic Colorado, Dance Expressions at Colorado Conservatory of Dance, and Colorado Soccer Association TOPSoccer.
Inclusive Dining
The brainchild of a former special education teacher, Brewability is more than another brewery in the crowded Denver beer scene. Its secret ingredient for success: hiring people with intellectual and developmental disabilities. Its counterpart, Pizzability, continues the mission, offering job training and skills for adults with disabilities while creating a welcoming space for all. Oh, they also serve delicious beer and pizza, so it's a win-win.
Other inclusive dining experiences: Jack's in Arvada, a coffee shop turned full-service restaurant employs more than 30 people with developmental disabilities. They also have a line of jams and jellies and are currently building a deli. Dirt Coffee Bar in downtown Littleton employs neurodiverse individuals through a workforce development program.
Comfortable Movie Showings
Going to a movie theater can be challenging, considering the dark, high volume, loud noises, and behavioral expectations. At Alamo Drafthouse Cinema locations, all movies that start before 2 p.m. on Tuesdays, as well as select weekend shows, have lights turned up and sound reduced. Talking and noise are permitted, guests can move around, and adaptive technology is welcome, as part of its Alamo for All program.
More big screen options: AMC Theatres Sensory Friendly Films and Regal My Way Matinee.
Live Theater Experiences
Can't wait to catch Hamilton with the whole family? For guests with visual impairments, the Denver Center for the Performing Arts offers audio descriptions plus braille or large print programs. For those who are deaf or hearing impaired, the center provides listening devices, ASL interpreters, and open or personal captioning services. Services are free but some need to be requested in advance or are only available for select shows.
More Performance groups set up for inclusion: Colorado Symphony, Lone Tree Arts Center, and the Arvada Center.
Low-Sensory Mornings at Museums
Several Denver area museums have opportunities for children of all abilities to visit and interact with exhibits in an accommodating environment. History Colorado hosts free, quarterly low sensory mornings. During these hours, the museum is closed to the public, sound is turned down, and attendance is limited. Reservations are required and guests and their families are welcomed by specially trained staff who can offer exhibit recommendations based on the child's interests.
More low sensory mornings: The Children's Museum of Denver, Butterfly Pavilion, Denver Art Museum, and WOW! Children's Museum.
Adaptive Playgrounds
Denver metro's adaptive playgrounds are designed for kids of all abilities to swing, slide, and spin together. In Aurora, LuBird's Light Playground offers 9,000 square feet of space for children of all ages and abilities to have fun and burn off some energy. The playground features spinners, slides, and accessible swings, wheelchair-friendly trampolines, ramps, a woodchip and sand-free surface, and a smooth play area. There are special colors and sounds incorporated for sensory feedback. Bonus: it's adjacent to the Stanley Marketplace, which features a kid-centric outpost of the Tattered Cover, multiple restaurants, retail shops, and activities.
More adaptive playgrounds to explore: City Park Playground, Carpenter Park, and Red-tailed Hawk Park.
Outdoor Adventures
In the White River National Forest not far from Aspen on Independence Pass, the short Braille Trail is an accessible 0.2-mile loop that offers wilderness access for the visually and physically impaired. Started in 1967 by science teacher Bob Lewis, the trail features a guideline and signs in braille and print, and lead along the Roaring Fork River, including bridge crossings. At the same trailhead, the Discovery Trail is a 0.2-mile trail that offers wheelchair access on a heavily wooded trail along the river, with numerous picnic areas.
Other outdoor adventures to check out: Track-Chair accessible trails at Staunton State Park, sand wheelchairs for loan at Great Sand Dunes National Park, adaptive and accessible outdoor adventures through Breckenridge Outdoor Education Center.
Destinations
Breckenridge and Colorado Springs, two of Colorado's most popular destinations, offer an inviting travel planning tool for families with various needs. Designated spaces on their websites show visiting families the many adaptive and accessible opportunities around each of the towns.
Other destinations with detailed visitor information: Rocky Mountain National Park's Accessibility page outlines everything visiting families need to know about adaptive options, from wheelchair-accessible trails and restrooms to requesting a sign-language interpreter for ranger-led programs. The U.S. Olympic and Paralympic Museum in Colorado Springs, which was designed to be universally inclusive, highlights its many accessibility features on their website.
—Rebecca Treon is a Denver-based freelance food and travel writer, author of the forthcoming Colorado Food Trails, and can be found at @RebeccaTreon on Instagram