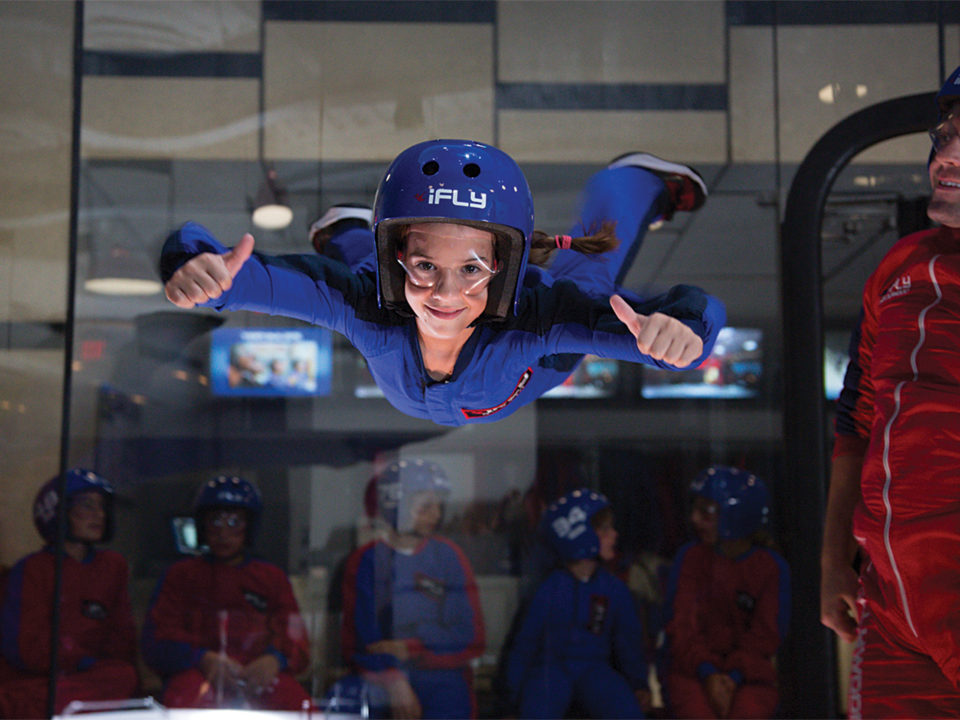 STEM Takes Flight
Students learn the science behind skydiving through an interactive, high-flying STEM program.
STEM—science, technology, engineering, and math—is everywhere. The natural world around us, the smartphones we use, the houses we live in and the budgets we make all relate to STEM. And that's exactly what the STEM education program at iFLY Indoor Skydiving is trying to relay to Colorado students.
The STEM program at iFLY offers local students in grades K-12 an opportunity to experience the science and math behind flight, while using a three-story-high vertical wind tunnel as a classroom. The program, although still relatively new, was designed by professional educators and STEM experts, and the curriculum is aligned to state and local standards. The goal is to teach students the principles of physics and math and how they apply to the world around them, as well as the science, physics, and math behind skydiving.
"STEM is important because it pervades every aspect of our lives," says Florence Bocquet, Ph.D., iFLY's Denver STEM educator. "STEM education is vital to our future, the future of our country and the future of our children." iFLY created their STEM education program with hopes of inspiring future science and math leaders, especially young women and minorities, to enter STEM fields.
The program begins with a brief presentation on STEM topics and how they relate to skydiving, followed by a demonstration of flight using objects like basketballs, toys and water (yes, water). Students use their knowledge of physics to guess how these objects will react within the forces of the wind tunnel, and then experiment in a hands-on lab activity, based on their grade level. "The program at iFLY is meant to show that STEM is more than numbers," says Bocquet. "When kids enjoy an activity and have freedom of thinking, they learn better and have an increase in curiosity."
The session concludes with each student taking flight in the wind tunnel and experiencing first hand what it feels like to fly. It's far from
the average science or math class; kids learn in a hands-on setting and are able to apply the concepts they"ve learned in school to real life activities.
With modern advances, career opportunities in STEM fields are only expected to grow. STEM education programs have increased in popularity over the past few years due to the need for future industry leaders and getting kids interested in STEM fields starts at a young age. STEM education programs like iFLY's are important to children because they help kids think outside of the box; they"re designed to spark an interest in exploring new topics and ideas.
"Our setting is incredibly thrilling and unlike anything students will experience in the classroom," says Bocquet. "We hope that students take home the message that STEM is fun, interesting and part of everyday life."