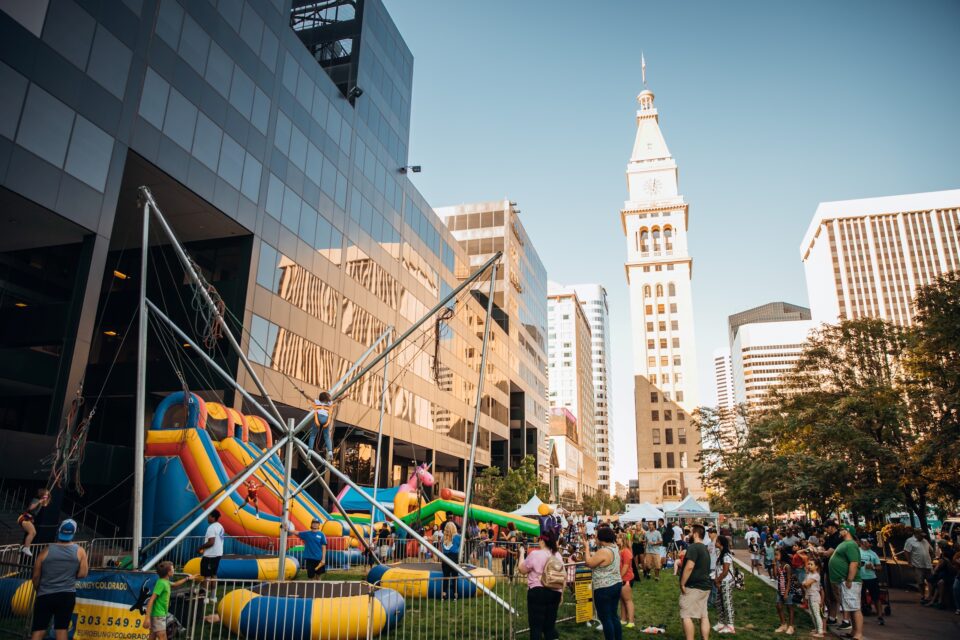 The Best Things To Do With Kids Around Denver This July
Celebrate summer at these fun family events.
Denver
Explore 60,000 square feet of outdoor interactive installations in the Children's Museum of Denver's backyard. Joy Park and Adventure Forest will stay open after hours for families to run, splash, climb, zip line and play. July 15, 4:30-7 p.m. Free, but reservations required to guarantee entry. Children's Museum of Denver at Marsico Campus.
Littleton
Stop and smell 2,000 lavender plants spread across the Chatfield Farms landscape at the Lavender Festival. Enjoy live music, a variety of food, desserts, and drinks from vendors, and find lavender products from local growers and artisans. Kids will love free demonstrations in the dye garden and blacksmith shop. July 16 and 17. $13 adult, $10 adult member, $7 youth ages 3-15, free age 2 and under. Denver Botanic Garden Chatfield Farms
Denver
Join Colorado's annual celebration of Asian and Asian American heritage at the Colorado Dragon Boat Festival. Experience music, art, food, and vendors, and watch festively decorated boats glide across the lake in the biggest Dragon Boat Festival in the U.S. July 23 and 24. Boat race start time is 8 a.m., festival runs 10 a.m. to 7 p.m. on Saturday; 10 a.m. to 5 p.m. on Sunday. Sloan's Lake Park
Denver
Join Pop Culture Classroom at Fan Expo Denver for an opportunity to create and learn while exploring the display of comics, sci-fi, horror, anime, and gaming around the Expo. Educational programs are for students, educators, families, and fans of all ages. Family-friendly attractions include a Kid's Lab and educational panels. July 1-3. $47-$67 adult single day, $37-$53 youth ages 3-12 single day; weekend and family deals available. Colorado Convention Center
Loveland
Taste the fresh summer favorite at a festival commemorating Loveland's long standing connection to the cherry industry—the town had the largest orchard west of the Mississippi in the 1920s. This annual celebration serves up portions of pie, ice cream, coffee, and lemonade (all for purchase). Visitors can enjoy live music, vendor booths, and children's activities between sweet treats. July 16. 5-8 p.m. Peters Park.
Colorado Springs and Manitou Springs
Watch a lineup of fantastical tales, based on historic events from the Pikes Peak region, that were written by local playwrights as part of the City as a Venue arts series. The fables, written to entertain, educate, and foster empathy, include "Shepherd of the Great Mountain," "To Slay the Dragon," and "The Stone Garden." Bemis School of Art will provide creative activities during breaks between plays. July 2 (Fine Arts Center), July 9 (Meadows Park), July 16 (Hillside Community Center), July 23 (Deerfield Hills Community Center), July 30 (Memorial Park in Manitou Springs). 10am, 10:45am, 11:30am. All ages. Registration recommended.
Fort Collins
The Scarlet Sisters have accidentally sent all of the circus performers to the wrong town; now they will need help from the audience to make sure the show can go on. Be drawn into the magic of this interactive circus show featuring acrobatics, juggling, magic, and audience participation.  July 6, 10 a.m. Free. All ages. Lincoln Center Lawn.
Greenwood Village
Kids learn about a different art medium and technique through fun projects at each Art in the Park program. Themes, including Whimsy Wood Octopus, Gnomen' Around, Crazy Flamingo, and To the Beach, engage the young creatives, ages 6-12. Tuesdays and Thursdays, July 5 to August 2. $25 per class. Registration required. Silo Park
Colorado Springs
Experience a delightful summer tea under a tent on the lawn, followed by a tour of the historic Rock Ledge Ranch country estate. Learn about Edwardian etiquette while dining on Chicken salad sandwiches, scones, and sweets along with hot tea and cold lemonade. Registration required. Fridays, through July 29. Rock Ledge Ranch.
Denver
Get out there and enjoy 1.5 miles of trails while discovering new nature facts about this nature park. Download a scavenger hunt guide online or pick one up at the nature center kiosk. As you solve provided clues, you'll collect different colored beads found in canisters along the trail. Ongoing, daily sunrise to sunset. Bluff Lake Nature Center.