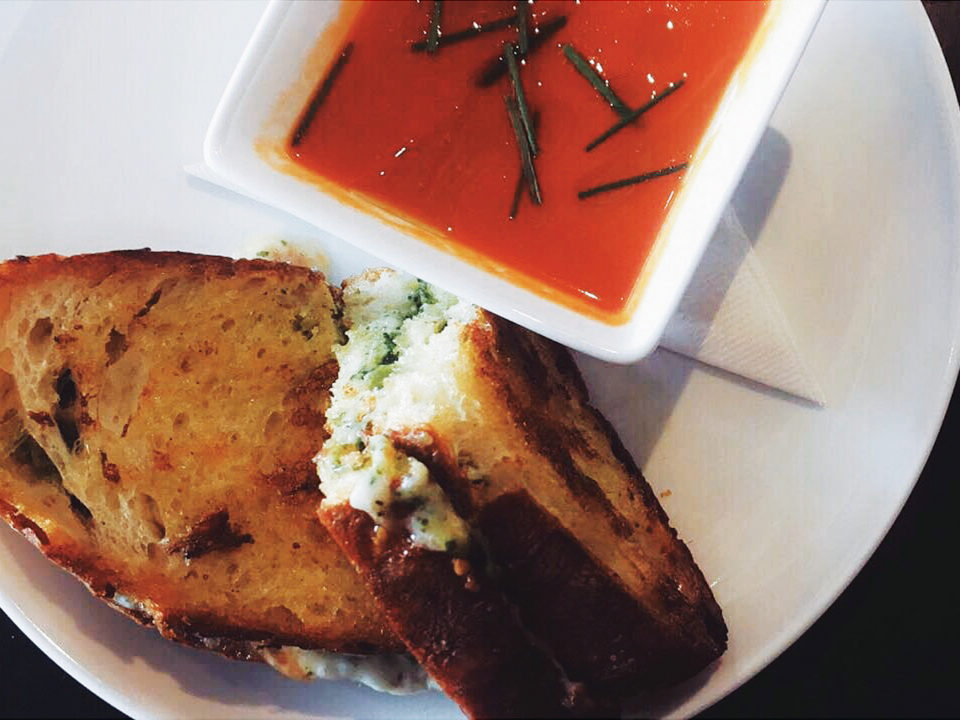 Make the Best Grilled Cheese Sandwich
Creating the perfect gooey bite with tips from an expert.
Grilled cheese has long been a household favorite. The sheer comfort of a buttery, grilled sandwich with melty cheese in between seems to hit the sweet spot for even the pickiest eaters. The possibilities and variations of this quick meal are endless, which makes it almost perfect for not just kids, but also parents looking for that easy hunger fix.
In honor of National Grilled Cheese Day (April 12) we reached out to local chef and grilled cheese master, chef and owner Steve Redzikowski of Acorn. Redzikowski believes that the secret behind making the best grilled cheese for your family is the bread.
"I think it's really all about the bread. At Acorn we only use ciabatta. You know how you slice into bread and you find air pockets throughout? Those are called crumbs. The crumbs allow the cheese to seep through and crisp on the outside of each slice," Redzikowski says.
If you haven't had the chance to devour one of Acorn's grilled cheese sandwiches, served side by side with a warm bowl of tomato soup, then we recommend you make it a priority. The sandwich fixings rotate almost yearly but the childhood nostalgia stays the same. Each bite of the crispy, golden brown ciabatta bread reveals an ooey gooey center of rich cheese and pesto.
The Perfect Grilled Cheese at Home
From Chef Steve Redzikowski
Ingredients
Two slices of ciabatta bread
Butter
Cheese (recommend a mixture of gruyere and sharp cheddar)
Store bought or homemade pesto
Directions
Preheat the oven to 350 degrees.
Take two slices of ciabatta and butter one side.
Place buttered sides facedown on a cutting board.
Mix cheese and pesto together then top both slices of bread with the combination.
In a heated pan, place the buttered down side of the ciabatta so that both slices are open face.
Toast the bread in the pan until just golden brown then place pan directly into the preheated oven.
Allow the cheese just enough time to melt then pull from the oven. Close the sandwich and enjoy.
Making grilled cheese for the kids? Try these next level add-ons from Redzikowski to please your grown-up palate.
Ingredients to elevate your grilled cheese:
Mushrooms and Swiss cheese
Roasted chopped broccoli and burrata
Mozzarella with fresh tomatoes
Goat cheese
Prosciutto
Mortadella or bologna
Aged cheddar, gruyere and caramelized onions