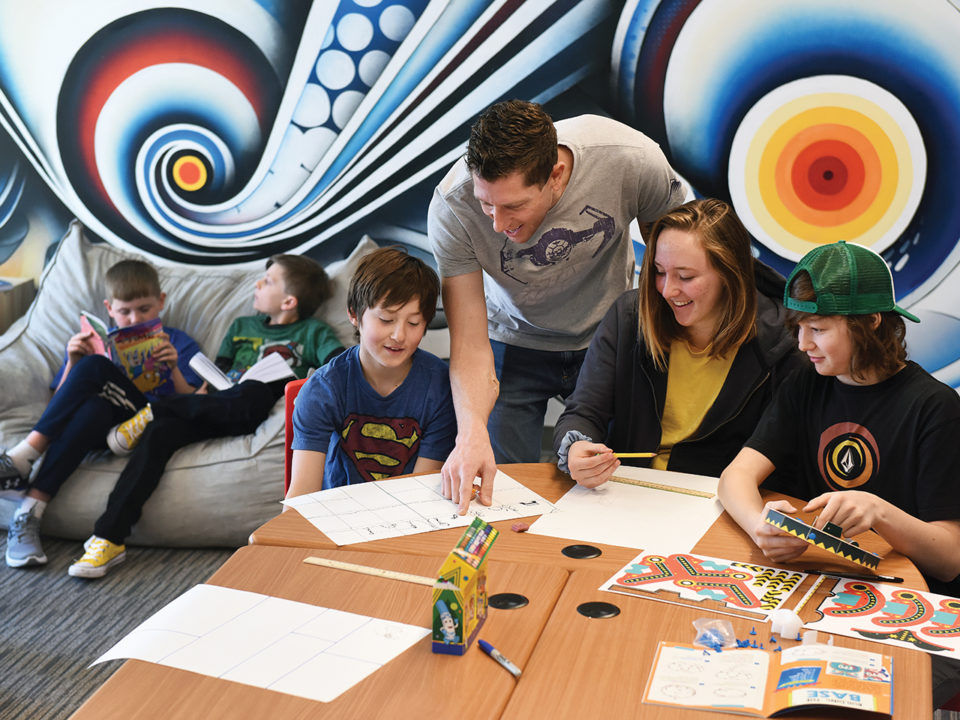 The Power of Pop Culture
Denver-based charitable organization, Pop Culture Classroom, brings comics and other pop culture to learning.
Pop culture is everywhere, from comic book superheroes like the Avengers and Black Panther, to graphic novels, board games, and pop music. It has also busted through the walls of classrooms, revealing its hidden identity as a valuable tool to help kids read and learn.
Although some may wince at the comics-in-the-classroom approach, it's exactly this type of visual storytelling that hooks some learners, says Katie Monnin, Ph.D., director of education for Denver's Pop Culture Classroom (PCC), a Denver-based charitable organization that uses pop culture to inspire a love of learning and increase literacy.
Reframing the Classroom
Step into the PCC classroom in the west Denver Valverde neighborhood and you enter a temple of pop culture. Bookcases are filled with graphic novels and colorful sliding bins hold stacks of comic books in alphabetical order. Fuzzy beanbags line a wall underneath a space-age mural. There are three desktop computers, video game consoles, a 3D printer, sewing machine, and Cricut crafting machine.
The new classroom space expands PCC's ability to reach out to the community. Previously, PCC, which gets funding from the annual Denver Pop Culture Con's (formerly Denver Comic Con) proceeds, shared their program materials with school districts, teachers, and community organizations, such as libraries. The new space allows PCC to also host on-site summer camps, workshops, extracurricular programs, and open hours.
Jeff Sarceno, program manager of Heart and Hand Center for Youth and Families in Denver, takes groups of eight to 10 middle-school students to PCC during Thursday drop-in hours. "It's a space for kids to be creative," he says, adding that they can make things, or just read a book.
In the Pop Culture Classroom, kids can sew and create cosplay—a type of costuming where individuals dress up as characters from a movie, book, or video game—learn storytelling techniques, analyze and create their own board game, and write and illustrate their own comics. This past summer, campers made costumes and then attended Denver Pop Culture Con.
Underneath the sewing, crafting, and games, kids are learning literacy, creativity, and creative thinking, all skills that PCC sees as essential to help kids navigate the successes and challenges of life.
During one family game night, classroom programming coordinator Matt Slayter and educator Emily Lindvall taught the game, "Keep Talking and Nobody Explodes." While one player decodes a "bomb," the three other players turned their backs and use a written manual to collectively coach the decoder. Besides fun, the game encourages communication building and reading procedural texts, says Slayter.
Pop Culture's Super Powers
"We're living during a time when we're the first generation of educators who have to redefine what it means to read. And what it means to read in the 21st century is to read from diverse literacy platforms and media," says Monnin.
Monnin, who taught pop culture literacy at the University of North Florida for 10 years before moving to Colorado, says there's a disconnect between how kids read in the classroom with books and other print texts and how kids read in real life using social media, graphic novels, and cartoons. Teachers are the bridge, says Monnin. They can use pop culture genres in the classroom to increase literacy and love of learning, she adds.
Monnin notes that graphic novels and even today's cartoons are layered with literary elements of story such as themes, plot lines, and characters. Beyond comics and graphic novels, Pop Culture Classroom uses media like the movie Black Panther to talk about modern social justice or the TV show Stranger Things to explore science.
Shannon Kincaid, a librarian at Boulder Public Library, says young kids gravitate toward graphic novels, but parents and even some teachers take convincing. "Sometimes parents feel like graphic novels aren't like reading books, but they're great gateway books." They allow kids to visualize the world, making it more interesting and encouraging a broader love of reading, she adds.
League of Learning
Traditional educational and cultural institutions are joining forces with the power of pop culture. Literary experts now publish books, scholarly articles, and lesson plans about how to bring popular culture into the classroom.
Many libraries use pop culture to engage young children and families, too. Boulder Public Library, for example, hosts Lego storytimes and drop-in programs where kids can play and then check out Lego books. It hosts "Minecrafternoons" where kids play the game and meet new friends, as well as read books about how to build new worlds.
Back at the Pop Culture Classroom in Denver, Katy Mattis' 11-year old son Turner and eight-year old daughter Eloise enjoy the free Tuesday and Thursday afternoons. "They beg to go," says Mattis.
Because their household doesn't own a TV or a gaming system, Mattis says she likes that Turner can play video games in a controlled setting where he's supported by people who understand the underpinnings of video games—and the pop culture piece.
"It's a place where they can be very independent but with things that feel mature," Mattis says, adding that her kids like the 3D printer, graphic novels, and comics series. "They go in and the time is theirs. There's a lot of self-exploration and I love that."
Workshops:

Kids ages eight to 14 are invited to learn how to create their own comics from professional comic writers and illustrators at the Comic Scripts 101 (November 12, 4 to 6 p.m.) and Comic Drawing 101 (November 26, 4 to 6 p.m.) workshops. $10 per workshop.