The Next Generation of Golfers
Today's youth are changing the face of golf, and challenging industry leaders to rid golf of its exclusivity.
Lining up, swinging, and problem solving through the course is what makes golf so enticing and relatable to Chloe Avant, a junior at North High School in Denver, and Kayla Wong, a junior at Lakewood High School.
But there are a few hurdles to jump before stepping onto the green for these young women, and other players like them.
Wong stopped taking lessons just before her freshman year. "Part of it was not really feeling part of the community," she says. "Our home golf course is [West Woods Golf Club], and every time I went there were only older, white men, which frustrated me."
The Colorado Golf Association's (CGA) membership, which accounts for approximately one-quarter of Colorado golfers, says Erin Gangloff, managing director of programs and membership, is seven percent youth (under 18). Sixty percent live in households with an income of more than $100,000; 26 percent are women, and an estimated 10 percent are people of color.
Wong and Avant's journeys into golf included programs that create space for novices; Avant started with the First Tee program in Kindergarten, Wong joined Girl Power Golf with her sister at age eight. Now, the girls participate in the Gen Z Council on Diversity, Inclusion and Equity, a group of young golfers across the country gathered to discuss what could be done to make golf more inclusive. During a recent virtual meeting, students talked about their experiences and proposed solutions including diversity, equity, and inclusion training throughout the industry, and golf club recycling programs to offer free or discounted equipment for new golfers.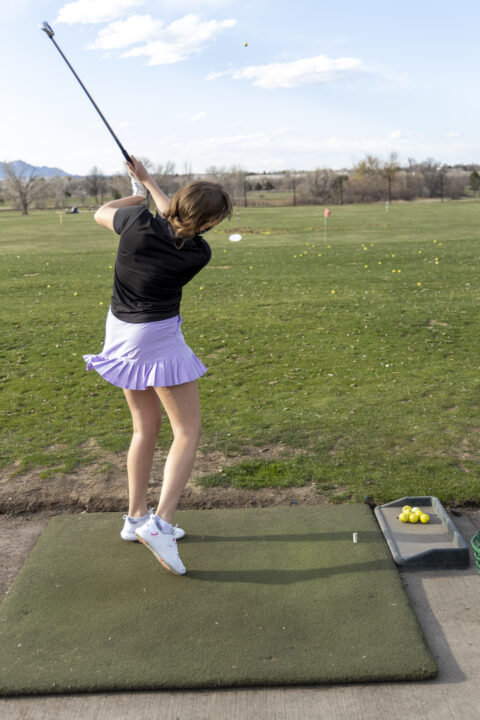 The Changing Face of Golf
Ashleigh McLaughlin, a Black woman executive in the golf industry and Youth on Course vice president of marketing and communications, sees the sport evolving.
"It's been incredible to hear from kids and families how much deeper their appreciation for golf is right now," says McLaughlin. She got her start in the sport through the Orlando Minority Youth Golf Association in Florida. "Being introduced to golf within a grassroots, community-based organization focused on bringing more minority youth helped me in my journey because it gave me a core group of kids who were like-minded, were my peers, who looked like me, who I could relate to on things I couldn't necessarily relate to other kids on."
The National Golf Federation's assessment of 2019 play found that 34 percent of today's junior golfers are girls compared to 15 percent in 2000. More than one-quarter of juniors were persons of color compared to six percent in 2000.
Organizations like Youth on Course, which has 38 affiliated courses in Colorado, makes golf more accessible with a kids' entry free of $5. Nationally, Youth on Course saw a 76 percent increase in rounds played the first six months of 2020; the pandemic reported to have been a major driver of that boost.
Rethinking How Golf is Represented
Though change is happening, there is still work to do. Avant and Wong want language and rules surrounding golf to progress. Avant would like to see changes to the way girls' golf is advertised.
"A lot of the times the advertising doesn't look very athletic, strong, and powerful," she says, in reference to the pink, cursive writing on the LPGA Girls Golf site, and hearts embellishing her team's yearbook page. "That can be frustrating for girls who golf because we work just as hard as the boys do and we are just as good at golf as boys can be."
Wong spoke with a coach at the LPGA Leadership Academy about allowing beginners to break some rules on the course, for example, starting the tee closer up the middle of the fairway. She'd also like to change gendered language used for tee boxes.
"Although it is not written on them explicitly, there are many instances when I play with golf coaches or strangers where they refer to a certain tee as the 'men's tee' (the farthest away), the 'ladies' tee,' or the 'junior/kid's tee.' It implies that kids and women hit the ball shorter than men, which is sometimes not the case," says Wong. "These small assumptions degrade people and their confidence."
Bailey Gadd, general manager of Applewood Golf Course in Golden, where Avant's team practices, recognizes the need for female leadership and youth involvement in the sport. "In such a male-dominated sport, it is important for us that we reach out and engage as many potential customers and people as we can," she says. Applewood hosts Ladies Night Out, one of their most popular events, which includes nine holes of golf, prizes, and dinner. In 2019 for Women's Golf Day, they held clinics and tournaments.
Both Avant and Wong credit a piece of their growth in golf to their families who play with them and fellow female athletes. As golf becomes more inclusive, there will be more mentors to help all young players thrive.
"It's cool to see girls that are older than me and at a higher level," says Avant. "It's nice to have people I can look at and go, 'Oh, I want to be like her.'"
---
Get Kids on the Green
The CGA has created a board-led diversity and inclusion committee to develop ways to grow representation in the game. Much of their work toward this goal is also woven into the following programs.
Hale Irwin Player Program

:

G

olfers ages 11 to 18 can apply for the chance to receive

free, full access to

CommonGround

G

olf Course

 

and monthly meetings on course management, plus mental/physical training

. 

Community & Wellness Programs

:

In partnership with organizations such as

Big Brothers Big Sisters of Colorado, Special Olympics Colorado, Girl Scouts of Colorado, and HopeKids, CGA offers free introduction clinics.

Golf In-Schools

:

CGA

provides local schools three free days of in-class sessions, then a field trip to

CommonGround Golf Course

for practice. 

Solich Caddie & Leadership Academy

:

Students in grades eight and nine caddie through the summer and get weekly leadership and financial literacy classes along with golf lessons.